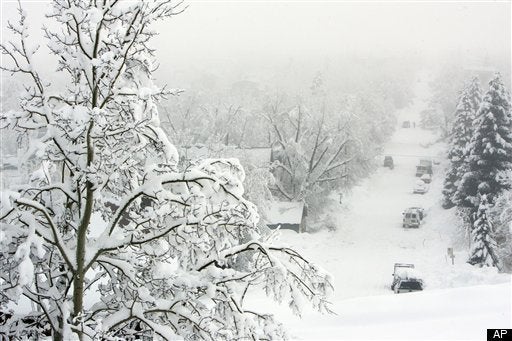 WASHINGTON -- The Obama administration acknowledged on Monday that its proposal to slash funding for heating assistance to the poor would, in fact, hurt the poor.
"This is a very hard cut," White House budget director Jacob Lew said during a press conference. "This is a cut that has real impact."
The White House's proposed budget for fiscal year 2012 halves funding for the Low Income Home Energy Assistance Program, reducing its allocation to $2.5 billion from just over $5 billion.
LIHEAP doles out money to states, which then hand it over to local relief agencies, which review personal financial data to ensure that applicants for the assistance really need it. Eligible applicants have the money credited to their accounts with the local utility company. Roughly 8.3 million people used the program last year. Its target population is the elderly and the disabled.
The National Energy Assistance Directors' Association, a group that represents state aid officials in Washington, estimated that the reduction would amount to 3.1 million households going without assistance on heating and cooling costs (not 3.5 million, per a previous estimate).
"I thought the administration would draw a circle around the social safety net for low income families. I thought we were part of that safety net," NEADA director Mark Wolfe said. "These are families who, without LIHEAP, will fall behind on their bills or cut back on basic essentials because they don't have any discretionary income."
Nearly two-dozen people who use the program told HuffPost in emails and phone interviews what LIHEAP has meant for them in recent years, and what they thought of Obama's decision to sacrifice its funding to appease deficit hawks.
"Obama was supposed to have this image that he was for the everyday person," said Karrin Herring, a resident of Beaver County, Pa., who said she received $300 from LIHEAP in the fall to pay her heating bill. "It helped me out and I was glad to get it, too."
Herring, a 56-year-old middle school registrar, is disabled with avascular necrosis in her knees. She said she's still in the president's corner, despite her frustration over LIHEAP.
"For him to go straight to a program like this, especially when there are so many unemployed people out here now, a lot of times through no fault of their own, and more people needing the LIHEAP, I just couldn't understand why he would even think about this program in particular. They can find someplace else to cut some money if they really wanted to."
Christie Graber of Council Bluffs, Iowa, said she just recently qualified for $350 in assistance for her heating bill after applying for LIHEAP for the first time. Graber, a 60-year-old former event planner, said she gets by on $1,035 monthly Social Security disability checks.
"I think he can cut other places," she said of the president's proposal to cut LIHEAP. "I'm very disappointed. I campaigned for him. I believed in him. I was thrilled. I had tears in my eyes watching the election results come in ... I don't think he should cut help to the poor."
Michele Tracey of Sun City, Calif., said LIHEAP has paid her electric bill for four or five months during the summer for the past three years.
"There's a lot of people more hurting than us, but that program is one of the really helpful programs. California's not a real cheap state to live," said Tracey, 50. She said she and her husband, who is 62, support their family-of-four with his Social Security disability payments supplemented with money she makes as an occasional substitute teacher.
"It really helps," she said. "If it goes, I'll sure miss it."
Lew defended the decision to cut LIHEAP funding, citing declining energy prices.
"Going back to 2008, the program was funded at roughly $2.5 billion," Lew said. "We had a huge spike in energy prices, and the program doubled to $5 billion. We're now at a price level that's close to where we were before that increase. looking at our fiscal challenges, we can't straight line the program at $5 billion. We went back to the level it was at when prices were roughly the same."
It's true that energy prices have declined, but as has been pointed out by opponents of the cuts, the economy is in worse shape than when the funding was increased in 2008.
"It's done an enormous amount of good for a lot of people," Lew said. "It was meant to be a grant program that the states administered. Balancing our fiscal challenges and the funding change from 2008 until now, we made the tough decision. We said in the documents and the budget that we will keep our eyes on what prices go and what the need of the future is, but we can't cruise at a historic high spending level when we're trying to make these very difficult savings. In terms of investing in the future, we've been very clear that we need to create more opportunities to invest in education, in innovation, and in billing the infrastructure for the future, so we've had tough tradeoffs."
The administration's proposal is not about to skid through Congress. A bipartisan bloc of 32 senators has already insisted that the White House back off the program.
Popular in the Community