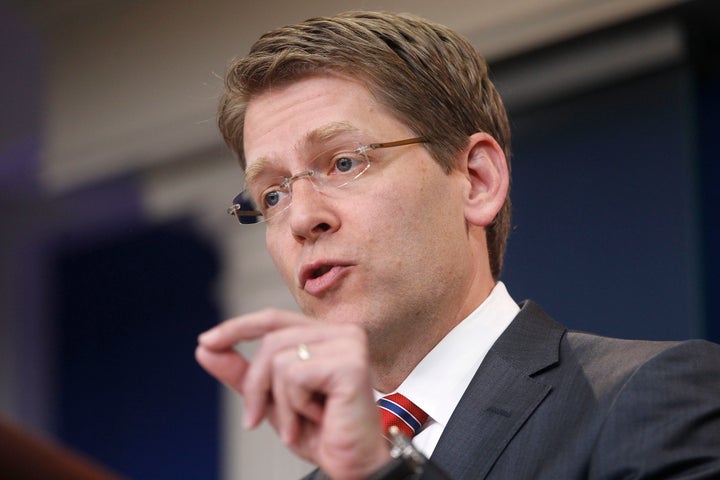 WASHINGTON -- The Obama administration, on Friday, continued to apply a veritable death hug to likely Republican presidential candidate Mitt Romney, praising the health care law he passed as Massachusetts' governor despite Romney's insistence that there were major distinctions between his and the president's approach.
"We have said before that health care reform that then Governor Romney signed into law in Massachusetts is in many ways similar to the legislation that resulted in the Affordable Care Act," White House Press Secretary Jay Carney said in an off-camera briefing at the White House. "And as to the issue of flexibility, as you know, earlier this year we made quite a big deal out of the fact that the president wanted to move up to 2014 … the starting point at which states can ask for waivers to opt out of the Affordable Care Act as long as they, of course, demonstrate their capacity with their own ideas to achieve the same objectives."
"We wholly endorse flexibility and we obviously feel that Massachusetts took a smart approach towards health care reform," the press secretary added. "Its provenance was so mainstream, there are great similarities between Massachusetts' law, the Affordable Care Act and legislation proposed by then Rhode Island Republican [Senator] John Chafee in 1993."

Coming less than a full day after Romney delivered a high-profile speech calling for the Affordable Care Act's repeal and replacement, Carney's comments are another reflection of just how hard it will be for the former governor to erase the notion that he is a philosophical proponent of the president's bill.
Romney has argued that his approach to health care reform should only be considered on a state-by-state basis. It is the federal government's insistence that a set of standards be applied nationally -- chief among them that individuals be forced to purchase insurance -- that serves as the linchpin for his argument against the Affordable Care Act.
But there are holes to that theory, as Carney notes. By allowing states to opt out of the law (Vermont, for instance, is set to do so in favor of a single-payer system), the ACA does allow for flexibility. And, in a bit of irony, it was Romney's Massachusetts GOP colleague -- Sen. Scott Brown -- who co-authored the amendment to make that opt-out clause come into fruition sooner.

Popular in the Community