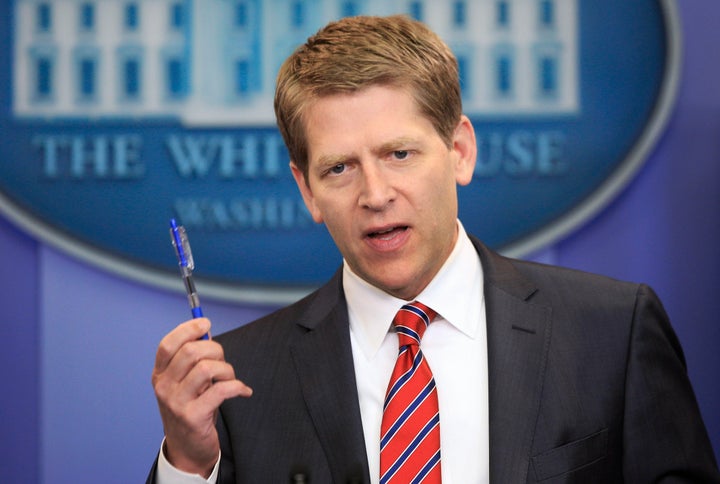 WASHINGTON -- The White House is rejecting criticisms of a prominent conservative attorney's decision to defend the Defense of Marriage Act (DOMA) on behalf of House Republicans, and standing behind recent comments by Attorney General Eric Holder.
In Wednesday morning's briefing with reporters -- which was dominated by questions about President Obama's birth certificate -- Press Secretary Jay Carney said the White House had no problem with House Republicans' decision to hire former solicitor general Paul Clement to defend DOMA, which defines federal marriage as between one man and one woman.
The House took up the case after Holder announced in February that the administration would no longer argue in support of the law after concluding that it is unconstitutional.
"We think -- as we said from the beginning when we talked ... about the decision no longer from the administration to defend the Defense of Marriage Act, that we would support efforts by Congress if they so chose to defend it," said Carney. "And so I have nothing to add to the attorney general's comments."
"Paul Clement is a great lawyer and has done a lot of really great things for this nation. In taking on the representation -- representing Congress in connection with DOMA, I think he is doing that which lawyers do when we're at our best," Holder said to reporters at the Justice Department, according to Politico. "That criticism, I think, was very misplaced."
Holder also compared the criticism of Clement to attacks received by Justice Department lawyers who had once represented Guantanamo detainees.
"It was something we dealt with here in the Department of Justice," Holder said, adding, "The people who criticized our people here at the Justice Department were wrong then, as are people who criticized Paul Clement for the representation that he's going to continue."
"We do share Eric Holder's views on this," Carney reiterated in Wednesday's briefing.
Last month, a five-person House Bipartisan Legal Advisory Group voted along party lines (3-2) to direct the House General Counsel to initiate a legal defense of DOMA.
Paul Clement, acting on behalf of House Republicans, recently filed a motion to intervene in the DOMA case in federal court. In the motion, they explained that the Justice Department informed them that "the United States does not oppose this motion to intervene for purposes of presenting arguments in support of the constitutionality of Section 3 of DOMA, but will be filing a response to explain its position."
A Justice Department spokesman told The Huffington Post that there are no further details on the government's motion at this time.