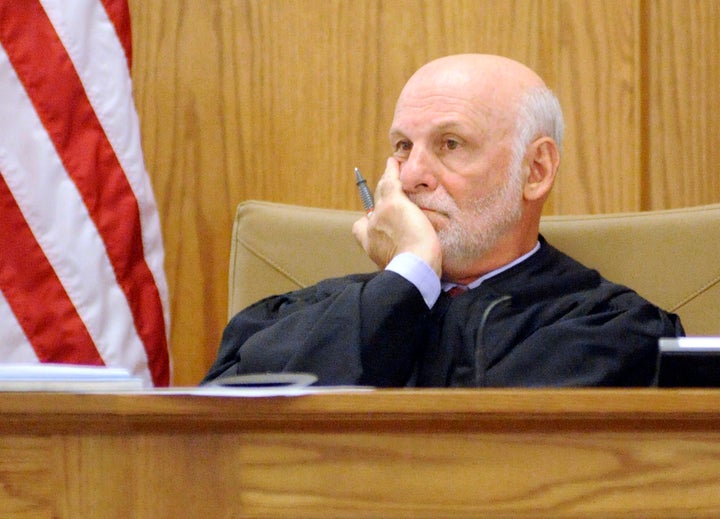 WASHINGTON -- In an incredibly rare public appearance in February, White House counsel Bob Bauer warned that the political standoff over judicial nominees was threatening the very fabric of government.
The rhetoric was deliberately over the top -- Bauer called it a Cold War-like standoff -- but the message was clear: the Obama administration regards vacancies on the court as a threat to its agenda. Bauer is now a man on the outs, set to leave the White House at the end of the month to go back to private practice and consult on the reelection campaign.
Weeks before she takes office, President Barack Obama's new White House counsel is already signaling that filling empty judge seats will remain a top priority for her team.
"Given the urgency of the judicial vacancy crisis, the president believes we must all move swiftly to address the situation," Kathryn Ruemmler told The Huffington Post in a statement.
"That is why this administration has worked vigorously to nominate judicial candidates of extraordinary intellect, diverse backgrounds and sterling credentials," she said. "We will continue to nominate candidates with a steadfast commitment to the rule of law because Americans from all walks of life deserve a functioning judiciary."
Ruemmler's vow to stay focused on filling judicial vacancies comes at a time when Democrats and Republicans agree that the nation's court system is in rough shape. As it stands, there are nearly 90 federal court vacancies, some of which have been empty for more than three years. The result is a judiciary so bogged down with delays, particularly along the Southwestern border, that the quality of proceedings is suffering and judges are routinely putting civil cases on the back burner in order to try to clear their criminal dockets.
A recent report by the left-leaning group Alliance for Justice paints a similar picture. During Obama's first two years in office, judicial vacancies grew from 55 to 97, the report states. "Judicial emergencies," the official term for any vacancy where filings exceed 600 per judge in district courts and 700 per judge in circuit courts, grew from 20 to 46.
Unless things change, "[w]e will end the year where we started –- with a judicial crisis of unprecedented scope," the report concludes.
And what that means for the White House is that every major accomplishment it has put into place -- whether it be health care reform, financial reform, environmental protections or gay rights -- is in judicial tension. For all the dramatic legislative battles fought during Obama's first term, the inability to get judges confirmed could end up bringing progress on any of those fronts to a screeching halt.
PARTISAN OPPOSITION IN CONGRESS
The need for fast action appears to be setting in at the White House. Obama has noticeably ramped up his judicial nominations to Congress in recent months. In fact, Obama nominated more judges in the first five months of 2011 (36 nominees, 13 confirmed) than in all of 2009 (34 nominees, 24 confirmed).
But any urgency on the issue doesn't appear to registering on Capitol Hill, where the Senate confirmation process is clogged by partisanship and the only thing anyone seems to agree on is that it's not their Party's fault for the logjam.
"I don't have any doubt it's at a crisis level," said Sen. Tom Udall (D-N.M.). "There has been an unprecedented level of obstructionism. [Republicans] are filibustering every one of his nominees."
"We agree that there's a crisis," said a Senate GOP leadership aide. The problem is "the White House isn't putting anyone forward" and Senate Majority Leader Harry Reid (D-Nev.) isn't "bringing up these nominations" when they are ready for a floor vote.
A White House official conceded the administration got off to a slow start in 2009, but pointed out the recent uptick in nominations.
"In 2009, the team was focused on filling a Supreme Court vacancy," said the official, who noted that former President George W. Bush didn't face that process until his second term. "But now we are essentially even with Bush and Clinton on appellate nominees -- and confirmations -- at this point in their respective presidencies. We will soon be even with Bush and Clinton on district court nominations."
But to be certain, the GOP has dealt Obama some recent setbacks. Citing "extraordinary circumstances," Republicans delivered Obama his first judicial rejection since taking office when, last month, they successfully filibustered Goodwin Liu's nomination to the 9th U.S. Circuit Court of Appeals. Liu has since withdrawn his nomination.
And June 6, Democrats howled again as Nobel Prize winner Peter Diamond withdrew his nomination to the Federal Reserve. He wrote in a scathing New York Times op-ed later that day that it was Washington's "partisan polarization" that drove him out.
"Last October, I won the Nobel Prize in economics for my work on unemployment and the labor market. But I am unqualified to serve on the board of the Federal Reserve -- at least according to the Republican senators who have blocked my nomination," Diamond wrote. "How can this be?"
Republicans, however, say partisanship in the nominations process is par for the course. The GOP accuses Democrats of being just as obstructionist when they were in the minority.
"They used to block everything," said Sen. Orrin Hatch (R-Utah), a member of the Judiciary Committee. He said Obama would have better luck getting his nominees confirmed if he put up solid candidates.
"You put up good people, they're going to get confirmed," Hatch said. "They've been putting up real partisan people."
"It's the sign of the times," Sen. John McCain (R-Ariz.) said of partisanship slowing down the process.
Other Republicans defended the practice of requiring cloture votes -- a procedural step that requires 60 votes to proceed with business -- when a nominee comes up for a vote on the Senate floor. Democrats, who hold a slim majority and need GOP votes to clear the cloture vote, argue that Republicans are abusing this step to filibuster nominees.
"Under the rules of the Senate, any Senator can require a cloture vote," said Sen. John Cornyn (R-Texas), also on Judiciary. "That's the way the Senate works, for better or for worse."
Sen. Roy Blunt (R-Mo.) said even Obama's noncontroversial nominees are "for life" and should be subject to intense scrutiny -- even if it adds delays to their confirmation.
"It's a big deal," Blunt said. "It's a lot bigger deal than allowing the president to have total input on somebody who's going to be serving as long as he is."
Democrats counter that Republicans are loathe to hand Obama any political victories through the confirmation process, and say Diamond's case is proof of how broken the process has become.
"I mean, here's a Nobel Prize winner who cannot make it through the process. To me, this is very unfortunate," Udall said. "It's a misuse of the filibuster rule."
Reid took to the Senate floor last week to blast the GOP's "ideology of obstruction" in Diamond's case. "Blocking every nominee, no matter the merits, is no way to govern or to lead," Reid said. "It is no way to move forward."
Sen. Frank Lautenberg (D-N.J.), who has been in the upper chamber for more than 25 years, observed that, while the nominations process has always been partisan, it has become more-so in recent years. "Oh sure," Lautenberg said, describing the "iron wall" that Republicans have putting up prevent the president's nominees from getting through.
Not that there hasn't been any movement on Obama's nominees. Last week, Sens. Saxby Chambliss (R-Ga.) and Charles Grassley (R-Iowa) dropped their request for a cloture vote on Solicitor General nominee Donald Verrilli, who was confirmed in a 72-16 vote. Chambliss declined to say why he requested cloture in the first place, but a Grassley aide signaled it had to do with an agreement with the Justice Department on information requests.
"This is a good faith effort from Senator Grassley to move the process [of dealing with oversight requests] forward, and he hopes the Justice Department will begin to act the same way," the aide said.
And in another good faith effort, Pennsylvania Sens. Bob Casey (D) and Pat Toomey (R) made an agreement a few weeks ago to move forward together when considering judicial nominees.
"We've just got to try to work together to move our nation forward," Casey said. "Sen. Toomey and I are trying to be a good example of that."
Even White House officials have given credit to Republicans for allowing some nominees through, despite the administration's frustration over the glacial pace of Senate confirmations.
"You know the process is broken when a Nobel laureate in economics is denied a post in the Federal Reserve," White House Press Secretary Jay Carney said during a briefing last Monday. "That's a problem."
But, he added, "I'm not suggesting that it's uniform. We have had obviously some nominees move forward, and we appreciate that."
Popular in the Community