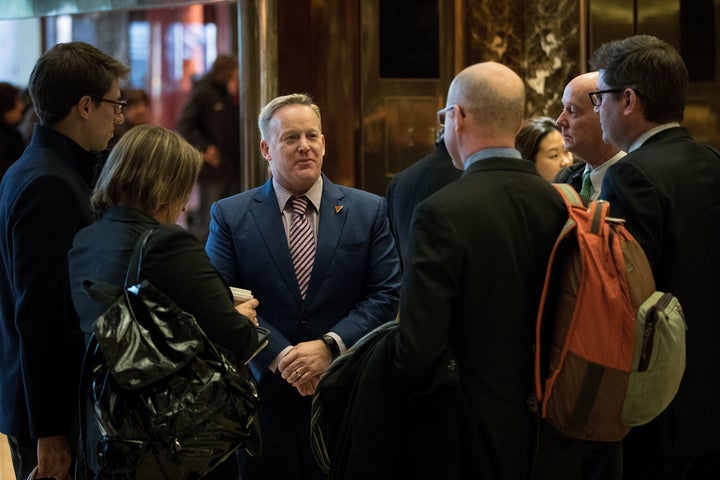 NEW YORK ― Sean Spicer, the incoming White House press secretary, has promised that "business as usual is over" in Washington.
For White House reporters, that could mean a lot of things.
Spicer has recently talked about changing the seating arrangement in the briefing room, whereby television networks, top wire services and major newspapers currently occupy the front rows. He's pondered bringing in more conservative news organizations and engaging more directly with the public. He's also suggested the Trump team might stop televising daily briefings, a practice that began two decades ago.
White House reporters remain in wait-and-see mode on such issues following Thursday's meeting at Trump Tower with Spicer and a couple other key members of the president-elect's communications team, Hope Hicks and Stephanie Grisham.
"I think that they are just sort of informing themselves right now about how the press corps works at the White House and mulling over what kinds of changes they want to make," White House Correspondents Association president Jeff Mason told The Huffington Post after the meeting.
It's unclear if any major decisions will be made before Inauguration Day, which is just over two weeks away. Mason said he and members of the WHCA board are planning to meet again with the White House communications team during the week Trump takes office.
As a presidential candidate, Trump repeatedly assailed the "dishonest" press and even blacklisted nearly a dozen news outlets. He still routinely swipes at the media on Twitter and has not held a press conference since July. His two predecessors, Barack Obama and George W. Bush, held news conferences three days after being elected.
So reporters are understandably concerned about which traditions will be upheld in a Trump White House, especially as Spicer and incoming chief of staff Reince Priebus have said they're reassessing customary dealings with the press.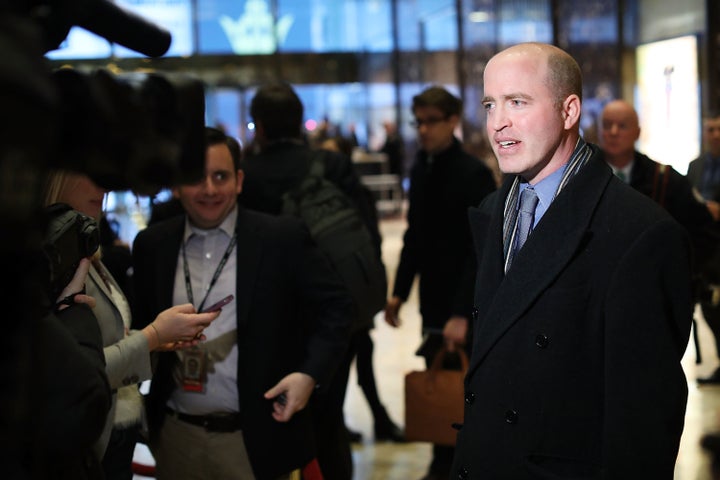 For decades, the WHCA has overseen the seating chart for the 49 spots in the briefing room, a point Mason said he reiterated in Thursday's meeting.
Mason said the Trump team "articulated a desire to open up the briefing and they asked a bunch of questions about that," but deferred to Spicer as to what their motivation may be for seeking changes.
Spicer did not immediately respond to a request for comment on the meeting.
But Spicer has been open in criticizing the status quo. At a Politico event last month, Spicer said there has been a "very stale operation" at the White House in which television networks and outlets like the New York Times get the best spots. "What about some of the conservative media having some of the prized seats in there?" he asked. "What about having some of the top bloggers being able to come in?"
Mason said the Trump team also still appears to be "mulling over" how to handle daily briefings and if they'll remain televised.
There was one significant development from the meeting: The Trump team assured reporters they can create a "protective pool" to cover the president.
Trump had so far bucked tradition by not having a "protective pool," a group of rotating reporters who chronicle the president and president-elect's travels and are on hand to capture everything from insignificant to historical moments. He'd already broken precedent by not allowing reporters to fly with him while the Republican nominee and continued that practice as president-elect. But reporters were told Thursday that the pool will travel with the president aboard Air Force One.
After the meeting, Mason told reporters huddled in Trump Tower that his group was "pleased about that assurance and we look forward to working with president-elect's team."
Support HuffPost
The Stakes Have Never Been Higher
Related
Popular in the Community