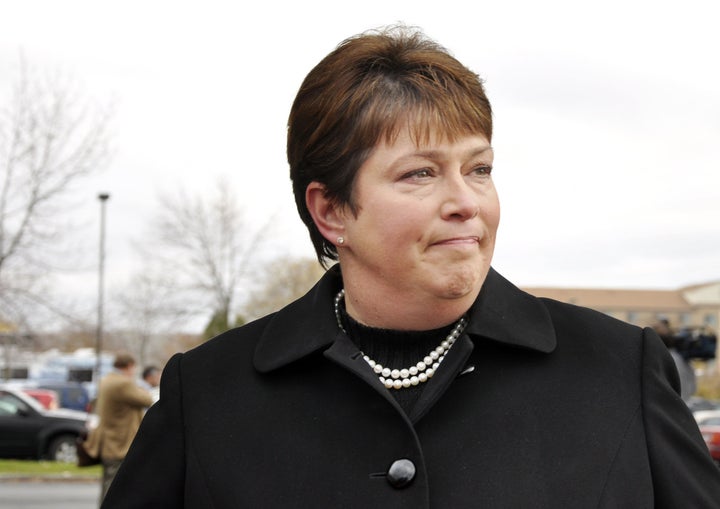 ***UPDATED 3:00PM*** Scozzafava has endorsed Democratic candidate Bill Owens over conservative party candidate Doug Hoffman.
Moderate Republican candidate Dede Scozzafava's departure from upstate New York's special congressional election is, senior Democrats predict, bad news for the Democratic Party.
While the state's 23rd district is decidedly conservative, having last sent a Democrat to Congress in the 1800s, there had been hopes that a three-person contest would catapult Dem Bill Owens to the House of Representatives. Now, conventional wisdom holds that Scozzafava voters will likely head towards the conservative party's Doug Hoffman or simply stay at home.
In the White House, at the very least, officials are bracing themselves for a loss, calling Scozzafava's departure bad news for Owens. The one hope, they say, is if Scozzafava -- who has more philosophical similarities with the Democratic Party than Hoffman's brand of Republicanism -- was to formally endorse her former rival.
"This hurts," one administration official told the Huffington Post on Saturday, "unless we can get her on board."
And on Sunday, the White House all but confirmed that it was after Scozzafava's endorsement. Appearing on ABC's "This Week," Obama's senior confidant, Valerie Jarrett said the administration "would love to have -- of course, have her support."
"And it's rather telling when the Republican Party forces out a moderate Republican and it says I think a great deal about where the Republican Party leadership is right now," Jarrett added.
Popular in the Community