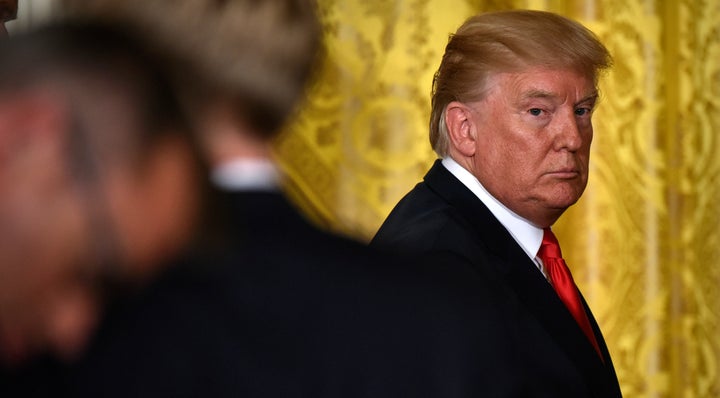 The Trump administration removed a 2014 report on sexual violence from the White House website.
"I went looking for it because I'm working on briefing for a client who's a survivor and was looking for some literature about the impact of sexual violence and that's been a really helpful resource for that kind of research," Brodsky told HuffPost. "But it was no longer on the White House website. It's not anywhere on the White House website."
While it is commonplace for the White House website to be cleared of its digital content during transitions between presidential administrations, it is unclear whether this report was taken down during the administration turnover on Inauguration Day, which was Jan. 20, or in the months since then.
The report, which can also be found on KnowYourIX's website, was created under the Obama administration by the 2014 White House Council on Women and Girls in partnership with then-Vice President Joe Biden. The findings of the report consist mainly of nonpartisan facts about sexual violence including sexual assault statistics and different ways the criminal justice system and college campuses can improve in combatting sexual and gender violence.
Brodsky tweeted her discovery early Wednesday morning.
While the White House declined to clarify exactly when the report was taken down since President Donald Trump took office, a White House spokesperson provided the following statement to HuffPost:
At the conclusion of a Presidential Administration, web content from that Administration is archived by NARA and typically made available on an archived website. The policy, process, and extent of archiving of Obama Administration content was determined by the Obama Administration, in consultation with NARA and other stakeholders.
In the days following Trump's inauguration, many people noticed that certain pages had been removed from the White House website including the LGBT and climate change pages. According to Snopes, it is "inaccurate to say that these terms were specifically scrubbed from the site by Donald Trump." While the climate change page has since been replaced with a page titled "An America First Energy Plan," there has been no replacement for the LGBT page.
"I think one of the reasons that that example comes to mind is because this is a report of facts and research," Brodsky said. "This is a summary of really important and, in some cases, government-funded work that was done to understand the causes and effects of sexual and gender violence. What does it mean that the Trump administration doesn't want the public to have that information?"
This article has been updated to reflect the standard processes of digital archiving that take place when a new administration comes into the White House.
CORRECTION: This article previously suggested that the removal of the report from the White House site was in some way unusual. As the White House notes, such removals are not uncommon in the routine transition between administrations.
Popular in the Community