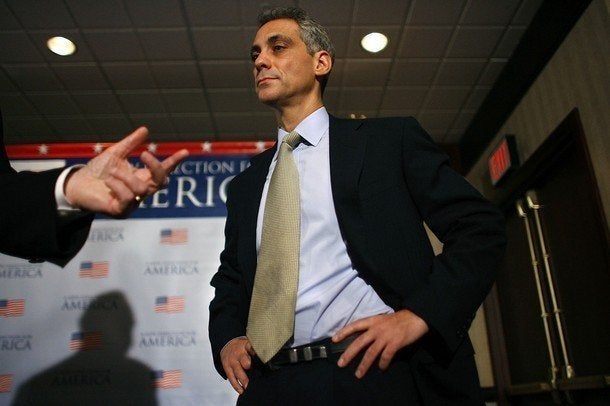 The White House is quietly working to undercut a key post-Enron reform, significantly weakening protection for everyday investors and threatening the administration's image as a champion for financial regulatory reform.
White House Chief of Staff Rahm Emanuel has been telling Democratic members of the House Financial Services Committee that he supports amending the Investor Protection Act of 2009 -- a bill designed to beef up protection for investors -- in order to exempt small businesses from a requirement in the Sarbanes-Oxley Act that mandates audits of internal controls. The Sarbanes-Oxley Act was enacted in 2002 in the wake of accounting scandals at Enron and Worldcom that rocked investors and damaged confidence in the markets.
"This has enormous significance to individual investors," former Securities and Exchange Commission Chairman Arthur Levitt told the Huffington Post. "This is something the Republicans could never have accomplished, and what a bitter irony it is that the Democrats...are emasculating the best piece of legislation of the past 20 years."
Emanuel is said to support an amendment proposed by Rep. Carolyn Maloney (D-N.Y.) that would exempt firms with a market capitalization of less than $75 million from the reporting requirement. Firms under that limit had not yet been subject to the reporting requirement, although they were told they'd have to comply by 2010. Maloney's amendment would further delay implementation. Slightly more than half of all publicly-traded companies would be affected.
Another amendment, offered by freshman Rep. John Adler, a Democrat from New Jersey, would raise that limit to $700 million, exempting four out of five publicly-traded companies.
Last week, the bill's sponsor, Rep. Paul Kanjorski, (D-Penn.), thought he had fought off both amendments. Then the White House intervened. Final roll call votes are scheduled for Wednesday.
The White House position, according to those familiar with Emanuel's argument, is that small businesses should not be the focus of onerous regulations because they aren't the ones causing the problems. And if the Maloney amendment passes, it would allow Democrats to say they're champions of small business.
But these are still public companies, notes Lynn E. Turner, former chief accountant for the SEC from 1998 to 2001. They're not mom-and-pop shops. And if they've decided to go public in order to attract more money, they've agreed to certain costs. The transparency that comes with regular audits of internal controls should be one of them, he says.
"Democrats like to talk a lot about how the deregulatory Bush Administration caused the financial crisis. I'm frankly having a hard time understanding why some of those same Democrats are lending their support to legislation that would weaken protections against accounting fraud even more than Christopher Cox's SEC was willing to do," said Barbara Roper, director of investor protection at the Consumer Federation of America, in a reference to the much-maligned former SEC chairman under the previous administration. "And [the Obama administration] wonder[s] why people question their credibility as financial reformers?"
"It's the freshman members of Congress, fearful for reelection, that are pandering to interests that want to overturn this legislation," Levitt said. "It makes a mockery of what the Democratic Party has always stood for -- individual investors."
Roper and others say the amendments increase the chances of financial fraud. Current SEC Chairman Mary Schapiro wrote Kanjorski last week, expressing concern about Adler's amendment.
Gary Gensler, the current chairman of another federal market regulator, the Commodity Futures Trading Commission, praised Sarbanes-Oxley in May during his swearing-in ceremony, referring to his role in its passage as a key Senate aide as being "one of the proudest moments of my career in government service." Sarbanes-Oxley brought "sweeping reforms of corporate responsibility, accounting and securities laws," he said at the time.
In response to a request for comment from the White House, an aide to Emanuel said: "The administration is working with Congress to pass landmark financial regulatory reform legislation that will protect consumers and prevent the kind of irresponsibility that caused the recession of the past two years."
Adler defended his amendment last week. His spokeswoman said the provision protects small businesses from "cost prohibitive regulations." Under Adler's definition, "small businesses" can be worth up to $700 million.
Levitt said the portion of Sarbanes-Oxley under attack "is the absolute touchstone of what individual investors care about -- this is the holy grail." In 2002, the bill passed the Senate by a 99-0 vote; it passed the House 423-3.
Kanjorski's spokeswoman released the following statement when reached for comment: "The legislative process is fluid. The Congressman is committed to having a strong investor protection bill, and to working closely with the Administration and Members on the Committee on the legislation."
That fluidity has consumer and investor advocates like Roper nervous. "Why are we having to waste our time defending reforms adopted in the wake of the last financial crisis when we should be focused on the reforms needed to address the current financial crisis?"
Related
Popular in the Community