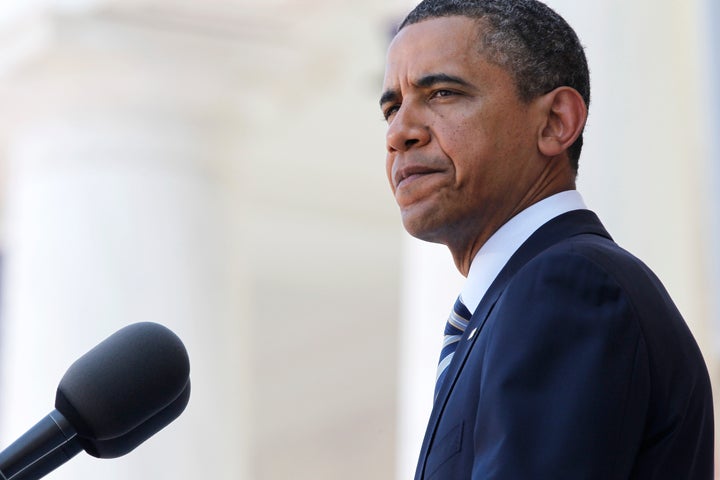 WASHINGTON -- A series of sharp spending battles and a wave of new tax receipts have improved the nation's long-term fiscal outlook, a new report by the Obama administration concludes. But the jobs crisis remains a major problem for lawmakers, as the White House projects the unemployment rate to remain above 9 percent in 2012 and not fall below 6 percent until 2016.
The Office of Management and Budget released its midsession review on Thursday, updating the forecasts that it completed last November and released last February when it put together its 2012 budget outline. The findings are a bit rosier, but are largely consistent with other economic analyses. On the jobs-front, the news remains largely grim.
The administration projections, which were based off of data up through June, have the unemployment rate at an average of 8.8 percent in 2011, 8.3 percent in 2012 and 7.7 percent in 2013. Those numbers are a touch better than projections made by the Congressional Budget Office, which pegged unemployment to be at 8.9 percent in 2011 and 8.7 percent in 2012-2013. In an effort to take into consideration changes in the economic climate that have occurred since June, however, the OMB offers an "alternative economic forecast" along with the midsession review. Under that model, the unemployment rate takes even longer to decline, going from 9.0 percent in 2012, to 8.5 percent in 2013 to 7.8 percent in 2014. In 2016 it hits 6.1 percent.
The slow uptick in aggregate hiring -- both in the review and the alternative forecast -- is owed to a less-than-ideal uptick in the nation's growth domestic product (economic growth is expected to average 2.5 percent in the long run) as well as "discouraged workers" rejoining the labor force as labor market conditions improve.
While the jobs crisis has proved tough to turn, lawmakers have managed to chip away at the deficit. As a result of both higher-than-expected tax receipts and legislation to avert a government shutdown and a Treasury default, the nation's fiscal outlook has improved from earlier projections. According to the OMB, the 2011 deficit is now estimated to be $1.316 trillion, a 20 percent reduction from the $1.645 trillion estimate made this past winter. As a percentage of gross domestic product, the authors write, "the deficit is now projected to equal 8.8 percent, down from 10.9 percent projected in February."
The long-term outlook has also improved. Owing to $2 trillion in expected savings from the winding down of the wars in Iraq and Afghanistan, as well as an expected $1.5 trillion in savings set to be recommended by a congressional super committee, the deficit as a percentage of GDP will be brought down to approximately 2.2 percent in ten years, the OMB concludes.

That number still means that the nation's debt will rise, just at a slower pace. For 2012, debt held by the public -- as in debt not held for foreign sovereignties -- is projected to increase to $11.307 trillion, or 72.1 percent of GDP. That number will rise to 73.5 percent of GDP in 2013. By the end of the 10-year budget window, the OMB projects that it will be reduced to 70.5 percent of GDP.
Beneath the macro numbers, the review provides some specific insights into how the nation's economy has stalled for workers during the past two years. In particular, the report shows that while corporate profits have grown at a fast rate over the past three years, labor compensation has fallen below the long-run average.
In 2009, domestic corporate profits were $906 billion. By 2011, that number had risen to $1.322 trillion -- an increase of roughly 46 percent. During that same time period, employee compensation went from $7.812 trillion to $8.264 trillion -- an increase of just 5.7 percent.
Unemployment compensation, however, is on the decline when compared to projections that were made in February. The OMB calculates that the government will spend $11 billion less on unemployment benefits in 2011 and $17 billion less on unemployment benefits in 2012 than it initially planned. That reduction is "driven by a lower-than-expected insured unemployment rate as well as a decline in the average weekly unemployment benefit," the study notes.

Popular in the Community