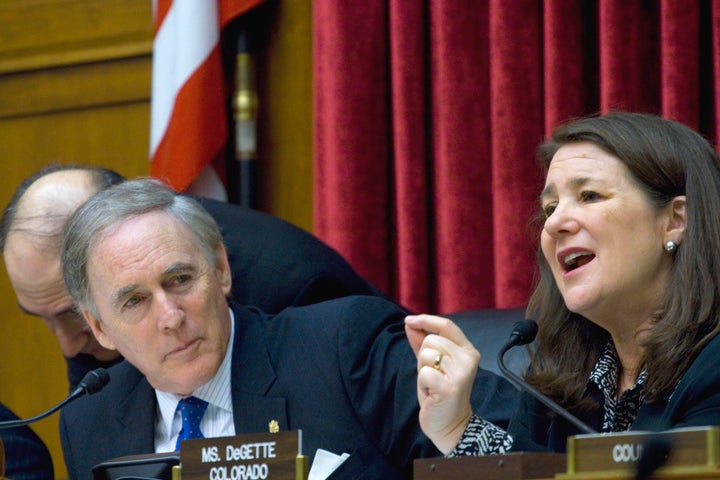 WASHINGTON -- The Obama administration is seizing on remarks by a top Republican who argued that the United States cannot compete with China in the solar energy business, saying it shows "defeatism" about America's future and workers.
He was arguing that the government never should have guaranteed a $535 million loan to the solar manufacturer that declared bankruptcy last month because China will do better with that and other new energy technologies.
"We can't compete with China to make solar panels and wind turbines," Stearns said in an NPR story.
Tuesday afternoon, the White House is taking issue with that sentiment.
"This comment reflects exactly the sort of counterproductive defeatism that Energy Secretary Steven Chu warned against this weekend when he spoke to a group of America's most promising young solar innovators," wrote White House Communications Director Dan Pfeiffer in a blog post, referring to a speech delivered Saturday.
"The United States faces a choice today," Chu said while celebrating winners of the 2011 solar decathalon. "Will we sit on the sidelines and fall behind or will we play to win the clean energy race? Some say this is a race America can't win. They're ready to wave the white flag and declare defeat. ... Others say this is a race America shouldn't even be in. They say we can't afford to invest in clean energy. I say we can't afford not to."
Citing estimates that solar sources will eventually produce 20 percent of the world's energy, Pfeiffer argues that the United States can't use one company's failure to justify giving up on an industry that's likely to be worth trillions of dollars annually and already employs some 100,000 Americans.
"The answer to this challenge is not to wave the white flag and give up on American workers," Pfeiffer wrote. "America has never declared defeat after a single setback –- and we shouldn't start now. ... It's time to do what we've always done in the face of a tough competitor: roll up our sleeves and recapture the lead."
Stearns' office did not immediately respond to requests for comment from The Huffington Post.
His claim that America can't compete with China on solar comes despite promising developments in the U.S. solar industry. Yet renewable energies, such as solar, receive just one-tenth of the funding that nuclear energy did in its early days. Pfeiffer noted that China has offered its solar manufacturers $30 billion in financing.
As far as Solyndra failure, the California solar company represents only around 3 percent of the Energy Department's loan guarantees targeting the solar industry, and just 1.3 percent of the $39 billion in loans authorized under the program.
In an interview with ABC's "Good Morning America" on Monday, President Obama echoed the secretary's comments, telling George Stephanopoulos that it's not possible for the federal government to back winners every time, and investing in new technology comes with a certain level of risk. Last week the Obama administration ploughed ahead on investing in solar technology, approving two new solar loan guarantees for a total of more than $1 billion for projects in Arizona and Nevada.
Administration officials aren't alone in defending America's continued investment in solar. Many industry experts, including R. James Woolsey, former 2008 presidential campaign adviser to Sen. John McCain (R-Ariz.), have said Solyndra's collapse should not stigmatize the federal government's investment in clean energy.
In an interview with HuffPost's Sam Stein, Woolsey said that Solyndra should not be used to vilify investment in clean energy programs.
"People ought to resist [demonizing alternative energy] because it's really stupid to blame solar in general for some people not managing a corporation well," said Woolsey, now chairman of the Foundation for Defense of Democracies. "Solar ... keeps getting cheaper and more efficient all the time, and steadily. And I think the folks you see going after solar as a result of all of this, some of them probably have quite a substantial interest in maybe coal or whatever. I think that anybody who follows solar closely realizes how the changes are coming."
With additional reporting by Jordan Howard
Calling all HuffPost superfans!
Sign up for membership to become a founding member and help shape HuffPost's next chapter