White House press secretary Sean Spicer dodged questions Tuesday afternoon about President Donald Trump's son-in-law, Jared Kushner, and what Trump did or didn't know about Kushner's meetings last year with Russian officials.
"Mr. Kushner's attorney has said that Mr. Kushner has volunteered to share what he knows with Congress about the meetings," Spicer told reporters during the daily press briefing.
The Washington Post and other major outlets reported last week that Kushner and Russian officials discussed the possibility of opening up a secret channel for communications last year. But Spicer argued he could not address those claims because the stories were "unconfirmed" and based on "anonymous sources."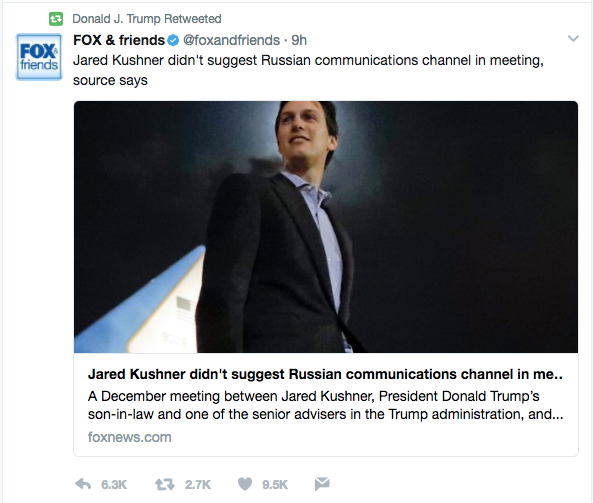 The Fox story claimed that it was Russian officials, and not Kushner, who proposed a backchannel for communications between Trump and Russian President Vladimir Putin.
When asked whether the president's tweet meant Trump acknowledged that the backchannel discussion had occurred, Spicer dodged again. "What I just said speaks for itself," he answered.
Fox News' version of events, which it said came from one anonymous source "familiar with the matter," contradicts numerous reports from news outlets including The New York Times and The Washington Post. Those reports said it was Kushner who first raised the possibility of a secret communications channel, an idea that the Russians ultimately rejected.
Kushner's meetings have attracted the attention of the FBI in its ongoing investigation into Russian efforts to disrupt the 2016 presidential election and potential contact between Trump campaign staff and Russian officials.
Earlier this month, Trump reportedly retained a team of experienced Washington attorneys to help him navigate the ballooning investigations by the FBI and congressional committees, which have so far enveloped his former national security adviser, his son-in-law, numerous campaign officials, and as of late Tuesday morning, his longtime lawyer, Michael Cohen.
Trump fired former FBI director James Comey in late April, a decision for which the White House and the president have offered a variety of conflicting justifications. Since then, the Department of Justice has named a special counsel and the investigation has continued.
Spicer concluded the briefing on what has become a familiar point of contention between the White House and the press: namely, Trump's frustration with the "perpetuation of false narratives" and the news media's "use of unnamed sources."
Popular in the Community