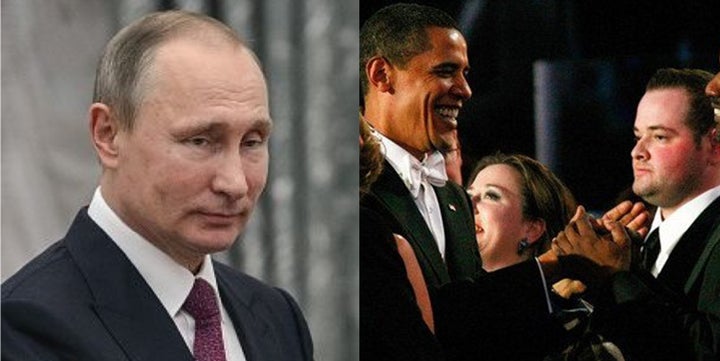 President Barack Obama and Vice President Joe Biden are reviewing the Democratic Coalition's investigative report highlighting 10 "clear links" that the FBI failed to investigate about our President-elect's business ties to Russia, and to the Putin regime.
It's named "The Dworkin Report."
"The FBI missed at least 10 key connections between President-elect Trump and Russia when they conducted their investigation and concluded that our President-elect had no links to the country," said Scott Dworkin, Senior Advisor to the Democratic Coalition and author of the report. "It is imperative that the American people be made aware of this information."
Additionally, the evidence shows that Trump has travelled to Russia dating back to 1987, before the end of the Soviet Union.
In particular, a visit in 2010 included a tour of St. Petersburg's Hermitage Museum led by a Russian government official of sufficient ranking, that he earned a personal photo and award from Vladimir Putin earlier this year.
The Democratic Coalition also revealed a 2013 video recorded interview with Donald Trump to MSNBC's Thomas A. Roberts - which he has confirmed as authentic - where he claimed twice to have a relationship with Putin.
Also in 2012, Donald Trump Jr. told Latvian interviewers in a video recorded interview, that he had been to Russia many times and that the Trump Organization has a significant business there.
The Dworkin Report was also shared with Democratic Congressional leaders Senator Harry Reid, Senator Dianne Feinstein, Senator Patrick Leahy, Senator Elizabeth Warren, Minority Leader Nancy Pelosi, and Congressman Keith Ellison on Thursday evening.
Russia's authoritarian President Putin himself sent warm congratulations, after Tuesday night's Presidential election, in which his government has already openly admitted to interfering.
President-elect Trump is set to become the first pro-Russia occupant of the White House in American history.
"I'm surprised that - if not shocked - that the FBI claims to have found no "clear link" of Trump's Russian ties when it's right in front of us and stretches back decades," said Dworkin about the federal agency's investigation exclusively in a telephone interview, "You can learn more about Trump's Russian ties from Google, than you can from the FBI's public purported investigation."
Related
Popular in the Community