President Donald Trump's White House moved Monday to revoke the visas of Nicaraguan officials over what it called the "state-sanctioned" violence against protesters in recent months.
In a strongly worded statement, the Trump administration condemned the deadly violence against demonstrators in Nicaragua and "human rights abuses committed by the Ortega regime in response to protests." The statement said President Daniel Ortega was "ultimately responsible for the pro-government parapolice that have brutalized their own people."
Ortega repeated in a CNN en Español interview on Monday that he won't schedule early elections, despite demonstrators' calls for the government to do so.
The Trump administration said it would revoke or restrict visas of Nicaraguan officials and their families "when those officials have been responsible for police violence against protesters," or when they've supported pro-government paramilitary groups' attacks.
The U.S. government also said that it had ended further sales and donations of equipment to Nicaraguan police, and "secured" the return of vehicles previously donated. Those vehicles, it said, "have been used to violently suppress peaceful protests."
The U.S. imposed sanctions on three top Nicaraguan officials earlier this month, citing human rights abuses, and the Trump administration said Monday that "these are a start, not an end, of potential sanctions."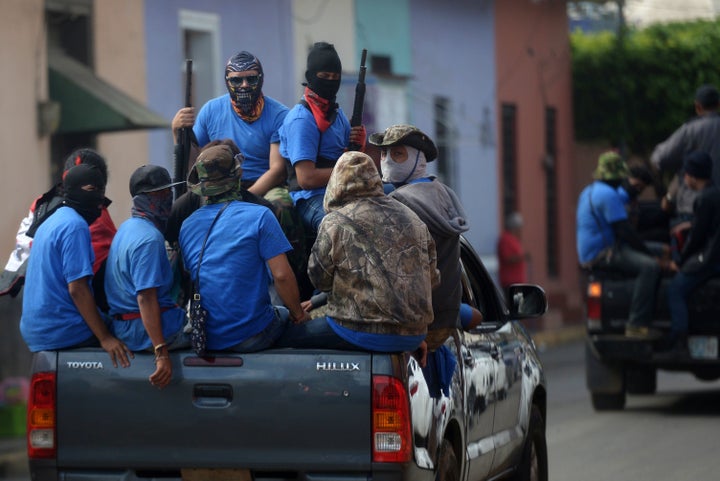 The protests in Nicaragua initially targeted the government's proposed cuts to the nation's social security system. But as the police violently cracked down on student-led demonstrations, killing over two dozen people in the first week, the protests grew into broader calls for Ortega to step down.
Ortega, who began his current presidential tenure in 2007, has been criticized for what opponents see as his government's increasing shifts toward authoritarianism. That includes ending constitutional term limits in 2014, allowing him to run for re-election. He is now serving his third consecutive presidential term, with his wife, Rosario Murillo, as vice president.
Ortega, 72, first rose to prominence as a leader of Nicaragua's Sandinista leftist guerrilla uprising that led to the ouster of decades-long dictator Anastasio Somoza in 1979. He then served as president from 1985-1990.
Some critics have compared Ortega's recent power grabs to the Somoza family dynasty he helped to topple.
In its Monday statement, the White House said it "stands with the people of Nicaragua, including members of the Sandinista party, who are calling for democratic reforms."
Calling all HuffPost superfans!
Sign up for membership to become a founding member and help shape HuffPost's next chapter