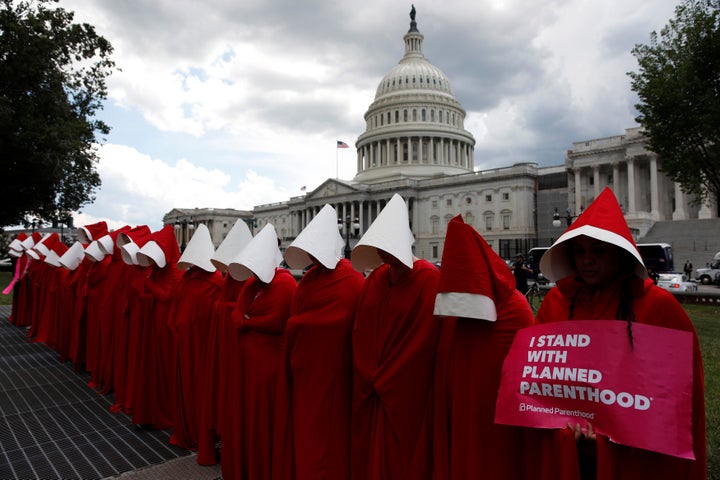 The White House announced Friday that it will no longer discourage states from attempting to defund Planned Parenthood, further restricting women's access to health care.
President Donald Trump wrote a letter to state Medicaid directors in which he said he was rolling back an Obama-era guidance that advised states not to defund the family-planning provider.
"Reinstating the pre-2016 standards frees up states to once again decide for themselves what reasonable standards they use to protect Medicaid programs and their beneficiaries," Charmaine Yoest, assistant health and human services secretary for public affairs, said in a call with reporters.
The Department of Health and Human Services said the initial guidance "restricted states' ability to take certain actions against family-planning providers that offer abortion services."
"On the anniversary of the historic Women's March, the Trump-Pence administration makes their agenda crystal clear: They are laser-focused on using their power to control women's bodies and lives," Laguens said in a statement. "Their latest action encourages states to try to block access to care at Planned Parenthood and control where women can go for health care. Without Planned Parenthood, many of our patients would lose access to health care altogether — either because there are no other providers in their community or because other clinics cannot serve all of our patients."
Planned Parenthood says abortions make up about 3 percent of the services it provides. The group primarily provides sex education and birth control options.
Trump also used a live video stream on Friday to address thousands of people at the March for Life rally. The rally, which took place in Washington, D.C., is the largest anti-abortion rights gathering in the country. Activists plan to march to the Supreme Court to protest outside of the building.
"Not only is blocking care at Planned Parenthood dangerous, it's unpopular ― which is why it failed in Congress six times," Planned Parenthood said in a statement. "Poll after poll shows that the American people overwhelmingly support Planned Parenthood and strongly oppose these attacks on their health care."
Popular in the Community