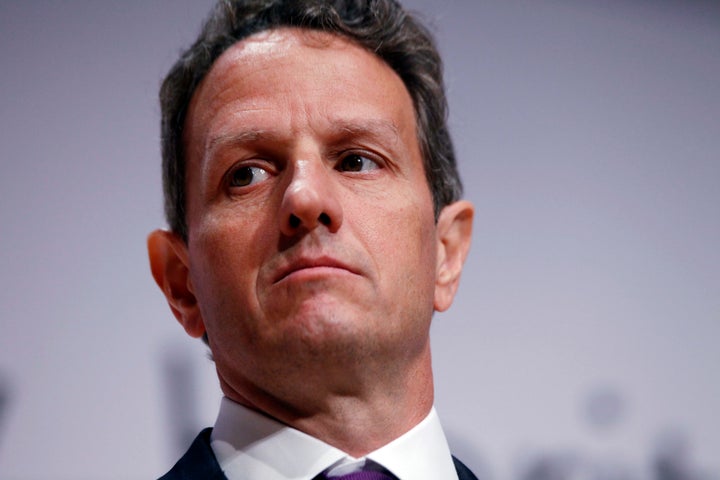 WASHINGTON -- As quickly as the so-called "constitutional option" appeared as a way to resolve the debt ceiling showdown, top White House officials have apparently closed that door.
During Thursday's talks between the president's team and congressional leadership, Treasury Secretary Tim Geithner reportedly revealed that he believed the administration did not have the constitutional authority under the 14th Amendment to simply ignore the debt ceiling and continue borrowing money.
In addition to his warnings about the cost of a default, officials said, Mr. Geithner told the lawmakers the White House did not believe it had the authority, under the Constitution, to continue issuing debt if it reached the debt ceiling. Nobody in the room disputed Mr. Geithner's bleak assessment, the officials said.
The report comes less than 24 hours after Reuters reported that Treasury officials were discussing whether to use the option -- the first indication that the administration's lawyers were entertaining the legality of ignoring the congressionally set debt limit. It also comes as at least one Republican lawmaker, Sen. Chuck Grassley (R-Iowa), acknowledged that the constitutional option could very well be utilized.
"The 14th Amendment includes a public debt clause that insists the obligations of the government 'shall not be questioned,'" Grassley said in a conference call with local reporters.
That the White House would choose not to keep the option of ignoring the debt ceiling as an arrow in its quiver is a curious strategic move. It could have presented an emergency exit if debt negotiations with Republican leadership reached an intractable impasse. It also served as a threat to Republicans, who risked getting nothing at all if they refused to budge on issues like tax revenues. It is worth noting, though, that the revelation may have come from a Republican source at the White House meeting, rather than from Geithner or the White House.
An email to both the White House and the Treasury Department seeking comment was not immediately returned.
UPDATE: A "source familiar with the discussions" confirms that Geithner told lawmakers at Thursday's White House talks that the 14th Amendment option is off the table.
Popular in the Community