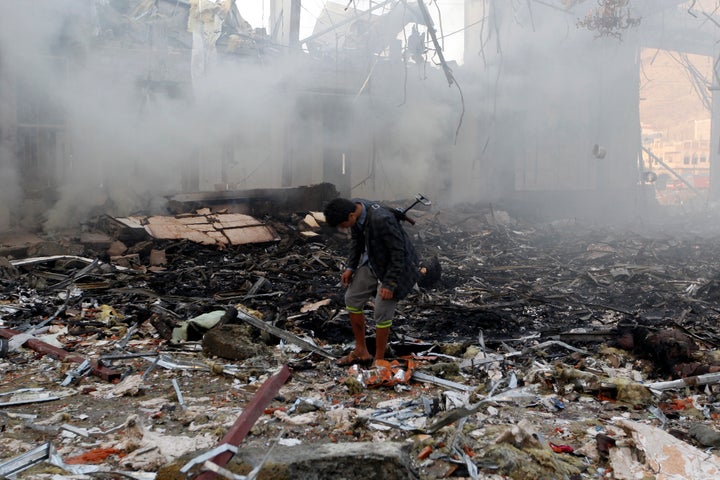 The White House issued a rare rebuke of Saudi Arabia's air war in Yemen and hinted at a future reduction of support for their ally in Riyadh.
"U.S. security cooperation with Saudi Arabia is not a blank check," National Security Council spokesman Ned Price said in a statement Saturday night following reports that a series of airstrikes on a funeral hall in Sanaa, Yemen, allegedly conducted by a Saudi-led coalition, killed more than 140 people and injured more than 500. If the death count is confirmed, it would be the deadliest attack in a war that has already had a devastating civilian toll.
"We have initiated an immediate review of our already significantly reduced support to the Saudi-led Coalition and are prepared to adjust our support so as to better align with U.S. principles, values and interests, including achieving an immediate and durable end to Yemen's tragic conflict," Price said Saturday.
The Obama administration has come under increasing criticism by human rights groups and some members of Congress for providing Saudi Arabia with weapons and logistical and intelligence support for the bombing campaign in Yemen. White House officials have emphasized that the U.S. does not make targeting decisions ― but U.S. assistance has undoubtedly enabled Saudi slaughter of civilians.
The White House has been hesitant to condemn Saudi Arabia's actions in Yemen, but there have been indications of growing discomfort with continuing to support the war. Reuters reported in August that the U.S. was downsizing the number of military personnel and other staffers who were assigned to coordinating the air campaign with Riyadh. And on Saturday, Price said the administration was "deeply disturbed" by reports of the airstrikes on the funeral hall and referred to a "troubling series of attacks striking Yemeni civilians."
The Saudi-led coalition said in a statement it would investigate the incident with help from the U.S.
The airstrikes targeted a funeral for the father of Galal al-Rawishan, the interior minister who is allied with the Houthis, a rebel group that took over the Yemeni capital of Sanaa last year and is loyal to former President Ali Abdullah Saleh, who was ousted in 2012. The Saudi-led coalition launched its air campaign, ostensibly targeting Houthis, shortly after.
Both sides have been faulted for attacks that kill civilians ― but the United Nations humanitarian coordinator Jamie McGoldrick blamed the Saudi-led coalition for Saturday's attack. At least 10,000 people have died in the conflict, according to U.N. estimates.
The Saudi-led coalition called the bombing "regrettable and painful" in a statement, but did not directly accept responsibility for the attack.
HUFFPOST READERS: What's happening in your state or district? The Huffington Post wants to know about all the campaign ads, mailers, robocalls, candidate appearances and other interesting campaign news happening by you. Email any tips, videos, audio files or photos to scoops@huffingtonpost.com.
Before You Go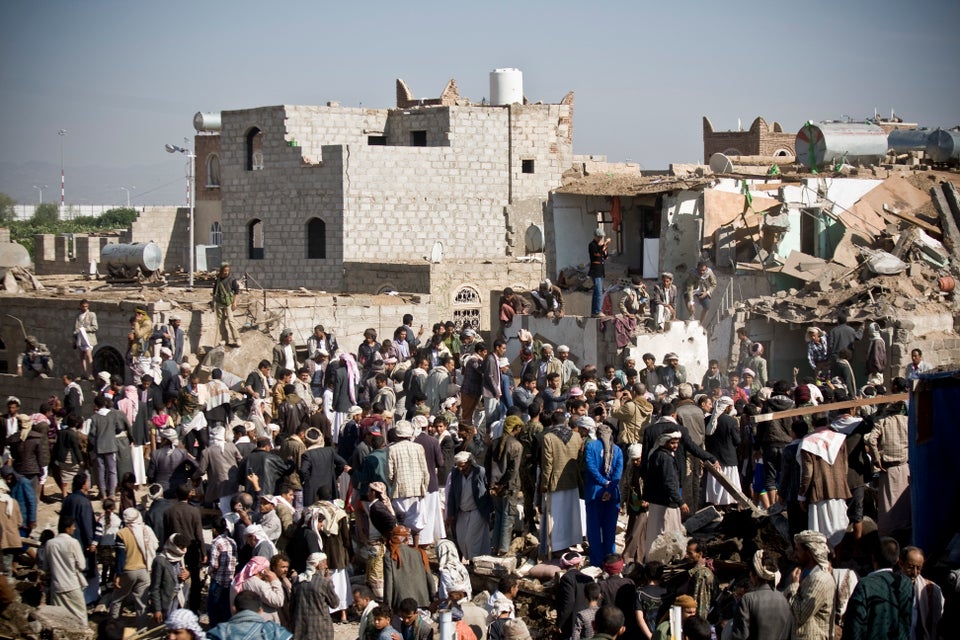 Saudi Airstrikes Yemen
Popular in the Community