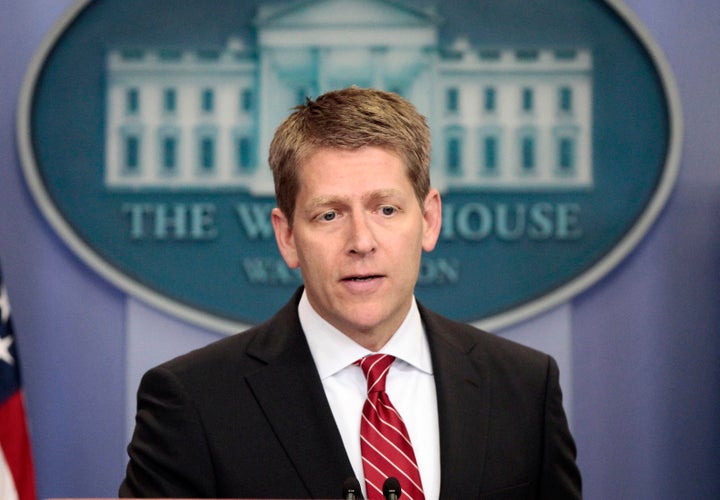 WASHINGTON -- The White House on Wednesday closed the door a little more on the debt proposal being floated by Senate Minority Leader Mitch McConnell (R-Ky.), a measure already under siege by conservatives.
"This is not a preferred option," White House Press Secretary Jay Carney said of McConnell's proposal in his daily briefing.
McConnell's proposal for avoiding debt default -- to transfer full power to raise the debt ceiling to the White House for the remainder of Obama's current term, cutting Congress out of the process -- does nothing to address deficit reduction, Carney said. And Obama is set on making sizable cuts.
"The president is firmly committed to significant cuts in spending and to dealing with our deficit and debt problems in a balanced way," he said. "Bigger is better. ... It's an opportunity for a game-changer, to put the United States on much firmer ground as we really get into the 21st century and the economic competition that confronts us."
On Tuesday, the White House made a point to publicly embrace the sentiment of McConnell's proposal, reaffirming that default is not an option. But it stopped short of supporting its particulars. Carney's comments Wednesday clarified that the White House has little desire to actually move on the GOP offer.
Conservative Republicans have assailed McConnell's proposal from the moment it was unveiled. Conservative blog RedState calling McConnell "a weasel" and slammed his proposal as the "Pontius Pilate Pass the Buck Act of 2011." Sens. Mike Lee (R-Utah), Orrin Hatch (R-Utah) and Jim DeMint (R-S.C.) have already signaled they will oppose the plan if it comes to a vote.
Regardless the fate of his proposal, McConnell cast more gloom on the overall debt debate when, during an interview on Laura Ingraham's program earlier Wednesday, he predicted that no Republicans will vote to raise the debt limit in the end. Carney questioned why McConnell would say that when he made clear with his proposal that a debt default is not acceptable.
"It doesn't really make any sense to me because he has made clear that we absolutely cannot default on our obligations," Carney said.
In the same interview, McConnell also flatly conceded he is pushing his proposal in an effort to shift political blame for raising the debt limit purely onto the president, with the goal ultimately being to prevent Obama from getting re-elected in 2012. Carney chided the Republican leader trying to turn votes on the nation's deficit and debt into a referendum on the president.
"It's unfortunate to view this through a purely political lens," he said. "The president recognizes that it is his responsibility to do this. It is his responsibility to compromise. And he certainly believes that the Republicans ought to do the same and that we're in this together."
Popular in the Community