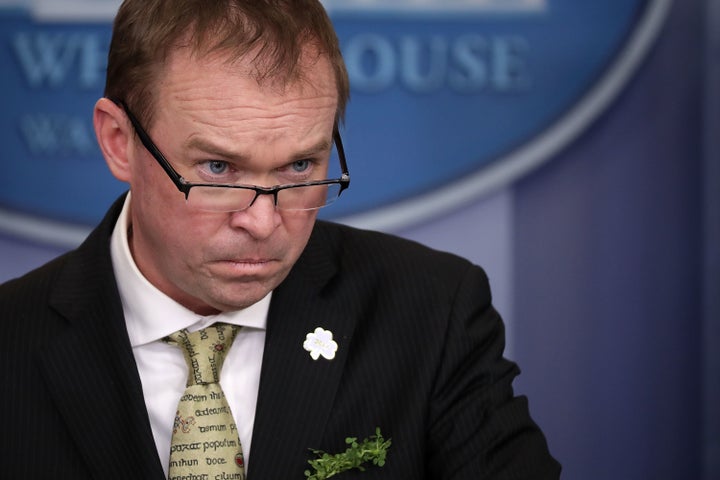 WASHINGTON ― Despite grumblings from corners of both parties, the White House is planning to send Congress a package of spending cuts in the coming weeks that could once again imperil the bipartisan appropriations process and lead to yet another spending standoff.
Mick Mulvaney, director of the Office of Management and Budget, has told some lawmakers that President Donald Trump intends to deliver a so-called "rescissions package," which would claw back some of the money Congress and the president agreed to last month in their $1.3 trillion omnibus legislation.
The suggested cuts wouldn't greatly affect the overall price tag of the omnibus. Rep. Tom Cole (R-Okla.), who chairs one of the House Appropriations subcommittees, told reporters on Wednesday that, based on his conversations with Mulvaney, he believed $25 billion would be the "ceiling" for any package. But the move could still undermine bipartisan negotiations on next year's appropriations bills, as well as hold up agency spending over cuts that most lawmakers don't believe will ever be enacted.
The top Democrat on Cole's subcommittee, Rep. Rosa DeLauro (D-Conn.), and her counterpart on the matching Senate subcommittee, Sen. Patty Murray (D-Wash.), sent a letter to the National Labor Relations Board on Wednesday urging the NLRB, long a target of Republican spending cuts, to not freeze funds out of some expectation that the administration may try to slash its programs.
"We remind you that Congress, not the administration, has the ultimate authority to set funding levels for executive branch agencies," DeLauro and Murray wrote.
"Any attempt to go back on the deal we made would be an extreme act of bad faith, in addition to being bad for workers and a violation of the law," they added.
Democrats are worried that the White House's mere proposal of a rescissions package could drive agencies to put some plans on hold until questions about their budgets are resolved, even though, as DeLauro and Murray point out, agencies aren't supposed to withhold funds until the president at least sends a formal spending impoundment message to Congress.
But communication from this White House to Congress has been spotty at best.
House Appropriations Chairman Rodney Frelinghuysen (R-N.J.) told reporters Wednesday morning that there's been "no communication" from the administration on what a rescissions package would look like. He said there's also been "zero" communication from House leadership.
"We had a caps deal," Frelinghuysen said Wednesday, referring to the agreement between Republicans and Democrats to set spending limits for two years. "We made a decision ― leadership made a decision ― and obviously there may be aspects in the rescissions package that violates that agreement."
Frelinghuysen added that presidents have made rescissions proposals in the past, and there could be valid reasons for some of the cuts. But GOP lawmakers acknowledged to HuffPost that such an exercise now could poison the well for appropriators and make it more difficult to move spending bills through the chambers. And the whole process of suggesting cuts could be pointless, as Republican senators already seem cool to any proposal.
"I'm hearing that more than half the Republicans would vote against the rescission package in the Senate," one GOP lawmaker told HuffPost on Wednesday.
Asked whether a rescissions package could delay spending bills reaching the House floor, Cole said that it was a possibility and that appropriators would have to "stop and take a look" at the proposed cuts.
Cole also said it would be one thing if the package were just taking back so-called unobligated funds ― money that agencies didn't spend in the past ― and another thing if it were attacking the new spending in the omnibus deal. If it went after new spending, Cole said that would make it "much more difficult to get an agreement next year."
The whole rescissions idea seems to be more messaging than substance ― a scheme cooked up between House Majority Leader Kevin McCarthy (R-Calif.) and Trump himself. While McCarthy has enthusiastically backed the notion, other House leaders have been more cagey about their support, and Senate Majority Leader Mitch McConnell (R-Ky.) has signaled open opposition to the idea.
"You can't make an agreement one month and say, 'OK, we really didn't mean it'" the next, McConnell told Fox News last week.
REAL LIFE. REAL NEWS. REAL VOICES.
Help us tell more of the stories that matter from voices that too often remain unheard.