In a lengthy statement released late Sunday, President Donald Trump's aides shared a list of cherry-picked quotes from Deborah Ramirez's interview with The New Yorker's Ronan Farrow and Jane Mayer. In the article, Ramirez alleged that Kavanaugh exposed himself at a party when they were both attending Yale University in the early 1980s, thrusting his penis in her face and forcing her to touch it to get away from him.
The Trump administration wasted little time in beginning a campaign to discredit her claims:
Under the subject line: "What You Need To Know About The Allegations Made In The New Yorker," the administration's bullet-pointed list focused on Ramirez's admissions of drunkenness and her reluctance to speak about the alleged assault.
However, the statement failed to include other details from Ramirez' account, including her claim that she remembered Kavanaugh standing next to her, laughing and pulling up his pants while another person at the party yelled: "Brett Kavanaugh just put his penis in Debbie's face." Several of her classmates from the 1983-84 school year also said they had been told about the incident in vague terms when it happened, per The New Yorker.
Ramirez said she was hesitant to come forward with her allegations in light of the political and threatening attacks on sexual assault accuser Christine Blasey Ford. She repeatedly admitted that she was inebriated at the time of the incident and said that there were gaps in her memory. However, Ramirez also expressed confidence in her recollection and urged the FBI to investigate the claims.
Trump's Supreme Court nominee has denied the allegations, calling them an attempted "smear, plain and simple."
"This alleged event from 35 years ago did not happen," Kavanaugh said of the Ramirez claim. "The people who knew me then know this did not happen, and have said so."
The New Yorker was unable to independently verify if the gathering where the alleged assault took place actually happened. On Sunday, The New York Times said it had been chasing the story for a week but was unable to confirm its authenticity.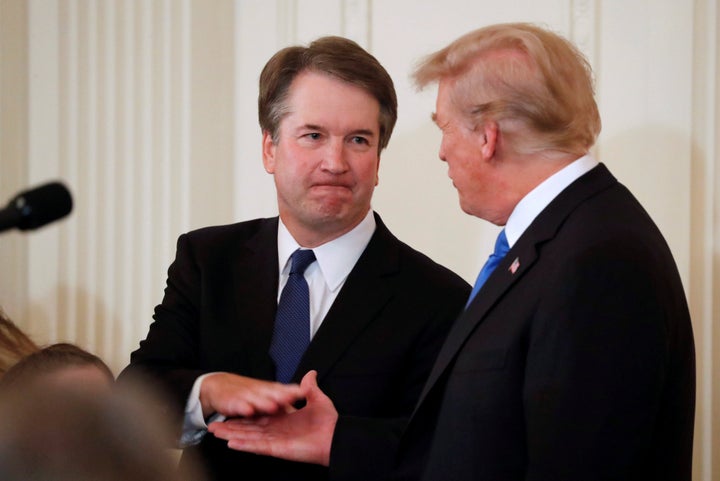 Statistics demonstrate that many victims do not come forward after experiencing sexual violence. Department of Justice figures show that nearly two-thirds of people who are sexually assaulted don't go to the police.
Blasey, who went public with her own allegations against Kavanaugh earlier this month, expressed her hesitation to do so. She said she was worried the publicity would be detrimental to her family. Those fears have proven true, and she was forced to leave her home amid death threats.
Blasey is slated to testify about her experience before the Senate Judiciary Committee on Thursday. Sen. Dianne Feinstein (D-Calif.), the ranking Democrat on the Judiciary Committee, has called for the hearing to be canceled.
Trump has stood by Kavanaugh in recent days, though he has remained relatively silent throughout the mounting scandal. At a rally on Thursday, he praised his nominee as a "great gentleman" and questioned why Blasey took decades to come forward with her allegations. He also attacked Ford on Twitter:
Calling all HuffPost superfans!
Sign up for membership to become a founding member and help shape HuffPost's next chapter