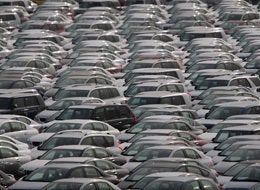 Chrysler has announced that 30 factories - all of their North American production plants - will close and remain that way until at least January 19th.
In the meantime, the White House says President Bush is still "gathering information and looking at options," with some expecting an announcement this Friday, while two major carmaker suppliers have filed for bankruptcy. Even Bush doesn't want to go down in history as the man who oversaw the destruction of GM, Ford and Chrysler (I hope), and I'd guess President-elect Obama wishes he could install his own new team now and fire Henry Paulson, who is still blocking using any of what's left of the $700 billion TARP (Troubled Assets Relief Program) fund for Detroit.
While GM and Chrysler are busy announcing plant closings across the country, Ford is being aggressive, some say too aggressive, in telling Washington and the public they don't need cash right now, but they do want a $9 billion line of government-provided credit they can draw upon if and when it's needed (GM and Chrysler are both asking for $4 billion before this month is out).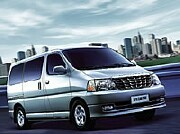 (Chrysler created and dominated the minivan market, but this one is from China's Brilliance carmaker, which will be exhibiting at January's Detroit Auto Show).
Ford walks a fine line in trying to appear a "winner" as far as their products are concerned, but they must do so without making GM and Chrysler look like "losers."
Ford has been placing Bill Ford (Henry the First's great grandson) and CEO Alan Mulally (who Ford hired to replace Bill Ford, who admitted, after a few months of trying, he couldn't run the family business) in front of as many TV cameras as possible; Ford was on with Larry King this week. The company is also being aggressive in trying to get its message out through online social media Web sites like Facebook.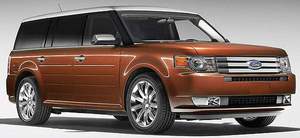 (Ford's Flex, their 21st-century take on the station wagon, looks a lot better in this production version than it did as the Fairlane concept seen at many auto shows two years and more before Flex went into production. A big, thirsty V6 engine meant Flex never stood a good chance of enjoying big sales numbers, though. Ford's luck - and timing - with this car was bad).
Mulally told an interviewer this week, "The most important thing is that we help everybody understand where Ford is and where it's going. We're looking at every medium we have to tell that story."
Ford's Americas President Mark Fields sounded a more realistic tone: "Our job going forward is to be confident, but not arrogant."
In spite of the happy corporate talk, Ford will close 10 factories for a week beginning January 5th.
But Ford's biggest problem is what they can't control; the possible bankruptcies of GM or Chrysler, or both. For many industry onlookers, Chrysler's bankruptcy is already a foregone conclusion.
Last week, General Motors said it will temporarily close 20 factories across North America and cut a massive 250,000 vehicles from its production schedule for the first quarter of 2009 (a normal quarter would see GM making 750,000 cars and trucks).
Detroit Three plants and offices nationwide generally close for the last and first weeks of the year, so some of these closings were planned for, at least partially.
GM has also halted construction of a Flint, MI, plant that would make 1.4-liter engines for its upcoming Chevy Volt plug-in hybrid and Chevrolet Cruze. Flint was the city with the unwanted "starring" role in Michael Moore's masterful documentary about the effects of GM closing plants in Flint, where Moore grew up, "Roger & Me."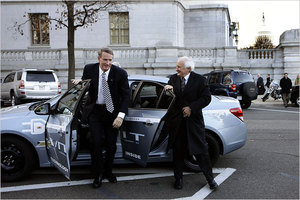 (GM CEO Rick Wagoner hops out of what looks like a Chevy Cruze but what GM PR types said was a test car using their plug-in hybrid's Volt drivetrain last week in Washington. The Levin brothers, Sen. Carl and Rep. Sandy, the rule-makers from General Motors, rode in the car with Wagoner).
Volt and Cruze development, a GM spokesperson says, will continue as scheduled, and GM still plans to bring them to showrooms in 2010, though I don't see how that's possible if a factory crucial to both cars is still being built.
The Cruze is a high-mileage small sedan developed by GM-owned Daewoo in South Korea. The car is already being built and in showrooms throughout that country (where it's called Lacetti; don't ask me why, because I don't know, either).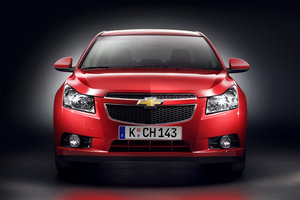 (Whenever GM can start building the Chevrolet Cruze in the US, we think a lot of Americans will buy this high-mileage sedan; but they can't buy it if GM is not building it).
All this happening against a backdrop of two large and important supplier companies filing for Chapter 11 bankruptcy protection, before any of the Detroit Three actually fail (Chapter 11 allows companies to return to business fairly quickly after reorganizing).
First, Special Devices Inc., with plants in Southern California, Arizona and Thailand, makes pyrotechnic (translation: exploding) devices for automotive use in airbags and other safety systems, and very specialized products for aerospace, mining and blasting. Their bankruptcy could easily push many companies in different disciplines into a sudden, mad rush to find other suppliers.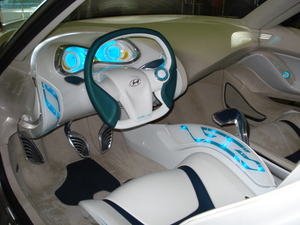 (Interior of a concept car built to showcase products from industry supplier Sabic, and it was just outside the door of the press room at the 2007 Los Angeles Auto Show; the company didn't care if anyone from the public saw it, they wanted media people to see and ask about it. Supplier companies are integral to the industry, and two have already gone bankrupt).
The second filing is by Key Plastics, which makes numerous parts and devices for the auto market worldwide. Their customer list includes most of the carmakers in North America and Europe. Their global operations encompass 23 facilities, nine in North America, 12 in Europe, and two in Asia. Now their customers need to find another supplier(s), at least for the time before (and if) Key can return to doing business.
The Detroit News also tells of rekindled anger against foreign carmakers in their metropolitan area, reporting, "After a month of Detroit-bashing in Washington and nationally, some say a backlash is forming among Metro Detroiters, annoyed by the attacks on their lifestyle and angry at their neighbors' choices of vehicles. Some fear that simmering resentment could turn to outright hostility."
And indeed, Woodhaven, MI, police said that last Friday, four cars, all produced by foreign carmakers, had two tires slashed and "Buy USA" written on them. Police said three of the cars were parked in a strip mall in Woodhaven that sits next to a Ford stamping plant. (Coincidentally, the new Clint Eastwood film, Gran Torino, tells the story of an ex-Ford factory worker living in a changing and somewhat violent Detroit neighborhood).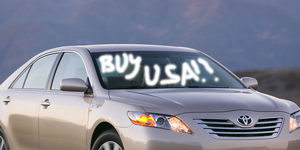 (This shot looks a bit Photo-shopped, but it ran on the newswires, without any retraction, and purports to show a car vandalized in Detroit; though built in the US, models like the Toyota Camry raise the ire of the UAW and of most all Detroiters, thinking their city and state is getting a raw deal from Washington - And so far, I agree. If any Detroit carmaker shuts down, many suppliers will close, and Toyota - and all the other foreign transplants - will be scrambling to get the parts they need).
In the mid-'80s, as Japanese and European carmakers solidified their US market positions, there were similar - and more violent - attacks of this kind in and around Detroit.
And incidentally, both the major Detroit newspapers, the Detroit News and sister-paper Free Press, announced they were cutting-back home delivery to just three days a week. "Automotive" is generally the number one advertiser in every medium, print and electronic, in every market, worldwide, and the industry's advertising dollars are becoming few and far-between at every level, from factory to showroom.
We should know more Friday about a plan for the Detroit Three. After the news breaks, we'll have our take - and yours - right here.

REAL LIFE. REAL NEWS. REAL VOICES.
Help us tell more of the stories that matter from voices that too often remain unheard.