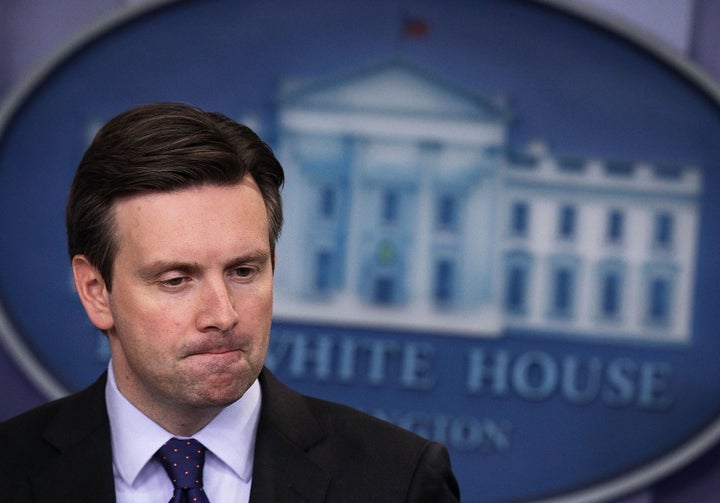 WASHINGTON -- The White House has chastised Republicans for trying to make it harder for Syrian and Iraqi refugees to settle in the United States after last month's attack in Paris by Islamic State terrorists.
But on Wednesday, White House Press Secretary Josh Earnest couldn't say if the president would veto an upcoming government spending bill if it includes restrictions on these refugees. Asked about it in his daily briefing, he gave a long-winded response about the need for Congress to pass bills that strengthen national security. But he never answered the question.
"We'll take a look at the specific proposals," Earnest finally said. "This continues to be an open dialogue with members of Congress."
The language for the year-end spending package isn't out yet, and a spokeswoman for House Appropriations Committee Chairman Hal Rogers (R-Ky.) said Wednesday they do not comment or speculate on policy proposals that might be included.
But Senate Majority Leader Mitch McConnell (R-Ky.) said Tuesday that he expects the spending bill to address Syrian refugees in some manner. A clear option would be the inclusion of the SAFE Act, a bill the House passed on Nov. 19 with a veto-proof majority that included 47 Democratic supporters. The bill adds requirements to an already lengthy screening process for refugees fleeing violence in Syria and Iraq.
The initial spending bill that Republican leaders proposed this week -- and that Minority Leader Nancy Pelosi (D-Calif.) rejected -- included that measure, a senior House Democratic aide told reporters Wednesday. 
The Democrats who voted in favor of the SAFE Act said the White House hadn't done enough to convince them they should oppose it. They argued the bill's requirements weren't as cumbersome as its opponents made it out to be, and said they felt they they needed to do something to reassure constituents after the Paris attacks.
But administration officials have been adamantly opposed to the SAFE Act. In a veto threat issued before the vote, the administration said Obama would oppose it "given the lives at stake and the critical importance to our partners in the Middle East and Europe of American leadership in addressing the Syrian refugee crisis."
The president has called admitting Syrian refugees a moral issue and said that efforts to keep them out are only helping terrorist groups such as the so-called Islamic State, also known as ISIS.
Twenty top national security, defense and foreign policy leaders made a similar point Tuesday, saying in a letter that refusing refugees "only feeds the narrative of ISIS that there is a war between Islam and the West, that Muslims are not welcome in the United States and Europe, and that the ISIS caliphate is their true home."
The White House and many Democrats have tried to shift the focus of the debate to the U.S. visa waiver program, which they say has more potential for exploitation by terrorists than the refugee process. The program allows citizens of 38 countries to visit the U.S. without a visa.
House Republicans are also interested in tightening up the visa waiver program and may vote on a bill next week, Majority Leader Kevin McCarthy (R-Calif.) said on Wednesday. His office did not clarify whether that would be part of the government spending package, added to other legislation or a stand-alone measure.
Earnest highlighted the visa waiver program during Wednesday's briefing, saying he believed "more fruitful work" could be done on that issue in a bipartisan way.
Many Democrats are also pushing to use the spending bill to substantially increase funds for helping refugees. More than 110 House Democrats -- including 24 who voted for the SAFE Act -- signed a letter Wednesday that will be sent to Rogers and Rep. Nita Lowey (D-N.Y.), the ranking Democrat on the Appropriations Committee, urging them to include additional money for the refugee crisis.
The letter requests more funding for Middle East aid as well as a quicker screening process for refugees seeking resettlement in the U.S. and more help for them once they arrive here. Reps. David Cicilline (D-R.I.), Juan Vargas (D-Calif.) and Bill Pascrell (D-N.J.) led the letter.
"As the United States encourages other countries to strengthen their commitments to refugee protection, the world is watching how the United States responds to the situation in Syria," the letter reads. "As Congress makes funding decisions for FY16 and beyond, it is critical that our humanitarian and foreign policy priorities align with how we allocate our budgetary resources."
PHOTO GALLERY
Public Opinion On Refugees Since The 20th Century
Calling all HuffPost superfans!
Sign up for membership to become a founding member and help shape HuffPost's next chapter