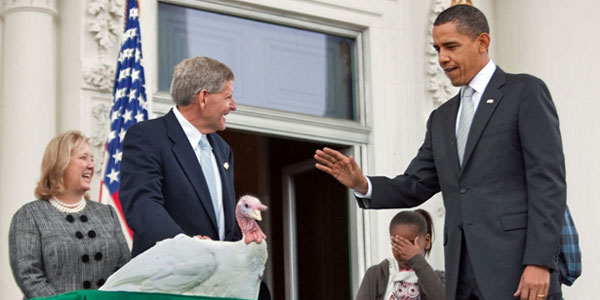 Come Thanksgiving morning, people around the nation begin the day with traditions of their own. Some snuggle in front of the TV watching the Macy's Thanksgiving Day Parade, breakfast in hand. Others are already hard at work in the kitchen, laboring away as the turkey roasts and sides and sauces simmer away. It's a national holiday beloved by all, and a chance to spend time with the family -- even for the president.
Rather than going to Camp David with extended family, last year President Obama spent the day at home in the White House. The Obamas were joined by his half-sister Maya Soetoro-Ng's family for a feast featuring both turkey and ham and six kinds of pies, leaving us wondering how they're going to top that this year.
The Origins of Thanksgiving
Thanksgiving wasn't always a national holiday. Since the mid-19th century, Thanksgiving as we now know it has been a New England tradition that gives people a chance to celebrate and give thanks for an abundant harvest, according to the White House Historical Association. But it hasn't always taken place on a Thursday in late November. In fact, Thanksgiving used to be observed at the discretion of each state's leader. Imagine if Connecticut celebrated it on Thursday, Virginia on Friday and then Kentucky on Saturday? It would make bringing family together quite a challenge.
It wasn't until Sarah Josepha Hale, the author of Godey's Lady's Book, campaigned for an official recognition of the day that a unified holiday was established. She petitioned Congress and five presidents, finally finding success in 1863, when President Lincoln recognized the importance of the day. He signed a proclamation that declared the last Thursday in November as a "Day of Thanksgiving and Praise" -- Thanksgiving, as we now know it.
Thanksgiving, as We Know It
But what if there were five weeks in November, rather than the general four? It's what happened in 1933 (and will happen next year), and Thanksgiving fell on the 30th. Amidst the Great Depression, business owners around the country feared losing money due to a shorter Christmas shopping season, with 24 days rather than a more typical 30 (or so). They petitioned President Roosevelt that the holiday be moved up to the fourth week in November.
Initially ignoring the requests, FDR had a change of heart in 1939, when Thanksgiving was again to fall on the 30th. Despite some public outrage, he moved Thanksgiving up to the fourth Thursday in November, though some states still observed the holiday on the 30th. It took another two years for the date change to become official, with FDR signing it into law in 1941 as the fourth Thursday in November.
The Turkey
Thanksgiving is truly a food-centric feast, ushering in the beginning of the holiday season. The star of the day is the turkey. Since 1947, the National Turkey Federation and the Poultry and Egg National Board have given a turkey to the president. That first bird arrived after the uproar caused when newspapers around the nation circulated news that President Truman was encouraging poultry-less Thursdays, prompting poultry growers to rise in fury. Of course, crates and crates of "hens for Harry" were delivered to the White House -- that first presidential turkey was one of them. And when gifted a turkey, you're going to eat it, right?
That was typically the case, until 1963, when President Kennedy pardoned the first presidential bird, deciding he'd rather keep the official bird that year -- a 55-pound beast -- than kill it. While some claim this was the first presidential pardon, others say that it wasn't until 1989, when President George H.W. Bush spared his holiday bird from the chopping block in the first National Thanksgiving Turkey Presentation. Regardless of when that first pardon took place, it's been a Thanksgiving tradition ever since, with the pardoned birds earning names like "Apple" and "Cider," or "Pumpkin and Pecan." They might not be eaten, but they sure sound delicious.
But just because the president pardons a turkey (or two) nowadays doesn't mean that the beloved bird doesn't have a place on the White House Thanksgiving table.
What does the president dine on? Over the years, the release of the presidential Thanksgiving menu to the media has become somewhat of a tradition. In 2008, Clinton dined on zucchini gratin, gazpacho and sweet potatoes to go along with the turkey that he carved. In 1897, Ida McKinley served up a 26-pound turkey stuffed with oysters, while in 1942, Roosevelt opted for clam cocktail and Spanish corn for his wartime Thanksgiving feast. And last year, Obama and his family sat down to a bountiful spread, including turkey, ham, two kinds of stuffing, mac and cheese, green bean casserole and six kinds of pie, including a family favorite -- sweet potato. That's a lot of food.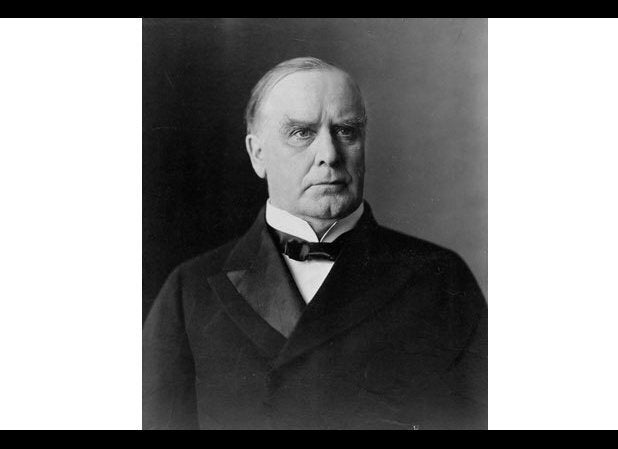 White House Thanksgiving Traditions
Support HuffPost
The Stakes Have Never Been Higher
Related
Popular in the Community