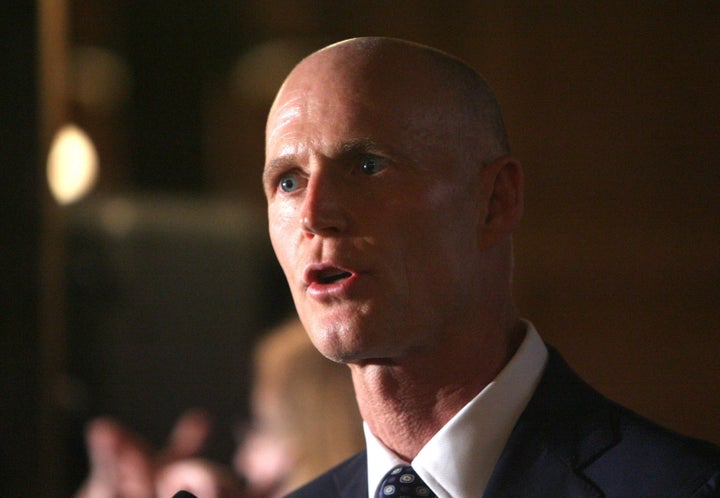 WASHINGTON -- In a bit of political hardball, the Obama administration on Wednesday said it would send $2.4 billion in stimulus money to other states should Florida Gov. Rick Scott not back down on his rejection of the federal government's national high-speed rail project.
Speaking just hours after Scott announced he was abandoning the project due to cost concerns for the state, White House Press Secretary Jay Carney relayed the president's preparedness to simply send the allocated money to other locales rather than, say, use it to lower the federal deficit.
"We think that is an unfortunate decision," Carney said. "This goes right to the essence of what we have been talking about here. There has been a lot of bipartisan support for the need to create the kind of modern infrastructure in this country that will enable us to compete. High speed rail is very much a part of that and we will make sure that that money is used elsewhere to advance the infrastructure and innovation agenda that is essential for economic growth.
"We believe that the money that is allocated for high-speed rail as part of the Recovery Act is essential to the infrastructure agenda that this president has," Carney added later. "Again, it is part of the president's priority and it is essential to us to build an infrastructure that allows us to compete in the 21st Century."
Carney's posture, delivered during his inaugural briefing, isn't the first time that the specter of one state building its own high-speed rail system on another state's dime has been raised. Shortly after Gov. Scott Walker (R-Wisc.) took office he declined to accept federal money for Wisconsin's rail system upgrades. Gov. Andrew Cuomo (D-N.Y.) responded quickly by affirming that New York would gladly take the un-cashed checks.
All of which has caused Democrats in Florida to lash back at their newly elected governor for his conservative braggadocio.
"It's eating our seed corn," said Sen. Bill Nelson (D-Fla.), referencing the colloquialism that when times are tough, and one is hungry, you're supposed to plant seeds for crop, not eat them.
Scott's argument against high-speed rail is that it is prohibitively expensive for the state, with cost overruns potentially forcing Florida to fork over $3 billion in matching funds. But those numbers, supporters of the project say, are drastically overstated if not pure fantasy.
The federal government has already put aside $2.4 billion in stimulus funds for Florida's portion of the national project. In state, supporters have spent $66 million to build a high-speed train between Orlando and Tampa. Nelson's office, meanwhile, has said that the state would only be on the hook for another $280 million and that the senator was in the process of looking at alternative ways to raise the money to alleviate Scott's concerns.
UPDATE: Sure enough, on Wednesday, Senator Chuck Schumer (D-NY) released a statement urging the Obama administration to redirect the more than $2 billion in high-speed rail funds from Florida to New York:
Florida's loss should be New York's gain. Other states may not be ready to unlock the potential of high-speed rail, but it is a top priority for upstate New York. We can put these funds to use in a way that gets the best bang for the buck. The administration should redirect these funds to New York as quickly as possible.
Popular in the Community