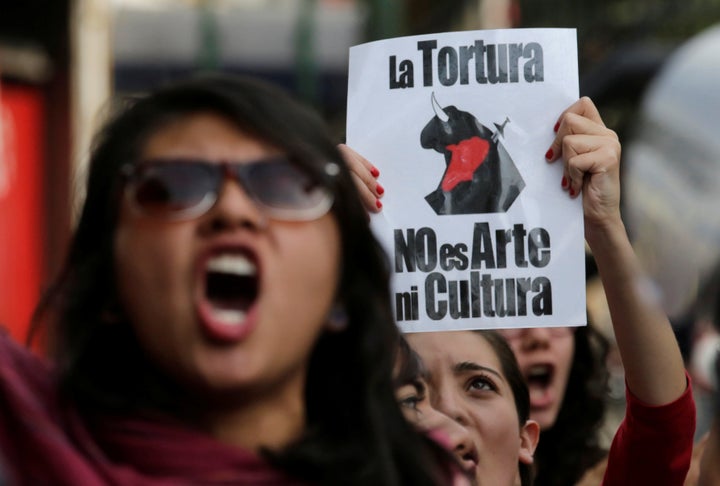 Mexico's investigation into the disappearance of 43 students has been marred by torture, refuted by journalists and roundly rejected by forensic experts. Yet, even after the office of Mexico's federal attorney general acknowledged last week that security forces tortured at least one key witness before he supposedly confessed to killing the students, the government's mishandling of the country's highest-profile human rights case has yet to provoke even a mild scolding from the U.S.
Don't expect one any time soon.
President Barack Obama's administration has repeatedly expressed concern about the general human rights climate in Mexico, but the U.S. administration has yet to offer so much as a critical word for any of the Mexican officials in charge of the flawed students case.
"Our thoughts and sympathies remain with the families and friends affected by the loss of loved ones," the State Department said in a recent statement emailed to The WorldPost. "As President Obama has said, this gruesome crime has no place in a civilized society. We have met with Mexican officials to express our concerns and offer assistance to resolve this case. As we have affirmed since last year, this crime requires a full, transparent investigation and the prosecution of all responsible."
The statement stops short of criticism. But groups monitoring the probe aren't so restrained.
"I think it's safe to say that the Mexican government went back to business as usual -- to just round up people from the street, torture them and make them confess to things they didn't do," Maureen Meyer, a researcher at the Washington Office on Latin America, a human rights group, told WorldPost. "You'd have to be in a bubble not to know that torture is a problem with the criminal justice system."
On Sept. 26, 2014, Mexican police attacked a group of students from the Ayotzinapa teachers' college. The students had traveled to the city of Iguala to commandeer buses to shuttle students to Mexico City for an annual protest commemorating the 1968 Tlatelolco student massacre. Six people died and several were wounded in a series of attacks that night. Forty-three of the students were abducted and have never again been seen alive.
The case sparked a national protest movement that helped sink President Enrique Peña Nieto's approval to levels not seen since the peso crisis of 1994.
Former Attorney General Jesús Murillo Karam said in November that local police handed the students over to members of the drug gang Guerreros Unidos, who killed the students and incinerated their bodies at a trash dump in the neighboring town of Cocula.
That version of events has fallen apart under independent scrutiny. Forensic experts said there's no evidence of a fire large enough to incinerate 43 bodies in or around the trash dump. The four key witnesses who the Mexican government says confessed to killing the students all appeared before prosecutors, bearing bruises, scabs and marks indicating they'd been tortured with electric shocks, according to an investigative report published in Proceso Magazine by journalists Anabel Hernández and Steve Fisher. The attorney general's office acknowledged that at least one of them was tortured, according to a document obtained under Mexican transparency laws by news agency Animal Político.
Obama isn't always averse to calling out Latin American leaders over human rights issues. He riled heads of state across Latin America in March, when his administration froze the U.S. assets of seven Venezuelan officials accused of using excessive force to quell protests and filing trumped up charges to silence opposition politicians.
The sanctions themselves, imposed under the International Emergency Economic Powers Act, caused perhaps less controversy than a statement that preceded the executive order. It declared Venezuela an "unusual and extraordinary threat to the national security and foreign policy of the United States."
Latin American presidents from both the left and the right viewed that designation, which is required to impose sanctions under the economic powers act, as absurd. U.S. policymakers countered that a human rights crisis in Venezuela could undermine American national security.
Whatever the merits to that argument, some experts say instability in Mexico -- which shares a border with the United States and where an estimated 100,000 people have died in fighting between the government and drug cartels since 2006 -- poses a far greater national security risk to the U.S. than anything happening as far south as Venezuela.
"There's no doubt that what the Mexican officials are implicated in is very serious," Mark Weisbrot, co-director of the Center for Economic and Policy Research, told The WorldPost. "And much worse than the alleged offenses that the U.S. issued sanctions against Venezuela for. But there's always been a double standard for human rights in this hemisphere for countries that are allied with the United States."
So far, the Obama administration hasn't sanctioned any Mexican officials involved in the investigation under the International Emergency Economic Powers Act. The U.S. Treasury, charged with identifying targets for sanctions under the act, did not return requests for comment. An official with knowledge of the process told WorldPost in an email that the administration takes criteria beyond human rights violations themselves into consideration when assessing whether to impose sanctions.
"Every situation is unique," the official wrote. "Our actions must be guided by the approach most likely to succeed in advancing respect for democracy and human rights for the benefit of the country examined."
The administration has refrained, however, from even milder forms of rebuke. The U.S. Congress has appropriated some $2.3 billion in military and security assistance for Mexico since 2008 through an aid program called the Merida Initiative. The disbursement of 15 percent of that aid depends on a periodic review of the country's human rights situation. Despite pressure from human rights groups, the State Department hasn't indicated whether it will recommend cutting the aid this year.
Meanwhile, the Obama administration has continued to praise the Enrique Peña Nieto administration's efforts.
"The U.S. has taken a very hands-off approach to Ayotzinapa," Alejandro Hope, a former intelligence officer in Mexico who now works as the security editor for the ElDailyPost.com, told WorldPost. "Even people here at the embassy are not very comfortable talking about the case."
Imposing sanctions or publicly criticizing Mexican officials, Hope said, may pressure the Peña Nieto administration to curb abuses. But it also may stoke nationalist sentiment and prompt Mexican officials to rebuff their American counterparts.
"They want to keep the communication channels open with Mexican officials," Hope said. "They don't want the confrontation. For all the problems, compared to say, where things were in the 1990s, there's still a relatively high level of cooperation between the U.S. and Mexico on security matters. I'm guessing that U.S. security agencies don't want to jeopardize that."
Related
Popular in the Community