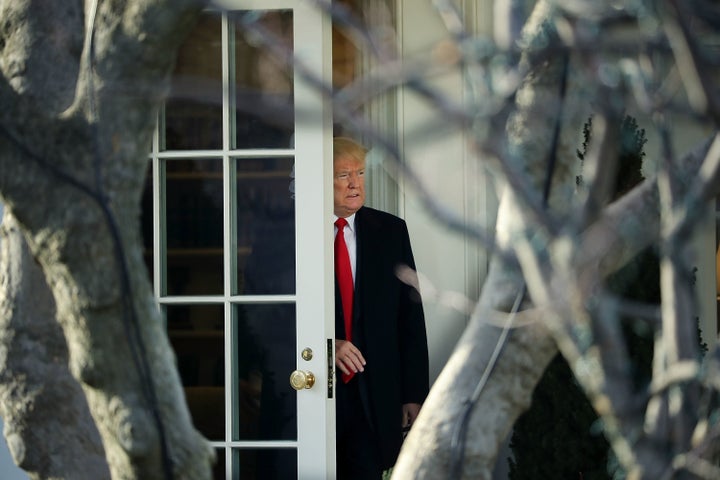 Public Citizen had accused the Trump administration of violating the Freedom of Information Act in its August 2017 lawsuit. The group announced Wednesday that it was "pleased" the White House was finally releasing some visitor logs, although it expressed skepticism at the administration's reasons for redacting parts of the disclosed records.
The logs released late Tuesday detailed visitors during February of this year to three agencies within the White House complex: the Office of Management and Budget, the Office of Science and Technology Policy and the Council on Environmental Quality. Visitor records for the Office of National Drug Control Policy will be released soon, according to Public Citizen.
"The public now can see who is visiting these four agencies, as they should have been able to see all along," said Robert Weissman, the group's president, in a statement. "Now we'll at least have a window into the corporate and ideological lobbyists who are driving Trump administration policy."
As Public Citizen noted, the logs revealed the names of several lobbyists and industry advocates who had visited the OMB, including known climate change deniers Myron Bell and Marlo Lewis, anti-regulation advocate Jim Tozzi, and Laurie Holmes, a representative for the Motor and Equipment Manufacturers Association.
The watchdog group expressed concern, however, at how many names remained hidden in the OMB's visitor log: More than 530 of its 2,000 entries were redacted. The Office of Science and Technology Policy's log had 75 redacted entries and the Council on Environmental Quality's log had six.
"Public Citizen is skeptical that all of the redactions are proper under FOIA and intends to raise the issue with the agencies," the group said.
Under the Public Citizen settlement, reached in February, the Trump administration agreed to release all visitor records for the four agencies dating back to the beginning of President Donald Trump's tenure. As The Hill notes, however, other areas of the White House complex ― including the Executive Office of the President, which is not subject to public records laws ― will not be making their visitor records public.
The Secret Service will have to send the four agency logs to the White House for review every month. The records will then be sent back to those offices, which will have a month to look them over and publish. Records from the past year will be released over the next few months, said Public Citizen.
The Trump administration came under fire last year when it announced its decision to shield White House visitor logs from the eyes of the public, citing "grave national security risks and privacy concerns of the hundreds of thousands of visitors annually." Multiple lawsuits have been filed against the administration to obtain those records.
This limitation is repeated in the Trump administration's visitor records, which similarly do not include information about a visitor's employer or the purpose of their White House visit.
Popular in the Community