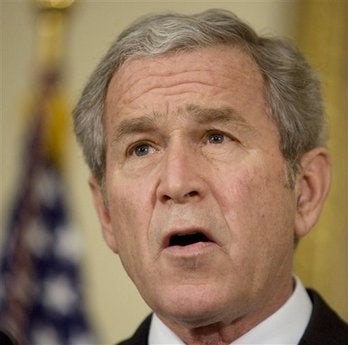 Think Progress reported Tuesday that a White House spokesman was disputing the notion that President George Bush would not issue a "batch of pardons" at the last minute.
In today's White House press briefing, a reporter noted to spokesman Tony Fratto that the "administration has indicated that the president is unlikely, at the last minute, to issue a batch of pardons." Fratto, however, quickly took issue with that statement, saying, "I don't think we've indicated that." He then hinted that there will be more pardons coming soon.
Shortly later, the AP reported that Bush had in fact granted 19 more pardons:
Before leaving for the holidays, President Bush commuted one prison sentence and granted 19 pardons, including one to a man who helped the Jewish resistance in the 1940s.

With this latest batch, Bush has granted a total of 191 pardons and nine commutations. That's fewer than half as many as Presidents Clinton or Reagan issued during their two terms.

Included in the latest list is Charles Winters, who died in the 1980s in Florida. Winters helped ship arms and aircraft to Jews trying to found their own state in the Middle East. He was convicted of violating the Neutrality Act and served 18 months in prison. Two others, Herman Greenspun and Al Schwimmer, also were convicted but did not serve time. They were later granted presidential pardons.
Bush also pardoned Issac Toussie, who pleaded guilty to making false statements to HUD and mail fraud as part of a massive housing scam.
Popular in the Community