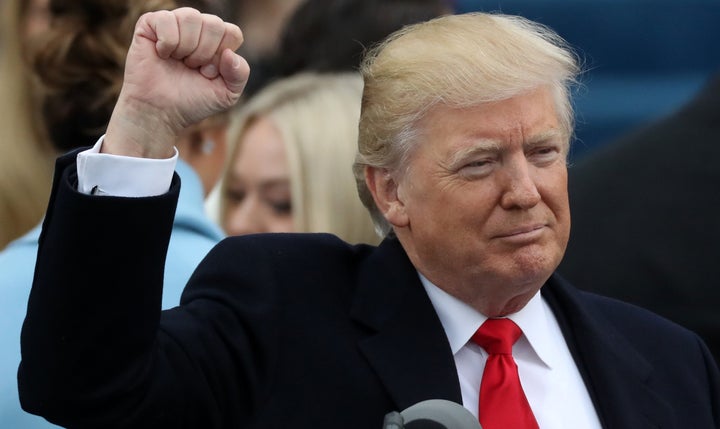 WASHINGTON ― With a new president comes a new presidential website. Gone are sections like "Civil Rights" and "Reducing Gun Violence" and in are pages like "America First Energy Plan" and "America First Foreign Policy."
Advocacy groups for lesbian, gay, bisexual, transgender and queer equality quickly condemned the Trump administration for scrubbing mentions of their community.
There is a good chance that Trump's WhiteHouse.gov will not have a specific section on LGBTQ rights. That's not surprising, since it was not a focus of his campaign and he has spoken out against full equality. Same with climate change ― Trump has been skeptical of the human connection to global warming.
That doesn't necessarily mean, however, that that content is gone forever. The Trump administration is essentially building a new site from scratch ― even though it looks like the Obama administration's WhiteHouse.gov ― and that means replacing the content bit by bit.
"The transition of the site is in progress as updates are made," Trump spokeswoman Hope Hicks said.
And the glitches aren't restricted to progressive priorities. A search for "China" for example, comes up with only a handful of results. The site for the Office of Management and Budget similarly is gone.
The Obama White House content is also still accessible at a new site, ObamaWhiteHouse.Archives.Gov. As Kori Schulman, the Obama deputy chief digital officer explained in October, "Similar to the Clinton and Bush White House websites, President Obama's WhiteHouse.gov will be preserved on the web and frozen after January 20th and made available at ObamaWhiteHouse.gov. The incoming White House will receive the WhiteHouse.gov domain and all content that has been posted to WhiteHouse.gov during the Obama administration will be archived with NARA [National Archives and Records Administration]."
So far on Trump's White House site, there are also no pages devoted to immigration or repealing Obamacare, which were two of Trump's top priorities during the campaign.
Want more updates from Amanda Terkel? Sign up for her newsletter, Piping Hot Truth, here.
Popular in the Community