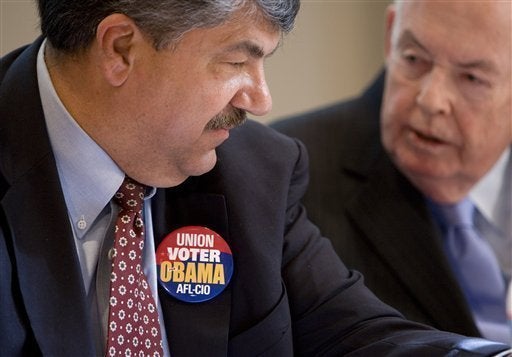 Leaders of the labor movement announced Thursday afternoon that they have reached a compromise agreement with the White House and congressional leaders to address union concerns with the health care reform bill.
The most contentious issue facing the negotiators was the excise tax on high-cost, "Cadillac" insurance plans. The tax was not eliminated, as many union members had called for, but was scaled back so that it won't hit as many labor households. The threshold for what constitutes a Cadillac plan was raised and will continue to rise with inflation - though likely not as fast as health care costs will rise. In 2015, dental and vision will not be included in the calculation.
For an eight-year period, plans that are the result of collective bargaining - union plans - will be exempted from the tax.
"Let's go on and actually pass this bill," Anna Burger of the Service Employees International Union said in a conference call union leaders held with reporters to announce the deal. The AFL-CIO's Richard Trumka cautioned, however, that full labor support is "subject to the final bill."
The deal was reached with the White House, they said, but Congress is also on board. "We are informed that they are. We have spoken with them. We think everyone is on board with this," said Trumka. "We will endorse and we will do that proudly, but it's subject to the final bill."
The threshold for a Cadillac plan was lifted to $24,000 for families and $8,900 for individuals. It will be adjusted upward if there are "unexpected rises in health care" costs between 2010 and 2013, said Trumka.
Labor also won special treatment for workers who are charged more for insurance because of the age or gender of their workforce, high-risk workers and some qualified retirees.
Labor leaders met with the Democratic House caucus Thursday to discuss the deal. Progressives pushed back against it, saying that too much had been given away, people familiar with the meeting said. But the union leaders said they feel the Democrats are ultimately on board.
Gerald W. McEntee, head of the American Federation of State, County and Municipal Employees, said that progressive members of Congress pushed the unions to fight for more. "There were some people who wanted to continue to fight for no excise tax at all," he said.
The GOP immediately jumped on the agreement, calling it a back-room deal cut to benefit unions. The excise tax had been estimated to raise $150 billion over ten years; the compromise tax will raise $90 billion, said Trumka.
White House Communications Director Dan Pfeiffer told reporters on a separate conference call that the deal came "after very intense and long discussions."

"We believe that we can work with Congress to improve the existing excise tax structure and achieve the president's core goals - which is to put downward pressure on longterm health care costs while ensuring that we are not putting new and unfair burdens on hardworking middle-class families," he said.
Calling all HuffPost superfans!
Sign up for membership to become a founding member and help shape HuffPost's next chapter