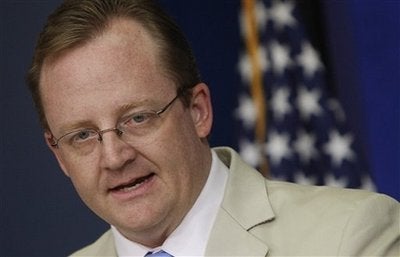 The Obama administration said on Wednesday that they "disagree" with the substance of Sen. Joseph Lieberman's critique of a public option for insurance coverage. But in the daily press briefing with reporters, Press Secretary Robert Gibbs treaded carefully when it came to pushing back against the Connecticut Independent's threat to potentially filibuster health care reform.
Gibbs could not (or simply refused to) name the last time that the president had spoken with the senator. He said he was unaware of communication between the two "in the last week." In addition, the press secretary would not comment on the possibility of progressive interest groups targeting Lieberman for potentially holding up health care reform over his concerns about a public plan.
"I'm not going to get into that seriously," he said.
About as far as Gibbs would go in hitting back at Lieberman was to question the logic of his opposition to government-run insurance. Lieberman has argued that a public option -- even with an opt-out provision for state governments -- would result in the creation of a new entitlement program that would increase health care costs.
"I think we would disagree and I think elements of the Congressional Budget Office would disagree with [Lieberman's] analysis," Gibbs said.
The delicate approach that the White House is taking to Lieberman and other skeptical, conservative Democratic senators is reflective of a broader approach that Senate leadership is taking in the health care debate. The concern within the administration and in the office of Majority Leader Harry Reid (D-Nev.) is that if Lieberman is whacked too hard for his opposition to the public option, it will merely entrench his position. Better to let the process play out and find ways to convince him to, at the very least, not support a Republican filibuster of reform.
Along those lines, Gibbs actually applauded Lieberman for agreeing to allow health care reform to be debated and amended on the Senate floor. "I think that is the first part of this process," he said.
When reminded that Reid still would need 60 votes to cut off debate and bring the final bill to a vote -- and that without Lieberman he was unlikely to have those votes -- Gibbs punted.
"You can't get to the second before you get through the first," he said.
Calling all HuffPost superfans!
Sign up for membership to become a founding member and help shape HuffPost's next chapter