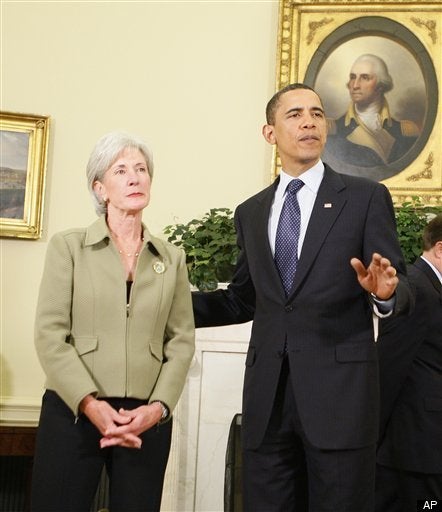 If your head is spinning from the mixed messages coming out of the White House about the administration's commitment to the "public option" in the debate over health care reform, you're not alone.
Here is a breakdown of the different positions articulated by the White House over the weekend:
On Saturday, President Obama downplayed the significance of a public option, telling a town hall meeting in Grand Junction, Colorado: "All I'm saying is, though, that the public option, whether we have it or we don't have it, is not the entirety of health care reform. This is just one sliver of it, one aspect of it."
On Sunday morning, Health and Human Service Secretary Kathleen Sebelius made waves when she told CNN's "State of the Nation" that the public option, the government alternative to private health insurance, is "not the essential element" of the administration's plan. She added that the White House is open to health insurance cooperatives as an alternative to a government-run plan.
When John King asked her, "So the public option is not a deal-breaker from the president's standpoint?", Sebelius did not deny his assumption and answered:
"Well, I think there will be a competitor to private insurers. That's really the essential part, is you don't turn over the whole new marketplace to private insurance companies and trust them to do the right thing. We need some choices, we need some competition."
Also on Sunday morning, press secretary Robert Gibbs appeared on "Face the Nation" and stressed that the White House still supports a "public option," to introduce competition to the insurance industry and to lower prices.
When CBS anchor Harry Smith asked Gibbs the same question that King lobbed at Sebelius - "Does the president have to have a government-sponsored or government-run insurance plan in order for him to sign off on this, or is this a deal breaker?" - Gibbs was more emphatic about Obama's support for the public option:
GIBBS: Well, Harry, what the president has always talked about is that we inject some choice and competition into the private insurance market. There are places in this country, unfortunately, where if you don't get insurance through your job and you are seeking it on the private insurance market, you don't have any choice but one health insurance company. What the president has said, in order to inject choice and competition, which will drive down costs and improve quality, that people ought to be able to have some competitor in that market. There ought to be a choice that they have. The president has thus far sided with the notion that that can best be done through a public option.

SMITH: ... a hedge?

GIBBS: No, no, no. What I am saying is the bottom line for this for the president is, what we have to have is choice and competition in the insurance market. Again, if you are in a place in this country where you only get one choice, how in the world are you going to be able to convince anybody that you are driving down costs when you don't have to compete against anything?
On Sunday afternoon, White House health care reform spokeswoman Linda Douglass also emphasized the president's support of the public option, echoing Gibbs' comments and declaring that "nothing has changed."
"Nothing has changed," said Linda Douglass, communications director for the White House Office of Health Reform. "The president has always said that what is essential is that health insurance reform must lower costs, ensure that there are affordable options for all Americans and it must increase choice and competition in the health insurance market. He believes the public option is the best way to achieve those goals."
And on Sunday night, The Atlantic's Marc Ambinder wrote that an administration official told him that Sebelius "misspoke" in underplaying the importance of the "public option":
An administration official said tonight that Health and Human Services Secretary Kathleen Sebelius "misspoke" when she told CNN this morning that a government run health insurance option "is not an essential part" of reform. This official asked not to be identified in exchange for providing clarity about the intentions of the President. The official said that the White House did not intend to change its messaging and that Sebelius simply meant to echo the president, who has acknowledged that the public option is a tough sell in the Senate and is, at the same time, a must-pass for House Democrats, and is not, in the president's view, the most important element of the reform package.
REAL LIFE. REAL NEWS. REAL VOICES.
Help us tell more of the stories that matter from voices that too often remain unheard.