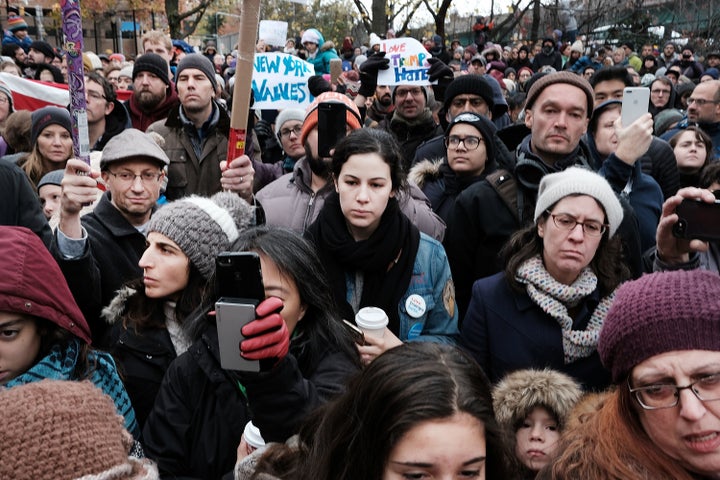 There's been a lot of (justified) outrage about anti-Semitism lately.
The reality is, as a white Jew, I have the ultimate privilege when it comes to fearing hate: skin privilege. I can walk the streets and no one can identify me as "other," no one can single me out for harassment ― which, needless to say, is not the case for black or brown people, or for Muslim women who choose to wear the hijab.
Perhaps Jews in places other than New York, or of an older generation, will call me privileged ― for as Jewish as my name might sound, and as stereotypical as I always thought my protruding nose was as a child ― I've never felt discriminated against. I've never felt unsafe or that opportunities weren't handed to me because of my being Jewish. Not once.
But when I sent the screenshots of these anti-Semitic tweets to my family, and they reacted with such absolute outrage ― one of my cousins even bursting into tears herself ― I had to think: Where was your outrage when Trump called for Muslims to be banned, where were the tears when you read the stories of repeated police killings of black people?
The truth of the matter is: I feel safe. I feel physically safe the moment I step away from my computer screen. And that's more than many can say.
Now they've come for us, and we're demanding that everyone say something. But first they had come for them, and we didn't say enough. So let's say something now ― call out the hate our community is facing, but also vow not to stay silent when it comes to the hate people of color, immigrants and Muslims are facing now, and have been facing all along.
Calling all HuffPost superfans!
Sign up for membership to become a founding member and help shape HuffPost's next chapter
BEFORE YOU GO
PHOTO GALLERY
White Protesters Stand In Solidarity