Police officers in Abbotsford, British Columbia are investigating a white man who was caught on camera delivering a racist, profanity-laden tirade after being issued a parking ticket last week.
Ravi Duhra, a lawyer in downtown Abbotsford, pulled into the parking lot of his office where he found a parking attendant giving a ticket to a pick-up truck owned by a 47-year-old man who has an "extensive history with police," the Abby News reported.
Duhra took out his camera phone to take pictures as evidence after the truck owner allegedly rushed towards the attendant, according to the Canadian Broadcasting Corporation.
That's when the truck owner directed his attention towards Duhra, who began filming the confrontation as he pressed his face against Duhra's camera.
WARNING: Viewers may find the below video, which contains profanity and racist remarks, offensive.
"You f**cking Paki," the truck owner can be heard saying in the video above. "Go back to f**king India."
The man then walks back to his car while thumping his chest and yelling, "All you Hindu's are camel-rider mother f**kers ... White power, mother f**ker!"
When he reemerges from his car with his own camera phone, he asks Duhra when he came to Canada. Duhra responds calmly, "I was born in Canada."
The man continues to berate Duhra, screaming loudly in his face while continuously calling him "sh*t skin" and a "f**king Hindu."
Towards the end of his yelling rant, the man says loudly in Duhran's face, "How do you like it? I'm not threatening you, don't feel threatened!"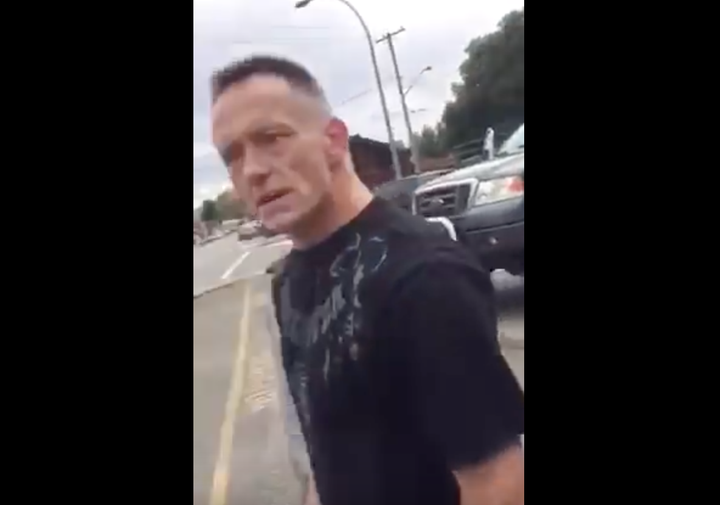 Duhra was shocked by the man's anger, but says he wasn't surprised at his racist remarks. 
"Walking down the street, having someone drive by with a racial slur, that kind of stuff you expect," Duhra told Abby News. "That's water off a duck's back. That happens here and there."
That kind of racism is the reason he and his wife chose English-sounding names for their two young children ― "to shield them a little bit from tacit racism," he explained. "I felt strongly enough to do that even before this incident occurred."
Duhra posted a video of his encounter online to show Canadians that racism still exists. When the video went viral, Duhra began receiving messages of support from people disgusted by the confrontation, according to CBC.
"Sometimes it just rears its ugly head to remind us it's still there," she said.
Calling all HuffPost superfans!
Sign up for membership to become a founding member and help shape HuffPost's next chapter
BEFORE YOU GO
PHOTO GALLERY
Fighting Racism And Discrimination Everyday