ALEXANDRIA, Va. ― Richard Spencer, the 39-year-old white nationalist leader, said Monday that he did not take President Donald Trump's statement denouncing hate groups seriously, and two of Spencer's associates shared a somewhat similar sentiment with HuffPost.
"The statement today was more Kumbaya nonsense," Spencer said, speaking to reporters in his office and part-time home in Alexandria, Virginia. "He sounded like a Sunday school teacher. I just don't take him seriously ... it sounded so hollow and vapid."
Trump's statement Monday was technically his most direct denunciation of white supremacy in the wake of violent protests in Charlottesville, Virginia, over the weekend that left three dead and at least 35 injured. But for a president who is quick to tweet against any perceived slight, the statement arrived noticeably late ― and only after he faced bipartisan criticism for vaguely condemning violence "on many sides."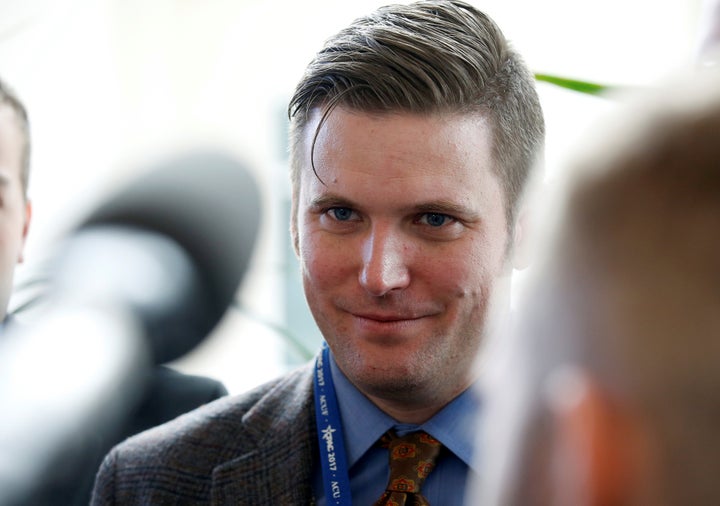 Spencer, who was a prominent attendee at the Charlottesville rally, invited reporters to a news conference Monday to address the incident. He initially tried to host the press event at two hotels in Washington, D.C., but they both canceled his reservation, according to Spencer. (He said he used his real name.) Reporters were instead instructed to go to a street corner in Old Town Alexandria.
A man who worked with Spencer and who gave a pseudonym, Reinhard, beckoned reporters upstairs to a makeshift office. The liquor cabinet was stocked with Cutty Sark whiskey and Bombay Dry Gin, the bookcase stacked with The Bell Curve: Intelligence and Class Structure in American Life, the German philosophy book Nietzsche's Teaching: An Interpretation of Thus Spoke Zarathustra, a blow-up doll of what appeared to be Pepe the Frog (a character co-opted by white nationalists) and a "Make America great again" hat. There was also a "We the People" diversity poster propped on a windowsill.
America does not do a good job of tracking incidents of hate and bias. We need your help to create a database of such incidents across the country, so we all know what's going on. Tell us your story.
The office appeared to be begging for respectability. At least five Spencer associates, all male, were hanging around the office, some dressed up. (A copy of Dressing the Man: The Art of Permanent Fashion sat on the coffee table.) They included Matt, who claimed to be doing an internship with Spencer but refused to give his last name because he was worried about getting fired from his other jobs. (Spencer said he pays Matt.)
Spencer spent most his time criticizing the police response in Charlottesville and sought to distance himself from James Alex Fields Jr., the 20-year-old accused of plowing his car into counter-protesters, killing one person and injuring 19. Spencer did not, however, condemn Fields, instead noting that he was awaiting the outcome of an investigation.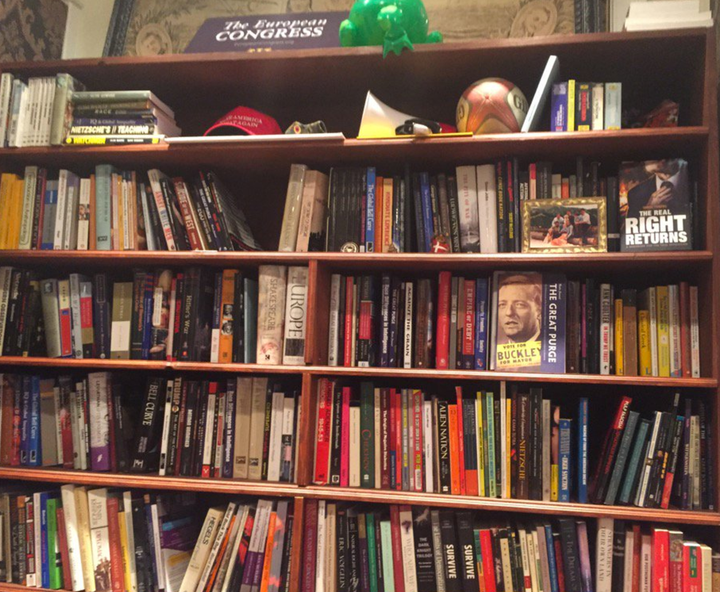 Another associate, Nathan Damigo, a white supremacist and Marine veteran who was filmed punching a 95-pound female protester in Berkeley, California, earlier this year, also told HuffPost he was not too worried about Trump's statement. Damigo was "disappointed" in Trump, but the president's "statements were vague, they were ambiguous, and oftentimes people in his position will talk that way to skirt around difficult issues," he said. "When Trump says that he denounces racism, that could mean many different things to different people."
When HuffPost asked a third Spencer associate — who said he was 28 but wouldn't give his real name, instead calling himself Marcus Aurelius — about Trump's statement, he said, "Yeah, of course he's going to do that." The man added, "It's the same platitudes over and over. You've heard it once, you've heard it a thousand times."
Given Trump's relationship with the so-called alt-right ― a new word for white nationalism ― during the campaign, it's not particularly surprising that Monday's speech did not resonate with people actually accused of spreading hate. Last year, Trump initially failed to denounce former Ku Klux Klan Grand Wizard David Duke, a Trump supporter, instead saying, "I know nothing about white supremacists. You wouldn't want me to condemn a group that I know nothing about."
Duke appeared to have a meltdown in response to Trump's statement Monday. "President Trump, please, for God's sake, don't feel like you need to say these things," Duke said in a video. "It's not going to do you any good."
But at the news conference, Spencer still referred to White House senior policy adviser Stephen Miller and chief strategist Steve Bannon as possible fellow travelers of the alt-right. He also pointed out that the rise of the movement's public exposure coincided "almost exactly" with Trump's announcement that he was running for president. Although he has some policy differences with the president, Spencer said, "we were connected with Donald Trump on this kind of psychic level."
Sign up for the HuffPost Must Reads newsletter. Each Sunday, we will bring you the best original reporting, long form writing and breaking news from The Huffington Post and around the web, plus behind-the-scenes looks at how it's all made. Click here to sign up!
Popular in the Community