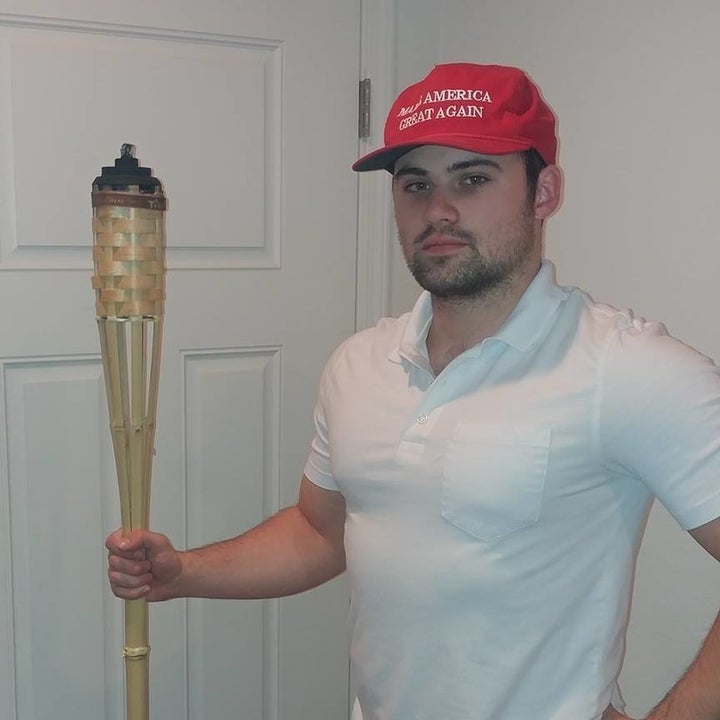 White nationalist James Allsup is now an elected officer in the Republican Party of Washington state.
Over the weekend, Allsup posted a Facebook photo showing a piece of paper confirming his election as the state GOP's precinct committee officer for Precinct 129 in Whitman County, The Daily Beast first reported Tuesday. The paper also states there were "no challenges for the office."
Allsup, who graduated from Washington State University in 2017, once served as chairman of the Washington College Republican Federation and was an adviser to the Students for Trump group on campus, according to his Facebook page.
Perhaps more notably, Allsup is outspoken about his anti-immigration and anti-Semitic views. Videos on his YouTube page show that he marched in the "Unite the Right" white supremacist rally in Charlottesville, Virginia, last August and attended a free speech rally in Washington, D.C., last year that featured speakers including white nationalist leader Richard Spencer.
He has worked to advance his agenda "through the infiltration of the Republican Party rather than by the radical, revolutionary action favored by vanguardist groups on the extreme fringe," according to the SPLC.
Last year Allsup told the white nationalist podcast "Fash the Nation" that a college student with "three or four fashy goy friends" could take over their College Republicans group and "move it to essentially being an alt-right club." He also talked about forcing the "cucks" out of the GOP.
He told Identity Evropa's podcast last week that he expects the infiltration of mainstream politics by white nationalists to take a little time, but he's confident they can make significant inroads.
"You have a seat at the table," he said. "And that's the most important thing, getting that seat at the table, and you can get that seat at the table by, yes, showing up, yes, by bringing people in."
Allsup told HuffPost he wasn't interested in discussing the matter further.
But Keegan Hankes, senior research analyst at the SPLC, said, "Anytime that someone who holds extreme political positions has any foothold in mainstream politics, it's a problem."
Allsup's election to this kind of hyperlocal position is "disappointing but not surprising," Hankes added. It has long been a strategy, he said, for white nationalists to seek power in uncontested elections. The SPLC counted eight white nationalists running for office this year, more than ever before.