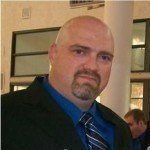 Steve Smith, a white nationalist with a violent past, was elected to the Republican Party committee for a county in northeastern Pennsylvania.
Several commenters on the site congratulated him.
CONGRATULATIONS, SIR! This may seem like just a small step now, but this is how we are taking our nation back and it's how we will secure a future for our people. Everyone needs to look to Steve's example. He's a true patriot!

The Southern Poverty Law Center said that Smith was a member of the Aryan Nations and a skinhead group known as Keystone United. In 2003, Smith and two other skinheads were arrested for shouting slurs and throwing a brick at a black man from Scranton, PA. He pleaded guilty to making terrorist threats and ethnic intimidation and received a 60-day sentence.
In 2010, Smith attended a school board in Wilkes-Barre and objected to a call to hire more minority teachers, saying that the proposal was anti-white. "Diversity is not a strength," Smith said.
He also had a letter to the editor published in the local newspaper last November in which he defended the racial profiling of blacks. "Whites need to stop walking on eggshells when it comes to the issue of race and crime," he wrote. "We need to stand up and speak out against what is happening to our once-safe communities."
Popular in the Community