White nationalists protesting the removal of a Robert E. Lee statue in Charlottesville, Virginia, stormed two of the city's parks on Saturday chanting Nazi slogans and brandishing torches.
Dozens of protesters led by white nationalist Richard Spencer gathered in Jackson Park on Saturday afternoon and assembled again that night in the city's Lee Park, where they took up torches and surrounded the statue of Confederate general Lee slated for removal by the city council, according to reporters on the scene.
The protesters chanted "You will not replace us," "Russia is our friend," "All white lives matter" and the Nazi slogan "Blood and soil," MSNBC reported.
Charlottesville mayor Mike Signer (D) condemned the protest, both lashing out at Spencer on Twitter and issuing a statement against the group's intimidation tactics.
"This event involving torches at night in Lee Park was either profoundly ignorant or was designed to instill fear in our minority populations in a way that hearkens back to the days of the KKK," Signer said. "Either way, as mayor of this City, I want everyone to know this: we reject this intimidation. We are a Welcoming City, but such intolerance is not welcome here."
"As much as we all wish this was an isolated incident, it's not," he said in an email to supporters. "Emboldened by President Trump, this racism is spreading in our communities, our Commonwealth, and our country. After Trump's election, many of these racist leaders were given a platform and vindication. They want us to regress by decades."
Spencer, an alumnus of the city's University of Virginia who is credited with originating the term "alt right" in an attempt to rebrand white nationalism, claimed the protests were a way to preserve and celebrate his heritage.
"You are not going to tear down the statue, and you are not going to replace us," he told local NBC affiliate WVIR was his message to the city of Charlottesville.
"It's an expression of force. It's an expression of occupying a space," said Spencer, who tweeted a photo of himself carrying a torch at the evening protest.
During a conference he hosted in November, Spencer famously yelled "Hail Trump, hail our people, hail victory!" to enthusiastic Nazi salutes from the crowd.
The fate of the Lee statue remains up in the air. After the city council voted to remove it in February, plaintiffs filed a lawsuit to stop its removal. A judge issued a temporary injunction earlier this month preventing the city from going through with the removal for the next six months.
Before You Go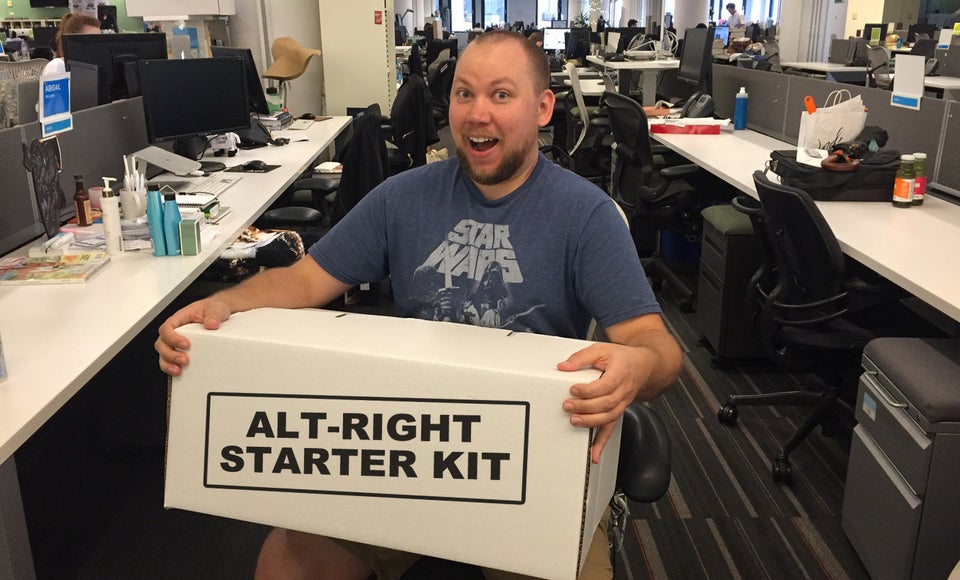 My Alt-Right Starter Kit Finally Came In The Mail!
Popular in the Community