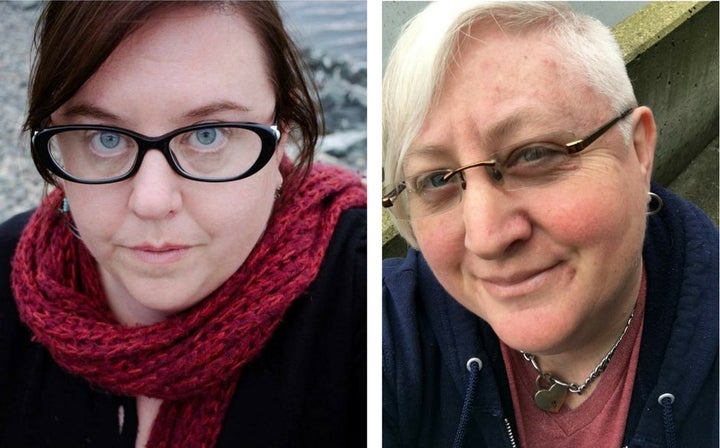 The volunteer-run Facebook group, founded last year by friends Layla Tromble and Terri Kempton in Washington state, has white people respond to racist trolls online at the request of people of color.
"If a white person is filling your social media with white nonsense ― anything from overt racism to well-intentioned problematic statements, tag us and a white person will come roundup our own," the group's Facebook post reads.
"It's the responsibility of us white folks to do the emotional labor that's required to educate other white folks ― and it shouldn't be required of people of color again and again," Tromble told HuffPost. "One of the goals of the service is to do some of that labor for people. Let them go have a drink and not worry about nonsense going on on their Facebook."
The page has garnered a modest following, with close to 100,000 likes on Facebook and posts from people of color calling them "amazing" or "awesome" on their personal pages.
"I've been explaining white privilege and white supremacy for far too long, and for free, especially online, and to basically no avail," wrote Michelle T. "I'm going on strike."
"After a white dude follower commented something racist on a post I wrote about white supremacy, I tagged White Nonsense Roundup," she added. "A volunteer rounded him up with incisive, straightforward, brutal truth. It was exactly what I wanted to say, but did not have the emotional energy to."
The White Nonsense Roundup group, which works primarily on Facebook but also functions on Twitter and Instagram, supports people of color online in a few ways. First, it uses its platforms to share articles and other resources, almost all written by people of color, about race and social justice issues.
Mostly, it functions as a rapid-response service on social media: If you're a person of color engaging in an online exchange around race that is emotionally draining or that you simply need backup on, you can tag White Nonsense Roundup in the comments, and one of its volunteers will chime in to help.  
White Nonsense Roundup's nearly 60 volunteers across the U.S. (and a few in Canada) sign on for four-hour shifts to monitor social media for tags, trying to answer all requests in a timely manner. They don't catch them all, since they usually get multiple requests each shift, Tromble said, and some require more back-and-forth than others.
The volunteers, who are vetted by Tromble and other staff who have personal experience in activism or anti-racism work, go through an application process and have their personal social media accounts scanned. They're also given a code of conduct to follow on engaging in conversations with respect, not insults, with the goal of educating people with facts and not shutting them down.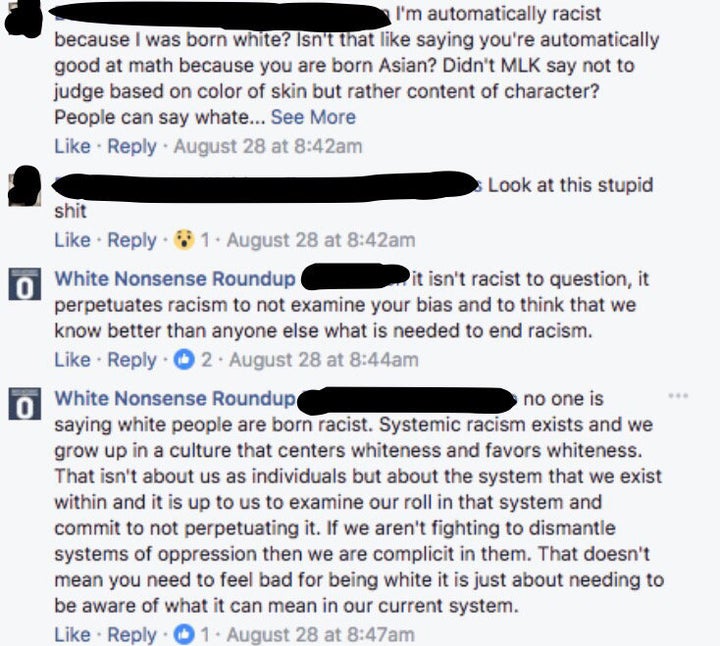 For Chenoa Alamu, an African-American violinist in Springfield, Illinois ― who discovered the group on Facebook after it posted about an instance of police brutality and who has since become online friends with Tromble ― the group's value is in having white people talk to other white people.
"We need more white people to speak out, to hold other white people accountable to their innate racism. Honestly and unfortunately there are many white people who won't listen to a black person about race," Alamu told HuffPost. "We are deemed whiny, complaining, we should have gotten over it by now, pull ourselves up by our bootstraps. But if a white person calls it out, tells it like it is, then a white person is more likely to listen."
"This is a good thing, but also not a good thing because still, a black person will know better, because we're the ones actually experiencing [racism]," she added. "But a close second would be a white person who calls it out."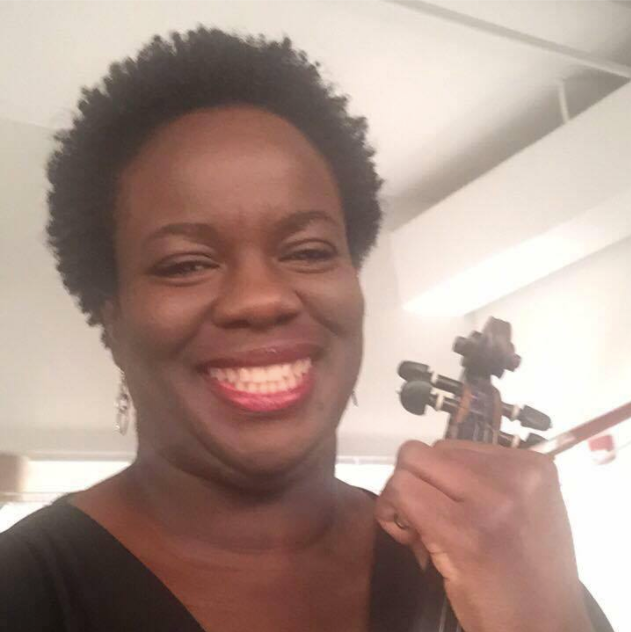 The group also steps in at times to support white people who tag them into exchanges about racial justice, Tromble noted, which she said is less about relieving their labor and more about teaching white folks how to have conversations about race, which can be a challenging learning process.
"In a lot of ways, platforms like Twitter and Facebook are the civic commons of this time," Tromble said. "It's where a lot of people are getting their information from. Engaging in these conversations on social media is important because it is where people form their opinions."
One critic of White Nonsense Roundup, Michael Schmidt of Indiana, posted about the group on Facebook in July, saying the "world needs LESS Thought Police and Social Justice Warriors telling people how to live and think." 
We need more white people to speak out, to hold other white people accountable.

Chenoa Alamu
When asked why he took issue with the group's approach, Schmidt told HuffPost: "I refuse to willingly accept that 'I'm white, therefore I'm racist,' or 'privileged' or anything else," said Schmidt, who identifies as "completely anti-Trump" and said he votes for Democrats as president but also believes in smaller government, less taxes and the Second Amendment. 
"Eric Garner, Tamir Rice, Philando Castille, ALL of those incidents brought me to tears. Dylann Roof, I was floored and mortified. I absolutely hate injustice and will speak up and out every time it happens," he added. "But on the same token, I feel like the 'guilt trip' is pushed so far and wide... I don't know, I just feel backed into a corner sometimes about it."
"Nothing I'm saying is new: black, brown and indigenous folks have been telling us this stuff for decades."

Layla Tromble
A recent U.S. poll for Reuters found that while most Americans oppose white nationalism and support racial equality broadly, when asked in so many words, when they are asked about particular issues related to race, many Americans appear to support viewpoints held by white supremacist groups: 31 percent of Americans polled strongly or somewhat agreed that "America must protect and preserve its White European heritage," for instance, and 39 percent agreed that "white people are currently under attack in this country."
Tromble, who runs the group in her free time outside a full-time job as a retail manager, noted that, while people of color have given them largely positive feedback, most negative feedback has come from white people who, similar to Schmidt, accuse them of being divisive or "racist against white people."
She said that when dealing with trolls, White Nonsense Roundup often blocks them; but in the case of people who disagree with them and are willing to discuss it further, volunteers try to engage in a way that "brings them along."
"We can indulge each other's white tears in a way I would never expect a black person to," Tromble said. "[Our tone] is right for what we do but never a judgment on any emotion that is expressed by a person of color when trying to engage white people on racism. They have agency to be as angry as they feel."
Most important, Tromble doesn't claim any particular expertise beyond being a "queer person who was an activist in college" and being "a person of conviction that sees racism in our country is literally killing people and the least I can do is tell other white people that's a bad thing."
"Nothing I'm saying is new: black, brown and indigenous folks have been telling us this stuff for decades," Tromble said. "We're just trying to do it in a way that might hopefully reach some people."
REAL LIFE. REAL NEWS. REAL VOICES.
Help us tell more of the stories that matter from voices that too often remain unheard.
BEFORE YOU GO
PHOTO GALLERY
New Orleans March Against White Supremacy