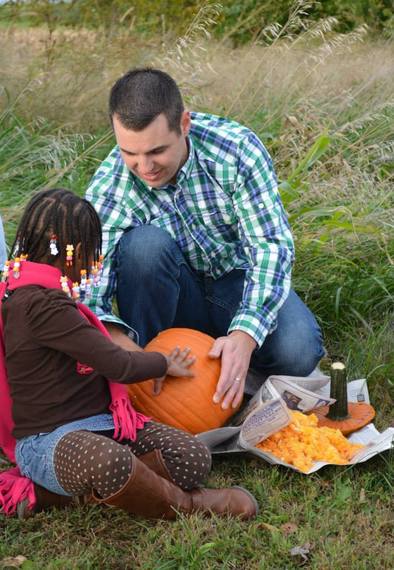 The short answer may surprise you. White parents can't possibly raise black children successfully.
White parents of white biological children and black parents of black biological children are able to forge through parenting often relying on just themselves with some help from their immediate family members and closest friends. However, when colorlines are crossed within a family like mine, parents need the proverbial village if they wish to raise racially confident and competent children.
I could give you a lot of textbook responses (many adoption books do), but I'm going to spare you the statistics, the case-studies, bullet-pointed lists, and the bolded vocabulary words. (I certainly think these books have a place. After all, I wrote one of them.) Instead, I'm going to give you a glimpse into my life as a mom by transracial adoption, a white woman raising three black children.
Before we adopted our children, we did a lot, and I mean a lot, of soul-searching. For four straight months, every single evening after we arrived home from work, we talked about adoption, race-relations, our experiences with people of other races, and our hopes and fears. We met with other families by adoption, read everything on race and adoption we could get our hands on, and had raw, honest discussions. It was exhausting, it was tense at times, and it required vulnerability, something I'm not very good at. What developed, in turn, was a sense of humbleness. We realized we couldn't, and shouldn't, go about this transracial parenting thing alone.
Since becoming parents seven years ago, we've worked diligently to give our children exactly what they need: a loving and supportive mom and dad and a village of individuals who help our children develop and sustain the racial confidence and competence they need as people of color. These individuals include:
Three years ago, I had the idea to contact a woman I knew at the university we both worked at to ask if she knew of any young women who might be interested in mentoring my two daughters. We wanted a Christian female who was great with children and didn't bat an eyelash at our family makeup. When we met J for the first time, I just knew she was the right fit for us. Three years later, we've become dear friends, and J isn't just my girls' mentor, but she's also become mine. She's attended my girls birthday parties, mentored them several times a month, and we've been to her graduation, met her family, and hosted her for dinner. What began as a mentor-mentee relationship has evolved into genuine friendship that will hopefully last a lifetime.
My kids, all three, have a black hairstylist. My daughters get their hair braided by a black woman. She's not only a hair braider, but another mentor for my girls and my friend. She's given my daughters the most beautiful hair styles and offered advice and parenting tips (being a mom herself), especially when it pertains to kids of color. As a strong black female, one who owns her own business, she's modeling for my daughters the characteristics of strength, beauty, and endurance. My son gets his hair cut at a black barber shop. Conversing with the barbers has been educational for my husband and me.
3. Other parents-by-adoption.
These include both white and black parents who have adopted children. When we moved into our home three years ago, we discovered that our neighbors, a black couple, had adopted their three children. They have been a go-to source for us to talk about not only adoption joys and challenges, but also race related struggles. Surrounding ourselves with other families like ours has offered our family support, comfort, and acceptance.
Having face-to-face conversations and honest relationships with young adults who were adopted as children, either transracially or not, has been a tremendous gift to our family. We are able to ask hard questions and receive honest answers and advice. These sacred friendships have made us better parents, giving us insight into what our children are facing or might face in the future.
In essence, adopting transracially means picking up a fork and eating a big bite of humble pie by admitting that I do not have all the answers and experiences necessary, but I am willing to pursue relationships that will provide my children with what they need. By knowing my limits and having the conviction to step outside my initial comfort zone, I'm empowering my children to be confident today and for all their tomorrows.
Related