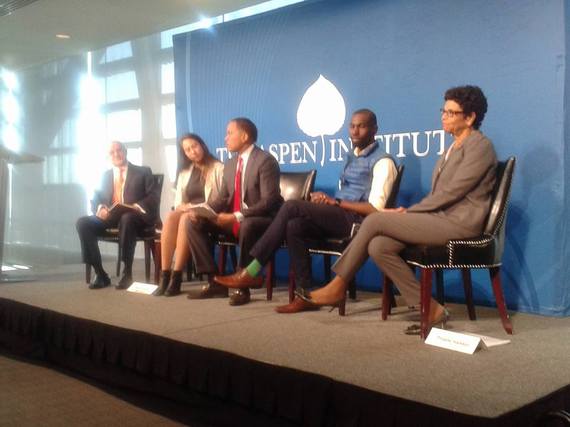 Left to right: Eduardo Padron, President of Miami-Dade College; Nailah Harper-Malveaux, student activist at Yale University; Juan Williams, Fox News analyst; Deray McKesson, candidate for Mayor of Baltimore and co-founder, We the Protestors; and Phoebe Haddon, Chancellor of Rutgers-Camden speak about Race and the University.
I was thrilled to have the opportunity to listen to some of our country's greatest practitioners, elected officials, activists and journalists discuss the issue I care most deeply about: moving towards accountability and action on race in our society.
The conversations did not disappoint: rich, from a variety of perspectives -racial, ethnic, generational, geographical, sectorial, political-raising issues of vital importance in this Presidential election year.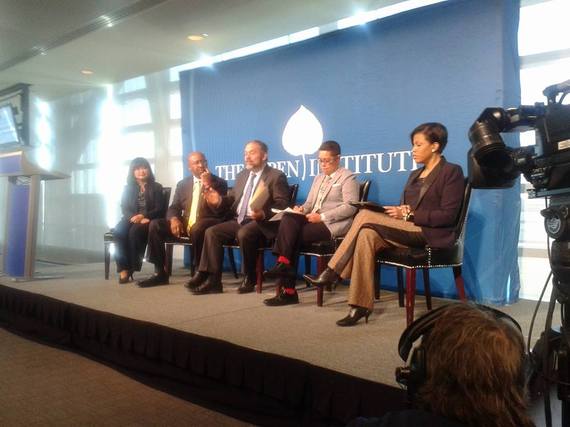 Left to right: The Hon. Suzanne Chan, Councilmember in Fremont California; The Hon. Michael Nutter, former Mayor of Philadelphia; Ray Suarez, journalist; Dawn Phillips, Right to the City; and The Hon. Stephanie Rawlings-Blake, Mayor of Baltimore, speak about shifting demographics in urban communities aka gentrification.
One perspective missing almost entirely: white people.
I understand that the Aspen Institute sought to make the event an opportunity to listen and learn from underrepresented voices, exclusively selecting people of color to serve as moderators and panelists.
What saddened and surprised me is that during a Presidential election year, in Washington DC, at a time when our country each day hits a new nadir in race relations in my lifetime, there were approximately five white people in the audience- and most of them were there because they work for the event host, the Aspen Institute, or Comcast, the event sponsor.
The audience who chose to attend was 95% people of color, the majority of whom were women.
At a time when white people have the most to learn from people of color, I think I was one of two white people at the Symposium on the State of Race who deliberately chose to be there.
White people's failure to attend the 2016 Aspen Institute Symposium on the State of Race in America is problematic for several reasons:
1) When white people don't join conversations about race, we send the message that racism is people of color's problem. White people: racism is OUR PROBLEM, not theirs. We have asked them to assimilate to us, make us feel comfortable, not confront us for far too long.
It is time for us to change, to become partners with people of color, to dismantle the systemic barriers to their success we have erected. This change starts by looking ourselves in the mirror, actually listening to them, asking them for feedback on how we can improve, and then- doing it.
2) When we attend other Aspen Institute events and skip the one on race, we send the message that the white Aspen Institute crowd doesn't need to work on our racial biases.
I am certain that if the topic were anything other than race, white people would have dominated the audience, because it is highly prestigious to attend Aspen Institute events, or even better, to speak at them. It's like a "Good Housekeeping Seal of Approval" for one's intellect, character, and stature.
Funny that we don't recognize that racism is a major driver of inequality.
White Aspen Institute crowd: we need to work on our racial biases too!
The next time we can listen to the best and brightest minds speak about race, hightail it over there.
Especially if we consider ourselves "progressive."
White people sometimes think that being progressive is the equivalent of being antiracist. Not true!!! All white people, including progressives, have been acculturated in a white supremacist society.
Racism is not something those bad racists over there do, it's something we ALL do (even those of us who think we are "good"), until we make a conscious effort to notice we are doing it and learn how to stop.
The first step in stopping: listening to people of color and actually learning from them.
3) During a Presidential election dominated by race, one would think that the most political people in our society- the "inside the beltway" folks, especially white ones- would want to hear the perspectives of leaders of color from across the United States. But again, the fact that the Symposium occurred in Washington DC seven months before we elect our next President did not drive white folks to be present.
They missed out on a crucial conversation. The Symposium culminated in a Town Hall about race in the 2016 Presidential election.
Speaker after speaker discussed their disappointment with the 2016 Presidential candidates and reasons why they think voter of color turnout will be low in November:
"Some people think that a vote for a candidate is legitimizing a system that has never worked for them."
"Black women have very high voter participation rates, but gerrymandering is suppressing the vote."
"There are multiple ways to go about change besides voting- through academic research and community organizing, for example."
"It's hard to stay motivated to vote when you see President Obama disrespected every day."
"Many of us have worked very hard to get people elected only to find the change we were seeking not happen."
"We don't exist in a world right now that allows for equal opportunity to vote- it's hard for us to vote, easy for some groups to vote."
One would think white political people would be eager to hear this type of insight. Not so.
This does not bode well for the Democrats. In the words of David Plouffe:
The coalition of young people, minorities and women that twice sent Barack Obama to the White House should not be taken for granted. "It is the Obama coalition, it's not the Democratic coalition or the Clinton coalition. It's got to be earned."
My takeaway: the 2016 Aspen Institute Symposium on the State of Race in America was equally inspiring, frustrating, and frightening.
Inspiring to hear so many brilliant people share what they are doing to make our society better;
Frustrating that white people weren't present for important discussions about race; and
Frightening to consider that Democratic presidential candidates don't seem to recognize that unless they learn quickly how to earn the votes of people of color, our next President could be an overt racist.
I hope that someone who does understand these issues, such as Julian Castro, former Mayor of San Antonio and Secretary of the Department of Housing and Urban Affairs, is selected as the Democratic vice presidential candidate.
I urge the Presidential candidates to read Steve Phillips' essential new book, "Brown is the New White" in which he persuasively argues that voters of color and their progressive white allies now make up 51% of the electorate and were responsible for both of President Obama's victories.
When what Phillips calls the "New Progressive Majority" feels disrespected- not listened to and not authentically represented by candidates- they stay home.
Mobilizing these voters by engaging them and more importantly doing something about the issues they care about is paramount to progressive elected officials' prospects for victory.
In sum- I hope I see a whole lot more white people at the 2017 Aspen Institute Symposium on the State of Race in America.
If you're curious about what you missed, you can watch it here:
Calling all HuffPost superfans!
Sign up for membership to become a founding member and help shape HuffPost's next chapter