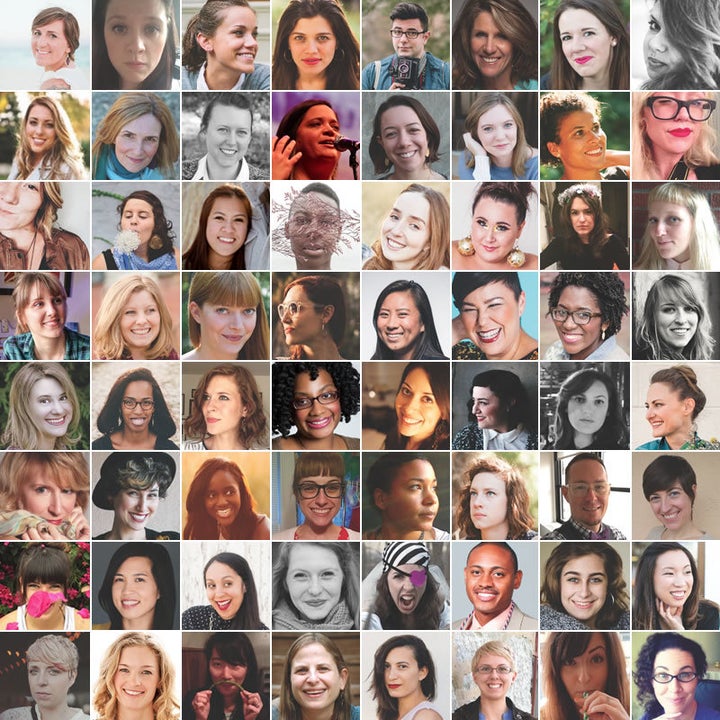 So something pretty interesting happened last week. A well-known conference for wedding industry creatives, Creative at Heart, posted its speaker line-up on Instagram, encouraging folks to sign up for early bird registration. The photo shows a grid of 26 smiling faces, all of them white. The post inspired 95 comments and counting. After a handful of yay!s, woo!s, and heart-emojis, Stacy Reeves wrote, "Extremely disappointing to see a sea of caucasian faces with no diversity. You are not creating an inclusive and welcoming place for women of color here." Mic drop.
Many others started chiming in, questioning whether people of color were welcome at such a conference, referring the conference organizers to talented people of color, and critiquing the use of "cuties" by the organizers to describe the speakers. Some stated they would not attend such a conference, and others said they had given up on industry conferences altogether.
The conference organizers scrambled to respond, at first thanking individuals for "sharing your heart," ensuring they valued the feedback, and encouraging public commenters to take their concerns to the private medium of email. Kinzie Ferguson, the Empowerment Photographer, challenged this saying, "There is not enough dialogue around these issues right now, which is contributing to our social and political climate where black people's voices are being silenced and dismissed. This conversation should ABSOLUTELY be happening out loud and not taken to email."
That's when the conference organizers let down their guard and responded publicly: "We have never intentionally NOT invited women of color to participate on a higher level within C@H (as a panelist, speaker, etc.), however, we absolutely accept full responsibility and sincerely apologize for not being intentional about ensuring that our conference is as diverse as possible and that women of all colors, shapes and sizes are represented well." They go on to encourage folks to apply to be speakers through their website.
Commenters went on to say that they weren't asking for much, they simply wanted some basic inclusion. No major brainstorming sesh was required, just invite some POC speakers, and by the way here's like five people that would be perfect.
The wedding industry is segregated. It's not surprising to me that the C@H organizers said they never intentionally excluded, but it's clear they never intentionally included. White privilege means never having to think about race, and usually no one will ever ask you to. If you want to ignore race relations in our country, you can, and there are no direct consequences. If you want to plan a conference featuring speakers directly from your primarily white network, you'll still fill the seats.
Using the language of "hurt feelings" and "sharing your heart" minimizes a serious critique of systemic racism by individualizing it. While it's true that being excluded and undervalued repeatedly throughout one's entire life hurts no matter how many defenses an individual builds up, the conversation taking place was much bigger than one or two people's personal feelings. And yet, the solution is quite simple. Commenters want to see some people of color in your line up.
It doesn't seem so hard, but maybe what it's asking for is a shift in power. Rather than sit back as organizers of a conference and allow the applications to roll in, you may actually have to get outside of your comfort zone, do some research, and actively reach out to potential speakers of color. And yeah, it might make you feel vulnerable.
Inclusion requires first valuing diversity (or feeling enough pressure from your audience to rehab your image), and second, action.
I know firsthand that that action piece can be tough. It can be time-consuming, and the results vary. You may fear tokenizing, targeting, self doubt, or tough conversations, all of which can be the result of a white person reaching out to people of color on behalf of the white person's project.
And some might argue that inclusion isn't enough. Is it enough to simply have a few POC speakers if the quality of the dialogue goes unchanged, privilege goes unchecked, and discussions of race are still hushed and private? Certainly color blindness isn't the goal like some GAP ad that makes multiculturalism palatable for white people. Others feel that representation in and of itself IS political. When you see someone like you in a leadership position, your understanding of your own self worth and potential can transform.
As a white editor of a diversity-based publication, I am certainly wrestling with these questions. While Catalyst is meant to be a platform that elevates diverse voices and perspectives, I know full well that my own identity will attract folks who more than likely look like me, too. As one of my friends and trusted advisers reminded me, an authentically diverse project requires diverse leadership.
She's absolutely right, but given that this editing staff is a staff of one, I can no more diversify myself than I can qualify for the women's gymnastics team at the Olympics, so for now I'm leading with humility, actively reaching out to talented contributors outside my immediate network, and working to open the channels of communication and feedback on how it's all going. And it's not enough; I know I have a long way to go.
I'm not interested in diversity because it's a hot topic. I'm interested because when varying voices, perspectives, talent, and images harmonize to tell a collective story about what it means to live and love in this moment in time, the result is something wholly unique and challenging and real. It's a little less "perfect," a lot less pink, and the scariest part is it has the power to shake you to your core. I hope more people in weddings learn to value diversity and inclusion not because it's expected (which it is and should be) but because it really makes us a better industry and a better, more just world.