When Nashville Zoo's website announced that four Southern White Rhinos would be coming to the abandoned elephant habitat, I marked my calendar like a fan girl.
Though the Southern White Rhino is the least endangered of the five remaining rhino species, its population hovers tenuously at just over 20,000 animals at great human and financial cost. The relentless drumbeat of attrition from poaching, habitat erosion, political violence, and conflicts between animal and human resource needs continues to threaten this 50-million-year-old species with extinction.
The Sumatran rhino, distinguished by a wispy coat of fur, is down to under 100 animals in a jungle habitat. These remaining individuals are monitored by camera, like celebrities. Meanwhile, the rarely seen Javan rhino lives in even fewer numbers on a Javan reserve.
"Javan and Sumatran [rhinos] will probably be extinct within the next five or ten years," says Jason Faessler, lead rhino keeper at the Nashville Zoo.
Faessler's frank prediction doesn't mean we humans are sitting back idle. Countless organizations in the field have mobilized researchers, doctors, protectors, and other boots on the ground to save the species. And away from the fray, zoos quietly maintain a theoretical "back-up herd" in case the worst occurs in situ, that is, in the animal's homeland. But more importantly, zoos research the optimum conditions for breeding. Their research can be used back in the wild. In Indonesia, the conservationists now struggling to build back the Sumatran rhino population are using techniques developed at the Cincinnati Zoo, where Faessler began his rhino-keeping career.
That zoo is one of only a handful in the US that have housed a Sumatran rhino, so Faessler came to Nashville Zoo with some rare rhino experience.
"I'm one of the only persons to work with all four of the captive species," Faessler mentioned as he took me through the rhinos' new indoor home.
There, I was met with a huge, wobbly blue ball, part of an enrichment program for the rhinos. All modern zookeepers create enrichments for the animals in their care. The layperson might call many of them "toys." And it's true, enrichment activities do often take the form of play. But enrichment programs are also designed to give captive animals a chance to engage their natural skill set and find the stimulation they would normally get in the wild.
Faessler and his four-keeper rhino team at the Nashville Zoo form one piece of the mosaic of human effort involved in saving a species. Walking through an urban zoo, it's not always easy to picture what struggles may be raging in the animal's home country. Rhino's, for example: As we sit near a gift shop eating a snack by the rhinos' pool, we may never imagine the care, expense, and coordination humans in southern Africa are investing to save the black rhino - a species whose numbers are only in the 5, 000s. We can glimpse it in a single video, an endangered black rhino sailing through the air, upside down, in an extraordinary helicopter rescue that will give her a chance to live and thrive in a safer location.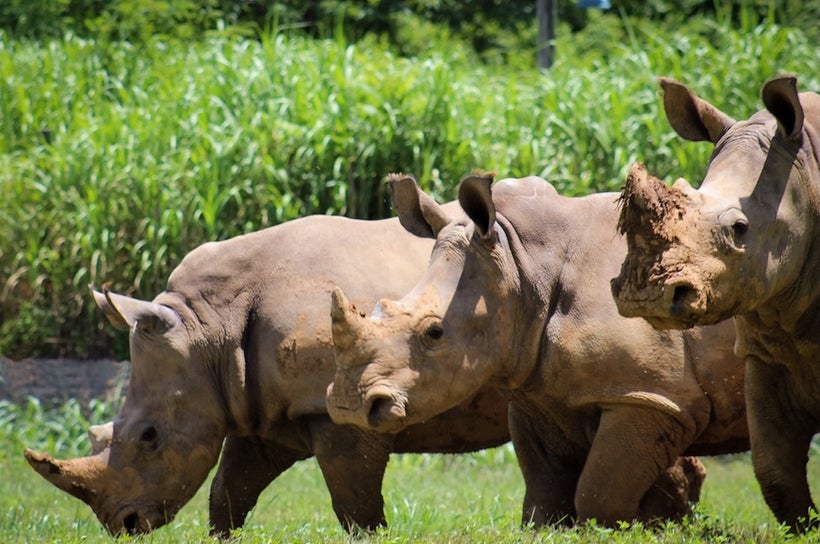 Like many who visit the zoo, I hadn't given much thought to the rhinos' journey — how four South African natives, in the form of 5 or 6 tons of rhino, might come to be grazing on a managed, 3.5-acre landscape in Nashville, Tennessee. In fact, I was naively surprised when the zoo's website announced that we may wait a couple of months after their arrival before seeing rhinos. They had to acclimate. They might be shy of humans. There might be modifications to make to their habitat. I guess it baffled my Amazon-shopping brain that we couldn't see rhinos shortly after they were "ordered up."
Then I saw the rhinos for the first time – cow-like calm, chubby bodies, a vague prescience in their eyes, odd rotating ears that always seemed to be processing. Suddenly, I had to know their story, to connect the dots between their exhibit home, and the free-range home they left behind. What kind of life had they left? What dangers did they escape? What do they go through to take a 10,000-mile journey, and arrive like refugees at US customs?
I've since learned some amazing things about that journey.
I spoke to only a few individuals out of the thousands of conservationists, animal-lovers, researchers, medical professionals, and scientists devoted to rhinos – but it turned my head around. Now when I look at the rhino exhibit, I see a small portal to lands of dwindling resources, pressurized conflicts, and high-stakes black markets.
Yet each of the individuals I spoke to represents a small ray of hope for rhinos.
Nashville Zoo president and CEO Rick Schwartz just returned from a hands-on tour of South Africa.
"We were there on a research trip," he explained.
Schwartz, a fellow fan of rhinos, plans to develop an ambitious safari habitat around the rhinos at Nashville Zoo, complete with safari lodge (AKA function space) and savanna-like "elbow room" for the rhinos. Schwartz escorted a group of architects to several state-of-the-art South African tourist lodges for inspiration and conceptual planning.
Schwartz spent part of his trip doing fieldwork, working with rhinos alongside South African rhino ranchers. Many in conservation believe that a combination of rhino "ranching" and rhino tourism will pave the path to saving rhino populations.
In 2007, rhino keeper Jason Faessler was on an artificial insemination project team for the endangered Indian rhino (also called Great One-Horned Rhino). Breeding research is part of a zoo's important contribution to conservation. The research goes on to help animals in the wild. Many animals who were captive bred have returned successfully to home habitats and have parented new generations. If humans are to help rhino populations grow, the work done in zoos, where data can be carefully recorded, is crucial. In the case of the Indian rhino, persistent, collaborative, global conservation efforts have brought this near-extinct species from fewer than 200 individuals on the planet to over 3,000 animals today.
Kenyan conservationist Dr. Phillip Muruthi is chief scientist at the African Wildlife Foundation (AWF) based out of Nairobi. (You can read more about Muruthi in my series of articles on in situ rhino conservation.)
Dr. Muruthi travels up and down Southern Africa educating people about keystone species like the rhino, which impact and influence entire ecosystems. Muruthi believes that rhinos can play a role in economic growth and in a prosperous African future. His organization helps train and employ trackers, rangers, police sniffer dogs, and legal professionals in the effort to reduce poaching and develop wildlife related livelihoods for local communities.
When I spoke to Muruthi, he had just gathered the latest numbers on rhino populations across southern Africa. For the first time in over a decade, the numbers looked promising, poaching was down.
Upcoming – Rhinos come to Nashville
The stories that follow in this series are based on my interviews with dedicated people who care for rhinos. They make it clear that a rhino zoo exhibit is the tip of a dark, deep iceberg. Four young animals munching lazily in a field in this country represent a daily struggle by many humans around the world to keep the iceberg from melting.
Calling all HuffPost superfans!
Sign up for membership to become a founding member and help shape HuffPost's next chapter
This post was published on the now-closed HuffPost Contributor platform. Contributors control their own work and posted freely to our site. If you need to flag this entry as abusive,
send us an email
.