A number of Facebook pages for white student unions claiming to be affiliated with universities appeared online late last week, though there's little evidence the groups are actually run by students from those schools.
However, the white student unions probably aren't real. Rather, they seem to be an attempt to antagonize activists at the University of Missouri, Princeton, Yale and other schools who have pushed for better treatment of African-Americans and other minority students on campus and for increased recognition of those groups' marginalization.
The Daily Beast reported that the pages are a coordinated effort by users of the message boards 4chan and 8chan to stoke racial tensions. Medium user Bears for Equality pointed to several pieces of evidence suggesting that the groups are fake, including a post on a neo-Nazi website encouraging readers to create white student union pages for schools even if they're not students there.
NYU issued a statement Monday denying that the "Union of White NYU Students" Facebook page was affiliated with the universities.
"These kinds of pages have cropped up at a number of universities that have sought to have a real dialogue about race and inclusion," the statement said. "There is no such organization as this at NYU. We call on all parties to contribute thoughtfully and respectfully to the discourse on race and to reject efforts to derail or distort the conversation."
The Facebook page in question is still up, however, and posted a statement later on Monday insisting that the union was real.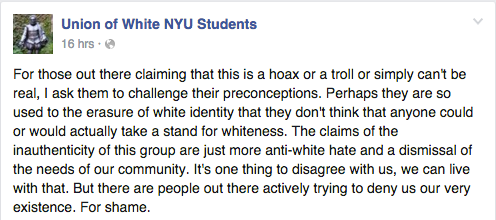 "European-American students on college campuses face unique and immediate challenges that are ignored or even actively denied in today's cultural climate," the group says in its description."We unapologetically provide a safe space for white students to air their true feelings about the future of our nation."
A person who claims to be behind the NYU page told The Tab that he is a student in the school's College of Arts and Sciences and is from New Jersey. He said the union was an informal group of students who were afraid to come out in public because they feared for their safety. The person described recent incidents on college campuses as "political correctness gone mad."
"Frankly, this seems to me to be a power play by the Black Lives Matter people that know they can push issues now that they have national attention and the support of the media, intellectual and political class," the person said. "They can push for more power and concessions and they have to get them because to deny them means racism."
While there's little indication that any real students are involved in the recently created Facebook groups, an actual white students' union did form at Towson University in 2012.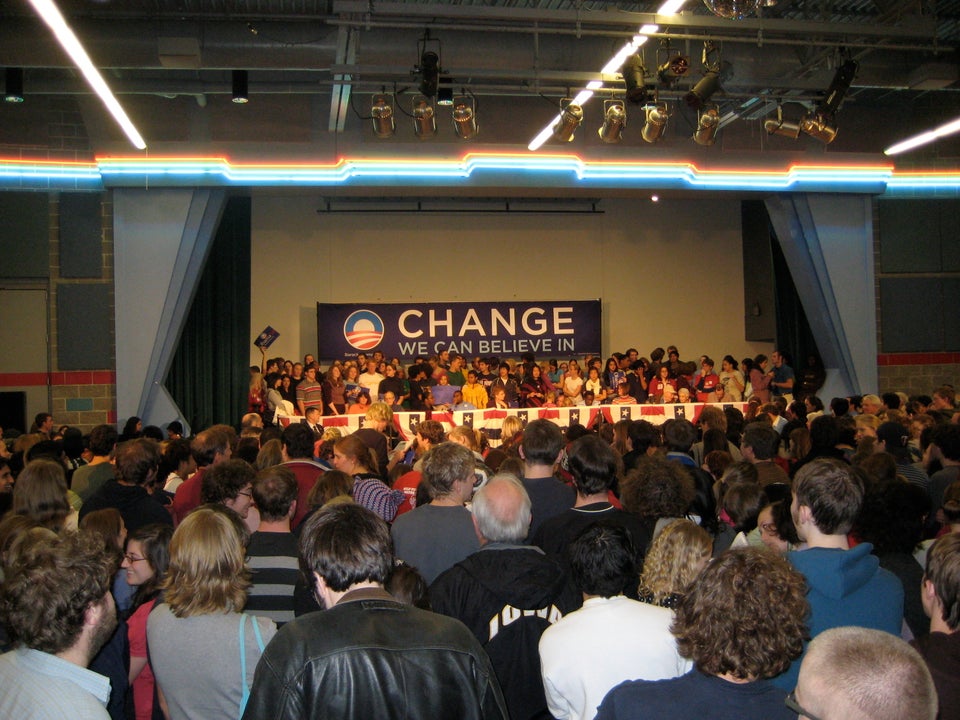 Most Politically Active Colleges In 2015-16: Princeton Review
Related
Popular in the Community