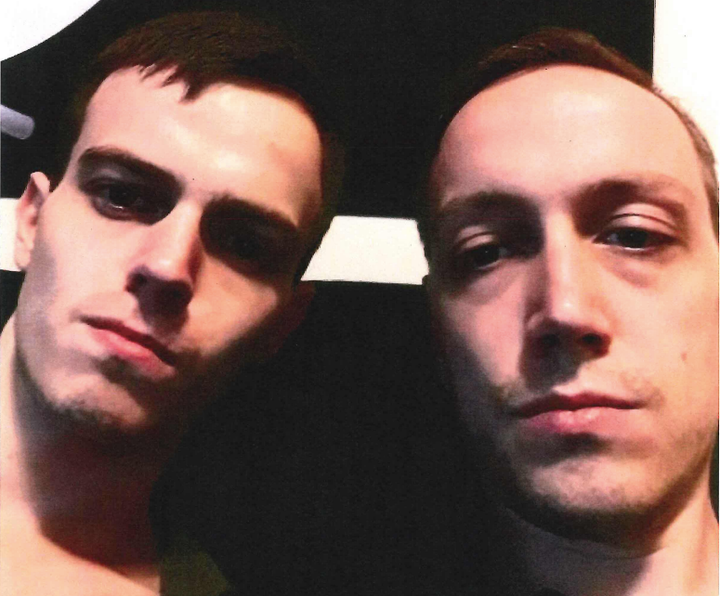 WASHINGTON ― By last summer, Kamau Bilal had heard enough. When the Clarks became one of the first white families to move onto his nearly all-black block in the Bloomingdale neighborhood more than a decade ago, he'd tried to make them feel welcome. He became friendly with the Clark brothers, who once helped him build a treehouse for his son.
But Bilal distanced himself from Jeffrey Clark and his younger brother, Edward, as they became increasingly radical, especially after one blowout fight over then-candidate Donald Trump. Then, on the night of Trump's election, Bilal's mother called to tell him about a group gathered on Clark's porch chanting about Hitler.
Last summer, after someone snatched a gay pride flag off a front porch near the Clarks' home, a group of about six people ripped another pride flag off the front of the Showtime bar and a bunch of white supremacist flyers were scattered around the neighborhood, neighbors contacted Bilal, who had since moved to Maryland, and told him they suspected the Clark brothers were involved.
So Bilal went to talk to another Bloomingdale neighbor: a District of Columbia police officer. He told the cop who lived just down the street from the Clarks that neighbors were worried the brothers were involved with the racist propaganda spreading throughout the neighborhood. The police officer said he would look into it.
That was the last he heard of it.
A year later, one of the brothers is dead and the other is imprisoned on gun charges after family members told the FBI that the elder Clark brother is a dangerous white supremacist. Edward Clark, 23, killed himself on Roosevelt Island in Washington, D.C., on Oct. 27, hours after the Pittsburgh synagogue massacre. In the following days, 30-year-old Jeffrey wrote on Gab, a social media site popular among racists, that Robert Bowers, that the accused Pittsburgh shooter, was a "hero" and that the synagogue victims "deserved" to be killed. Jeffrey was arrested on Nov. 9 after his relatives turned him into the FBI.
On Friday, a federal magistrate judge ordered Jeffrey held until trial following a hearing in which a federal prosecutor described the defendant as "a bomb" waiting to explode.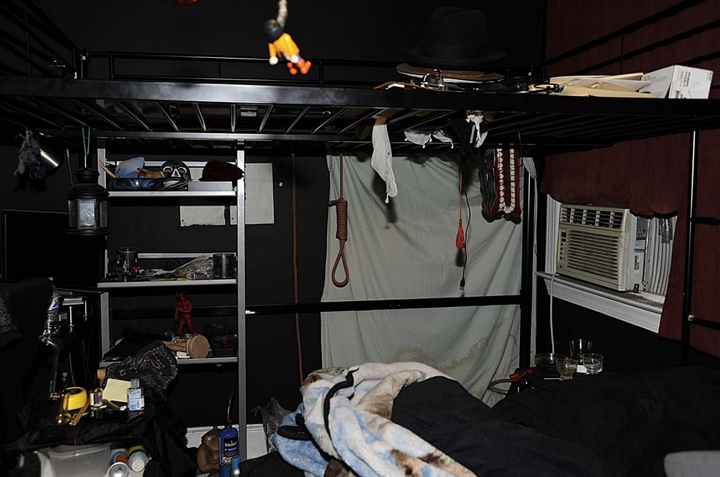 The death by suicide, the arrest and the public revelations about the Clark brothers' ideology have left their neighbors struggling to understand how the two men were able to spend years going to white supremacist meet-ups, making violent threats online and stockpiling guns in their home without attracting attention from law enforcement in the heart of a progressive city like Washington. Even Jeffrey Clark's public praise of the violent actions of Bowers and Cesar Sayoc, the Florida Trump supporter accused of sending pipe bombs to prominent Democrats, likely would have gone unnoticed by authorities if his own family hadn't reported his behavior.
It also raises questions about law enforcement's ability to keep tabs on radicalized right-wingers who could pose a threat while they navigate First Amendment protections. Despite the Clark brothers' extensive online support for hate groups and their reputation in their Bloomingdale neighborhood, a law enforcement official confirmed that they were not on the FBI's radar until the family members raised concerns.
The Clark family moved to Washington from Utah, where both parents had attended Brigham Young University. They sent their kids to private Catholic schools. After briefly living in the Capitol Hill neighborhood, the Clarks bought their house in Bloomingdale. When the parents later split up, the father stayed in the Bloomingdale house with his three children: Jeffrey, Edward and a daughter.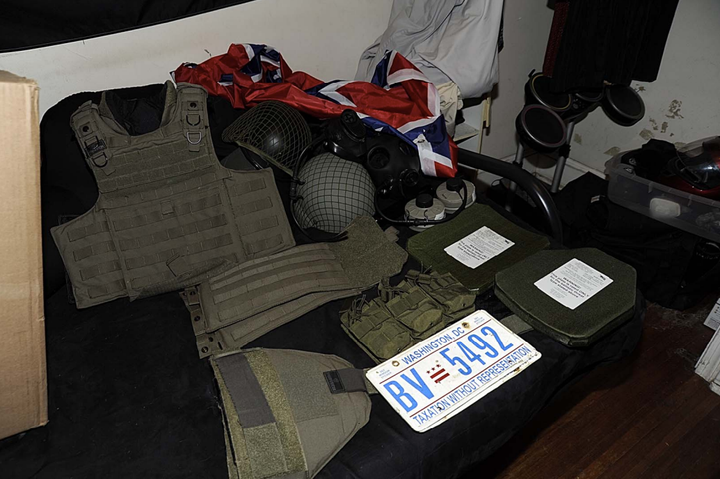 Bilal, whose mother has lived in the neighborhood for decades, noticed a shift in the Clark brothers after Edward was mugged on his way to the store several years ago. The brothers shaved their heads and Jeffrey started carrying a gun.
"I think it really affected their manhood," Bilal said.
During the 2016 presidential campaign, Bilal and Jeffrey got into arguments about Trump. Jeffrey ranted about his hatred for Mexicans, and Edward seemed to go along with it, Bilal said.
"I think [Jeffrey] kind of respected me in a sense where he didn't want to let me know his true nature," said Bilal, who is black. "But deep down inside, I think he hated my guts."
Jeffrey claimed in a podcast last year that he "was not somebody that would have been described as a racist a few years ago." He claims he went looking for answers and found it in the so-called alt-right. According to Jeffrey, the rise of the alt-right is due to people's dissatisfaction with the "Zionist-occupied government."
Over the past year and a half, Jeffrey and Edward became regulars at white nationalist gatherings. They appeared at an April 2017 protest outside the White House organized by alt-right leader Richard Spencer to protest military airstrikes in Syria.
Spencer told HuffPost he never knew the Clarks by name or had any interaction with them outside of them asking for the photograph.
The Clark brothers teamed up with far-right propagandist Jack Posobiec in May 2017 to shoot footage for a Posobiec project on Seth Rich, the Democratic National Committee staffer whose murder in Bloomingdale is the topic of several conspiracy theories. Posobiec denied working with the Clarks, despite appearing in several photographs where he is being filmed by the Clark brothers in Bloomingdale. Jeffrey attended a "Freedom of Speech" rally in D.C. in June 2017 with other alt-right members, according to the Anti-Defamation League. Around the same time, Jeffrey and Edward showed up at a D.C. bookstore to disrupt an event with Alexander Reid Ross, an author who was discussing his book Against the Fascist Creep. The Clarks were there with Jamie Troutman, a white nationalist who goes by AltRightVA online. That month, Jeffrey Traveled to Harrisburg, Pennsylvania, to participate in a March Against Sharia rally organized by the Islamophobic group ACT for America, according to the Anti-Defamation League and screenshots of tweets reviewed by HuffPost.
Unite the Right organizer Jason Kessler tweeted at the time, "These are some of my favorite people! #MAGA," referring to pictures of the Clark brothers. Kessler wrote in an email that he does not condone politically motivated violence — but he claims it is the natural result of failing to address the grievances of white people. Suppressing that conversation, he wrote, pushes people "into an echo chamber of extremism and frustration where thoughts of violence seem like the only way out."

The Clark brothers also appeared at Kessler's initiation into the Proud Boys, a violent neo-fascist gang whose leader claims the group is not racist despite attracting white nationalist members.
It was around this time that the white supremacist flyers appeared in Bloomingdale and Bilal asked the local police officer to look into the Clark brothers. The D.C. police officer who lived within eyesight of the Clark home did not immediately respond to a voicemail message left with his wife. Metropolitan Police Department spokeswoman Brianna Jordan told HuffPost in an email that she has no knowledge of the tip. She declined to say whether the police department investigated the flyers or the theft and attempted theft of the pride flags.
The Clark brothers traveled to Charlottesville, Virginia, to attend the deadly white nationalist rally there in August 2017. They appeared in a photo near James Alex Fields Jr., who drove a car into protesters, killing Heather Heyer and injuring several others.
This August, a neighbor snapped photos of a man he says was Patrick Little, a neo-Nazi who ran for Senate in California. Little was known to be in D.C. at the time, where he held a sign saying "Expel the Jews" outside of the White House, and the elder Clark brother had promoted Little on Gab. Little did not respond to questions about his ties to Clark. Instead, he told HuffPost he would grant an interview in exchange for a summary of a film about "Jewish Supremacism."
By this time, multiple neighbors suspected the Clark brothers, who were quiet and kept to themselves, of being right-wing extremists. One person who lived in the neighborhood had Googled the Clark family and found screenshots of what appeared to be Jeffrey's suspended Twitter and Facebook profiles, which included images of Jeffrey posing with a swastika, as well as descriptions of the brothers as associates of Richard Spencer. The neighbor was horrified but didn't know what to do. Despite watching for suspicious activity, the neighbor didn't find anything online or see anything in person that was illegal.
Had the Clark brothers been vocal advocates of the Islamic State instead of the Third Reich, they likely would have attracted law enforcement's attention long ago. If Jeffrey was supporting a group like ISIS or al Qaeda, he could now be facing a material support charge based on his public advocacy for a group the U.S. government has labeled as a foreign terrorist organization.
But there's no federal law against domestic terrorism, a fact that surprises many Americans. Consequently, federal law enforcement takes a much different approach to investigating armed neo-Nazis advocating violence than it would sympathizers of radical Islamist terrorist groups.
Jeffrey Clark was charged with the federal crime of illegally possessing a firearm while using or addicted to a controlled substance — a rarely used criminal statute — and the D.C. crime of possessing a high-capacity ammunition magazine. The maximum prison sentence for the federal statute is 10 years and the maximum time for the D.C. offense is one year.
That means federal authorities are leaning heavily on the notion that Clark owned a gun while addicted to marijuana as the basis of his imprisonment. Marijuana is legal in Washington, although it is still an illegal substance under federal law.
Clark appeared in federal court in D.C. on Friday afternoon, where prosecutors argued for his continued detention because they say he poses a threat to the public and is a flight risk.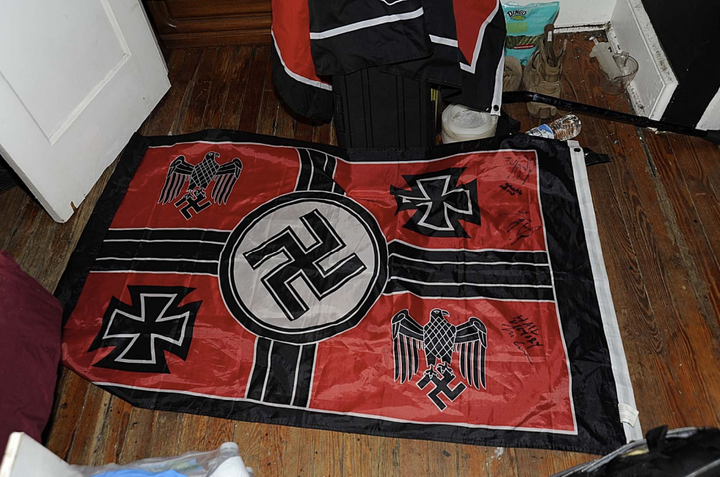 Both David Bos, a federal public defender representing Clark, and Magistrate Judge G. Michael Harvey indicated during Clark's detention hearing Friday that they'd never seen prosecutors use the unusual federal charge.
Assistant U.S. Attorney John Cummings said in court Friday that it was "clear to anyone in that house what was going on" and that Clark's "glorification of violence and hatred for minority groups" ― together with his possession of weapons and use of marijuana ― made him a "very dangerous combination." Cummings noted that Clark told law enforcement he could respond violently if the government took his weapons — and that Clark would be banned from owning weapons if convicted of the felony count. Asked by the judge if Clark's father was one of the relatives who turned him in, Cummings said he was not.
Bos, representing Clark, argued that Clark's "distasteful comments" were "constitutionally protected" and suggested the government was grasping at straws to find a charge to stick.
"I've never had a case in which the government went forward on this portion of the statute," said Bos, who has been practicing for 30 years.
While concurring that Clark was facing an "unusual charge" that the judge hadn't seen before, Harvey ordered Clark detained until trial, saying he couldn't ignore Clark's "threatening" and "menacing" posts and his family members' concern that his anger "has intensified" in recent weeks.
"It seemed that the defendant was preparing for something," Harvey said.
Before the hearing, federal prosecutors indicated in a filing that Clark told law enforcement he wanted to move West Virginia to nonviolently "take over" a town with "like-minded white nationalists." They also laid out additional evidence against the elder Clark brother, saying that authorities searching the home found a flyer from the Atomwaffen Division, a violent neo-Nazi group responsible for several murders; a rope tied into a noose above his bed; a Nazi flag and body armor; and a drawing of a gunman aiming at a caricature of a Jewish man wearing a yarmulke.
Next to the anti-Semitic drawing was a bullet-pointed list of an agenda for "peaceful resolution," which included legalizing discrimination, cutting off all welfare, ending all immigration, deporting all illegal immigrants, banishing criminals to Mexico, and affirming the First and Second amendments. The final point in the plan: "End birthright citizenship."
This article has been updated with a response from Patrick Little.
Support HuffPost
The Stakes Have Never Been Higher
Popular in the Community