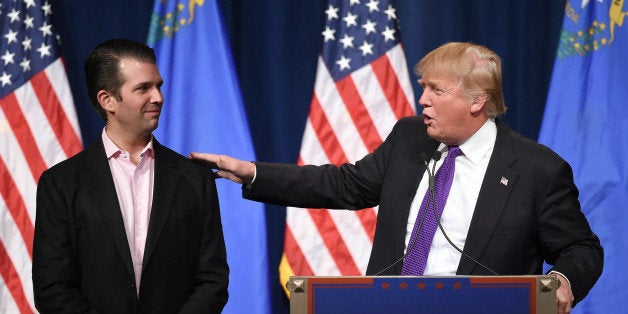 "For blacks in the Americas, slavery is the greatest thing that ever happened to them" -- James Edwards, founder and head of The Political Cesspool, August 11, 2008
Underscoring the status of the Trump for President campaign as America's de-facto political flagship for white nationalism, on Monday March 1st, white supremacist journalist James Edwards, whose online talk show has featured neo-Nazis and Holocaust deniers, parked his car in a VIP press slot at a Memphis Trump rally, sauntered in, and proceeded to broadcast live from the rally as Donald Trump's 757 taxied in, driving the crowd to a frenzy.
Edwards was not just any Southern white supremacist journalist. Earlier, he had landed an exclusive interview with Donald Trump, Jr., that is scheduled to be broadcast this coming Saturday, March 5th.
Edwards' privileged access to the Trump campaign contrasts with the recent experience of groups of African-American college students ejected en masse from Trump rallies for having the audacity of standing together in silence in the bleachers.
And, Edwards' interview with Trump, Jr. suggests a doubling down of the Trump campaign, to firm up its white supremacist street cred, even as a national row erupted last weekend following a Donald Trump interview with CNN's Jake Tapper in which Trump repeatedly refused to condemn the Ku Klux Klan and former KKK Grand Wizard David Duke, who has strongly endorsed Trump -- prompting Michele Goldberg, writing for Slate, to observe, Donald Trump Can't Disavow the KKK Because It Might Demoralize His Base
But it goes even deeper. While Donald Trump's father Fred Trump seems to have had as a young man a suspicious proximity to a New York City KKK riot, a rather less disputable association ties Donald Trump even closer to overt racism -- as it happens, Donald Trump's personal inheritance was built on it.
Donald's 1970s inheritance from Fred Trump, estimated at between $40 and $200 million dollars, was derived from the profit of Fred Trump's low-end rental real estate empire that was built with loan guarantees from the U.S. government through the FHA.
And Fred Trump, as Woodie Guthrie learned (and wrote about), maintained racist rental policies (promoted by the FHA) by refusing to rent to African-Americans -- even veterans.
In short, a strong case can be made that Donald Trump's embrace of white supremacy goes beyond mere pandering, because racism has been the very foundation of the Trump empire.
Penned legendary folk singer Guthrie, concerning Fred Trump's racist rental policy,
I suppose
Old Man Trump knows
Just how much
Racial Hate
he stirred up
In the bloodpot of human hearts
When he drawed
That color line
Here at his
Eighteen hundred family project ....
And it continues -- as footage of white Trump supporters assaulting African-American protesters at a Louisville, KY trump rally attests.
Calling all HuffPost superfans!
Sign up for membership to become a founding member and help shape HuffPost's next chapter