Jeremy Joseph Christian, a 35-year-old who is known to local authorities as a white supremacist, has been charged with two counts of aggravated murder, along with other offenses, over the incident. Police say he shouted racial and religious insults at two women on the train, one of whom was wearing a hijab. When bystanders tried to intervene, Christian allegedly stabbed three of them. Two died, and the third victim is expected to survive.
But according to the founder of the Daily Stormer, which actively promotes anti-Semitic and racist viewpoints, Christian was probably "defending himself against attackers." Andrew Anglin suggested that the victims assaulted Christian, though Portland police have said that at least two of the men attempted to calm him before he started slashing.
Anglin concluded his take by saying the women Christian was allegedly targeting shouldn't have been in the country in the first place.
"Again, it has to be said: when our people attack their people (if that indeed is what happened), the reason is the same as when the opposite happens: it is because they are in our countries in the first place," he wrote.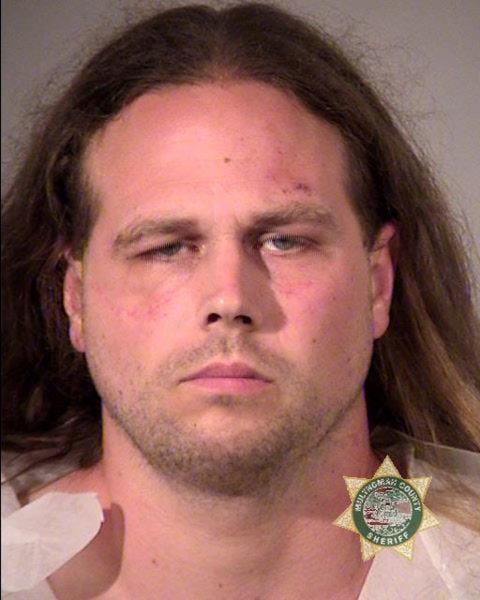 The Southern Poverty Law Center sued Anglin last month for allegedly orchestrating an anti-Semitic campaign against Jewish residents of Whitefish, Montana. Anglin published the phone numbers and email addresses of multiple Jewish people in the area and encouraged readers "take action," which prompted a torrent of threatening messages. He targeted the residents after learning that Sherry Spencer, the mother of alt-right figure Richard Spencer and a Whitefish business owner, was facing criticism over her son's politics. 
Anglin did not respond to HuffPost's requests for comment.
Other right-wing sites and groups have offered their own takes on the attack. Conservative outlet The Daily Caller described Christian as "an anti-circumcision, Bernie Sanders supporter" based on comments on his Facebook page.
Christian indeed voiced support for Sanders and 2016 Green Party presidential candidate Jill Stein. Those comments were interspersed with others espousing white supremacist views and praise for Oklahoma City bomber Timothy McVeigh, as well as a frequent complaints about circumcision, according to Buzzfeed. 
Jihad Watch's Robert Spencer, whom the Southern Poverty Law Center describes as one of "America's most prolific and vociferous anti-Muslim propagandists," disagreed that Christian was distinctly anti-Muslim. The alleged attacker had disparaged Jews and Christians as well as Muslims aboard a different train the night before the stabbings, according to KOIN.
In a message to HuffPost, Spencer denied that Islamophobia is a legitimate problem in the U.S. 
"From his words he was clearly an equal opportunity hater. He harassed the Muslim women because they were there," Spencer wrote of Christian. "You are emailing me because you want to shore up the fiction that Muslims are frequently the victims of hate crimes in the U.S."
"We did our part at Clarion Project by covering the story, because we believe Islamist extremism and anti-Muslim extremist must both be tackled," Mauro wrote to HuffPost. "Christian saw himself as a valiant warrior against jihadists, but he is a gift to jihadists."
The Clarion Project's article on the attack only alluded to anti-Muslim sentiment by mentioning that Christian had insulted a woman wearing a hijab. Like Spencer, Mauro focused on the alleged attacker's wide range of bigoted comments. 
"He was motivated by a stew of multiple hatreds and it would be wrong for the media and politicians to assign responsibility for this bloodshed to either party," he wrote. 
Ricky John Best and Taliesin Myrddin Namkai-Meche, the two men who died in the stabbing, have been hailed as heroes who stood up to hate. "They were attacked because they did the right thing," Portland Mayor Ted Wheeler said Saturday.
Kim Bellware and Nick Visser contributed reporting. 
Calling all HuffPost superfans!
Sign up for membership to become a founding member and help shape HuffPost's next chapter
BEFORE YOU GO