Virginia Gov. Terry McAuliffe (D) declared a state of emergency, as violent clashes erupted between white supremacists and anti-fascist protesters.
Lt. Gov. Ralph Northam, who won the Virginia Democratic gubernatorial primary over progressive hopeful Tom Perriello in June, released a statement ahead of the rally condemning white supremacists and asking others not to respond with violence.
"White supremacists have descended upon Charlottesville again to evoke a reaction as ugly and violent as their beliefs ― just as they did before, I am urging Virginians to deny them the satisfaction," the statement reads.
GOP gubernatorial nominee Ed Gillespie also denounced the rally.
Ronna McDaniel, chairwoman of the Republican National Committee, spoke out against the rally on Twitter Saturday morning.
However, Rep. Jim Himes (D-Conn.) shot back, suggesting that the GOP should be taking more responsibility for what was happening.
Sen. Tim Kaine (D-Va.), New York Gov. Andrew Cuomo (D), Sen. Kamala Harris (D-Calif.), House Speaker Paul Ryan (R-Wis.), Sen. Bernie Sanders (I-Vt.) and Sen. Marco Rubio (R-Fla.) were among the many politicians who weighed in.
President Donald Trump addressed the events of the day, but drew criticism for failing to call out white supremacy or racism specifically. He tweeted against "hate" and "violence," but also blamed "many sides" for the day's events.
But as local and national politicians largely opted to, at least to some degree, denounce the hate and violence seen at the rally, there was one notable exception.
Corey Stewart, a conservative who ran against Ed Gillespie in the Virginia's gubernatorial Republican primary, posted live video to Facebook Saturday evening in which he attacked "democrats" and "the media" for never condemning violence from what he called "the unhinged left." He added that he believed those same people would use the Saturday's events as an excuse to crack down on "conservative speech."
It drew extreme far-right figures like white nationalist Richard Spencer and former KKK leader David Duke. People who showed up to counter protest the rally included Antifa, a radical anti-fascist group. Though the rally was slated to begin at noon Saturday, demonstrators were already out in force Saturday morning, displaying Confederate flags, Nazi symbols and chanting "blood and soil" and "Fuck you, faggots." There were also heated confrontations Friday night.
This story has been updated to reflect that Corey Stewart commented on the rally.
Before You Go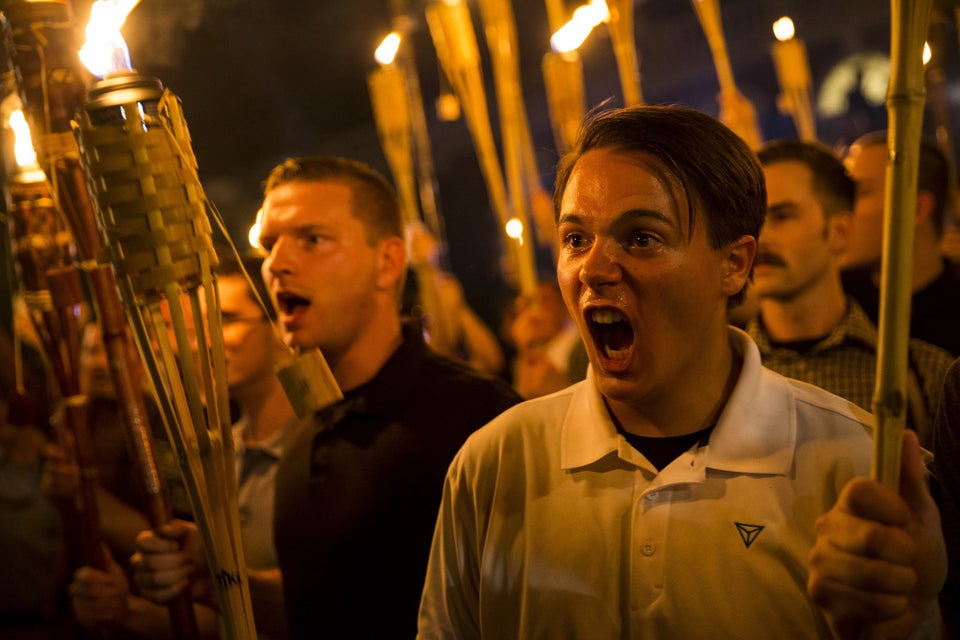 Clashes In Charlottesville
Popular in the Community