A gathering of white supremacists attempting to promote an anti-immigrant message at a rally in Charlotte, N.C. was largely drowned out by a clown-themed counter-protest over the weekend.
WCNC reports that members of the National Socialist Movement and Ku Klux Klan ended up being outnumbered by at least five to one as they spoke out against Charlotte's growing Latino population, which they claimed was being largely bolstered by illegal immigration.
The mocking counter-demonstration was organized by the Latin American Coalition, which said it was an attempt to underscore the absurd and hateful nature of the rally.
"The message from us is, you look silly," said Lacey Williams, youth coordinator for the group, according to 12 News Now. "We're dressed like clowns and you're the ones that look funny."
The protesters, many of them wearing red clown noses or face paint, played off the "white power" message of their opponents, throwing "white flour" in the air and holding up "wife power" signs.
Protestor Tom Strini, fully decked out in a bulbous red nose and rainbow clown wig, held up a sign reading "Dwight Power," alongside a picture of NBA star Dwight Howard. He told WCNC that he showed up "to meet hate with love."
Before You Go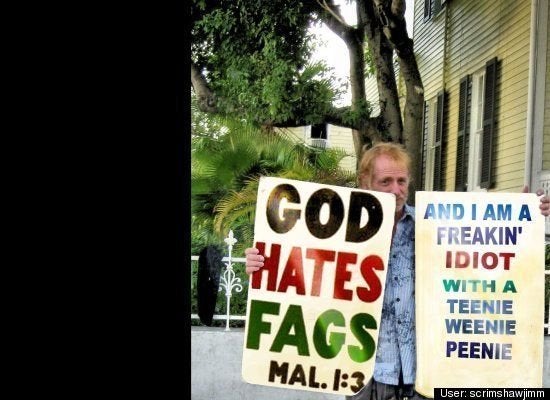 Anti-Gay Protesters Getting Owned
Popular in the Community