Edwards talked to the real estate mogul's eldest son and campaign surrogate, Donald Trump, Jr., last Saturday for his "pro-white" radio show, "The Political Cesspool." Previous guests on the show have included Neo-Nazis, Holocaust deniers, and Ku Klux Klan leaders.
Edwards heralded the 20-minute interview in a blog post flagged by Little Green Footballs, that boasted about his access inside a Trump rally in Memphis, Tennessee, last Saturday, where Edwards was broadcasting his show live. He said Trump's campaign gave Edwards and his co-hosts full press credentials and "VIP" parking near the event. 
Edwards said he and his co-hosts have attended three different Trump rallies in recent months: One in Illinois, one in Arkansas, and the rally in Memphis. With press credentials from Trump, the white supremacists feel "every bit as legit" as members of the traditional media, he added.
A spokeswoman for the Trump campaign did not respond to questions late Tuesday about how Edwards was credentialed, or why Donald Trump Jr. gave an interview to a white supremacist talk show. 
Edwards' interview with Donald Trump, Jr. comes at an awkward time for the Trump campaign, which is fighting the perceptions among voters that the businessman's anti-immigrant platform is thinly veiled racism.
Last week, Trump received a ringing endorsement from the former Ku Klux Klan leader David Duke, who told his white nationalist audience that voting against the reality TV star is "really treason to your [white] heritage." 
Trump initially claimed that he did not know enough about Duke to reject his endorsement, but has since disavowed his support. The Klan leader and former state legislator is a frequent guest on "The Political Cesspool."
Watch: David Duke visits with James Edwards in 2013.
As Edwards broadcast his show live from the Trump rally on Saturday, he and his co-hosts praised the real estate developer for building support among a broad swath of white people. Edwards compared Trump's coalition-building to the efforts of the hated Republican elites, whose, "way of growing the party is to let every minority in and pander to them and sell out the traditional base of the Republican party, which is white people."
Edwards and his fellow white nationalists interpret Trump's popularity as a sign of broad support for a "pro-white" agenda. "The majority of Americans fundamentally agree with us on the issues," Edwards wrote on Tuesday. "Our people just needed a viable candidate and they've identified Trump as that man."
Between radio segments, ads ran for the American Freedom Party, a white supremacist group, and for the American National Trump Super PAC, a white supremacist PAC that has been running robocalls in support of Trump. There's also a website called The Daily Trump, which blends white supremacist messages with news about Trump's candidacy.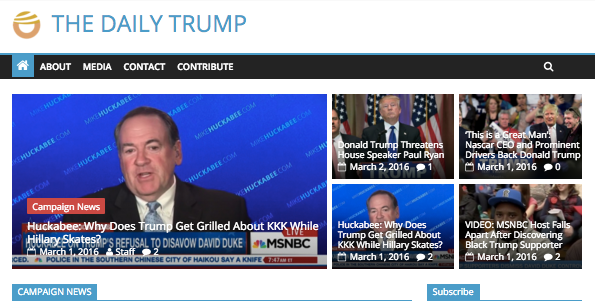 "We'll see after Trump gets elected if he does all the things we want him to do," said Edwards, who believes that interracial marriage is tantamount to white genocide. "I think [Trump] gives us a chance that no other person running [for president] gives us." 
The nonprofit Southern Poverty Law Center, which monitors hate groups and extremists, classifies Edwards as a "white nationalist" and says his show is "overtly racist and anti-Semitic." "Political Cesspool" has become "the nexus for radio-based hate in the United States," according to the SPLC.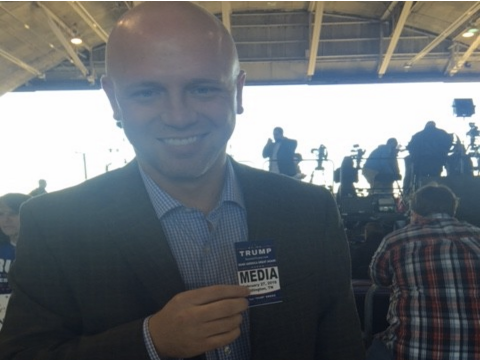 On Tuesday night, Trump won Republican nominating contests in seven states, expanding his lead over his rivals in the race for the GOP presidential nomination. 
UPDATE: 12:47 p.m. -- Edwards responded to a HuffPost request for comment Wednesday afternoon:
My show, The Political Cesspool, promotes a proud, paleoconservative Christian worldview, and we reject media descriptions of our work as "white supremacist," "pro-slavery" and other such scare words.

As I clearly wrote in yesterday's article, in no way should anyone interpret our press credentialing and subsequent interview with Donald Trump, Jr. as any kind of endorsement by the Trump campaign.

The grotesque way in which the media is purposefully misrepresenting my work and taking certain cherry-picked statements wildly out of context is both shameful and reprehensible. That said, I apologize for nothing and I retract nothing.
Calling all HuffPost superfans!
Sign up for membership to become a founding member and help shape HuffPost's next chapter
BEFORE YOU GO
PHOTO GALLERY
Who Donald Trump Follows On Twitter