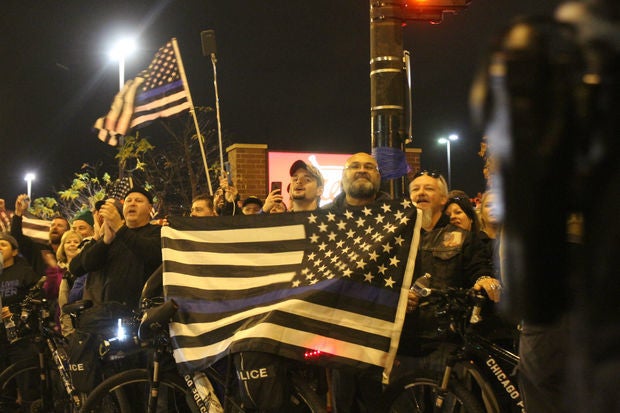 Many of us took part in an action of the Democratic process on Tuesday, when we voted in the presidential election. Peacefully protesting is another tool able to be used in Democratic societies.
Yet in the neighborhood of Mount Greenwood, Chicago, this tool of the protest is under the threat of violence at such intense levels that people cannot practice it. After the death of Joshua Beal last Saturday, people upset with the circumstances surrounding his death have protested in the days that followed. Many of these protesters were called racial slurs and were witness to signs calling them animals.
On Tuesday there was a protest in Mount Greenwood and the Chicago Police Department tried to encourage the protesters to leave the neighborhood on a bus for their own safety.
A well-known Catholic priest Father Pfleger, who was participating with the protesters, was told by the police, "We've got to get you out of here, they hate you and I don't think we can protect you."
The students who lead and organize Black Lives Matter Youth had planned a teach in downtown about what happened to Joshua Beal as well as a racial incident that happened at Marist High School in Mount Greenwood this week. After the teach in, they planned to travel to Mount Greenwood to protest. The day before this protest the students parents were contacted by CPS and told, "White supremacist groups are threatening to kill students on site".
Since that post was published I have received the following messages via social media:
"Black people don't think you're cool STFU"
"I bet you identify as black"
"Why do you hate white people?"
"I dare you to walk around Cabrini Green all by yourself"
"Liberal nut job teacher"
"A CPS teacher and a wanker"
"You're not credible you work for CPS"
"You probably think Rahm is a good guy too"
Clearly based on these responses, many people in Mount Greenwood feel like I am not representing their community fairly. One person asked me, "Have you been to Mount Greenwood?" I honestly must say I have not. I don't need to go there to get to know the community. I was raised in a predominately white community. I know as a white person that I have the privilege to feel safe and respected in a community like that. My whiteness allows me to be accepted wherever I go.
The blatant racism of Mount Greenwood is the issue. Mount Greenwood has many examples of historical racism. Add in the recent racist actions and the threats of violence on protesters who want to practice their Democratic right to protest, further proves that what I wrote last week is accurate.
Surely not everyone in Mount Greenwood is racist, but unless as a white resident of that community you are helping stop your uncle, aunt, cousin, brother, sister, neighbor, etc. from being racist, then you carry the blame of racism as well.
Whether you agree or not with the message of the protestors they have the right to protest without having their lives threatened and/or made to feel like we are all living in the 1950's.
Mount Greenwood, your racism is showing.
It is time to call out the racism.
People you know are proudly portraying it.
Threatening kids, making racist signs, using racial slurs, and cheering when you pass the location place where someone was killed is sick, and as a white person I refuse to accept your hate quietly.
Calling all HuffPost superfans!
Sign up for membership to become a founding member and help shape HuffPost's next chapter
BEFORE YOU GO