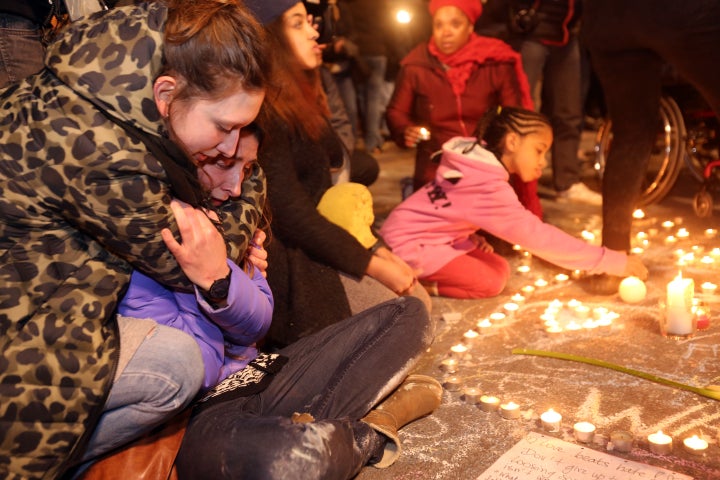 In the wake of the Brussels terror attacks, it's easy to imagine that the problem of violent radicalization is unique to Islam. After all, terrorism only seems to take over the news cycle when there's a link to Islamic extremism. This tendency leads some people to think that the fight against terrorism -- whether at home or abroad -- is a fight against Muslims alone.
Politicians are particularly susceptible to this shallow "us-versus-them" thinking. It's the reason Sen. Ted Cruz (R-Texas) said the United States should "patrol and secure Muslim neighborhoods before they become radicalized." Donald Trump has repeatedly offered his own version, calling for a ban on Muslims entering the U.S.
But the truth about violent extremism in America is that it doesn't fit into the bigoted boxes that GOP presidential candidates like Cruz and Trump try to squeeze it into. The threat of terrorism -- which is magnified by its unpredictability and senselessness -- isn't limited to Muslims, or to people of color or to foreigners. It can come from, and be directed at, any community. And while the idea of such an omnipresent danger may scare people, no group has a monopoly on terror.
With all of that in mind, see if you can tell which of the examples below involved Muslim suspects and which didn't.
--------------------------------
1. Federal authorities arrested two men after they allegedly tried to buy an automatic weapon, explosives and a pistol with a silencer from undercover agents. The men had allegedly discussed a plot to attack houses of worship, which they justified as a necessary assault in a war between cultures.
2. The FBI swooped in after being tipped off to a suspect who allegedly inquired about buying $16,000 of ammunition along with grenades, rockets, the explosive C4, gas masks and a "night/infrared system." Authorities said the man later bought at least four grenades from a federal undercover agent and suggested he was stockpiling weapons in order to further his worldview.
3. Four men were arrested after federal authorities uncovered an alleged plot to obtain explosives and manufacture the biological toxin ricin to carry out attacks and assassinations in multiple cities, all in the name of their extremist ideology.
4. Federal authorities arrested three men who were allegedly manufacturing explosives and purchasing weaponry and body armor in order to kill members of the U.S. military and law enforcement officers, who they believed were threatening their way of life, according to authorities.
5. FBI agents said they broke up a terror plot after a search turned up suspected pipe bombs, Molotov cocktails and guns at a man's home. The FBI said the man had discussed setting off explosives at a police department. Authorities claimed he was part of a local cell that had extremist views.
6. Police and FBI agents conducted a raid on a house after confidential informants revealed that its owner had discussed plans to go on a killing spree targeting members of law enforcement and civilians. Authorities expected to find explosives, booby traps and assault rifles, but an extensive search only turned up other firearms.
7. A man was charged with allegedly instigating a plot to lay siege to a community with assault rifles, firebombs and even machetes. He believed the attack was necessary to protect his own people, authorities said.
8. Police found about 20 improvised explosive devices at the house of a man who had earlier been arrested. Federal officials also claimed to have found literature suggesting the suspect had been planning a holy war and was actively spreading his extremist views in the community.
9. An 18-year-old was arrested for allegedly amassing an arsenal including machine guns, semi-automatics, armor-piercing ammunition and silencers with plans to carry out an attack. Officials said that the teen's social media accounts were littered with hate speech against the people he may have intended to target.
--------------------------------
If you clicked the links, you'd notice that behind each of these plots were white, male U.S. citizens -- all extremists, and all of whom planned attacks on American soil over the past few years.
These cases speak to a broader trend of domestic terrorism motivated by white supremacy and right-wing extremism that has been far less widely recognized than instances of terrorism in the name of Islam. According to one study, since September 11, these sorts of attacks have claimed more lives in the U.S. than those supposedly motivated by Islamic extremism.
Before we talk about "patrolling and securing" so-called Muslim neighborhoods, let's remember that our efforts against extremism must address the reality that anyone can become an extremist. To combat terrorism, we need to take a hard look at what we're doing in all of our communities to reject hatred and prejudice, foster opportunities for young people and keep dangerous weapons out of the hands of those who would use them to do harm.
Together We're Stronger After Brussels Explosions